Wednesday, September 11, 2019
Page 1
Georgina T. Rizk Slates Sept. 30 Retirement From Los Angeles Superior Court
By a MetNews Staff Writer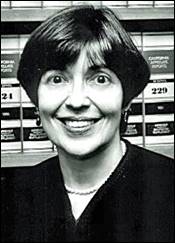 GEORGINA T. RIZK
Superior Court Judge
Los Angeles Superior Court Judge Georgina Torres Rizk is retiring from the bench on Sept. 30 after 12 years of service.
Rizk was appointed by then-Gov. Arnold Schwarzenegger on Aug. 20, 2007. She was, at the time, 57, an administrative law judge for the Unemployment Insurance Appeals Board, a post she had held since  1988.
Her law degree is from UCLA. She began her legal career as a staff attorney for the Center for Law and Justice, from 1975-77, was a deputy federal public defender from 1978-80, and was sole practitioner from 1983-87, handling state and federal criminal defense work.
Rizk, 69, is married to artist Ronald C. Rizk, a professor of fine arts in painting and drawing at the University of Southern California's Roski School of Fine Arts.
The judge was unavailable for comment on her plans.
Copyright 2019, Metropolitan News Company