Tuesday, February 26, 2019
Page 1
U.S. Supreme Court:
Ninth Circuit Erred in Counting Vote By Judge Reinhardt After His Death
Unsigned Opinion Says 'Federal Judges Are Appointed for Life, Not for Eternity'
By a MetNews Staff Writer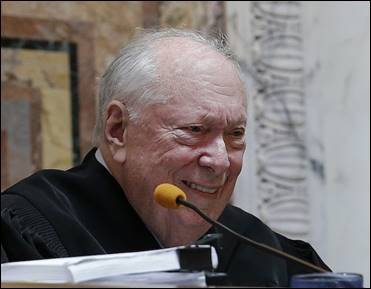 —AP
In this 2014 file photo, U.S. Circuit Judge Stephen Reinhardt listens to arguments in San Francisco. Reinhardt died March 29, 2018. The U.S. Supreme Court held yesterday that the Ninth Circuit improperly counted his vote in a case in which the opinion was filed 11 days after Reinhardt's death.
The U.S. Supreme Court held yesterday that the Ninth U.S. Circuit Court of Appeals erred in releasing an opinion listing Judge Stephen Reinhardt as the author, and counting his vote, when the jurist had died 11 days earlier.
In an unsigned opinion—with Justice Sonia Sotomayor' concurring in the result, only—the nation's high court vacated the Ninth Circuit's April 9, 2018 decision in a case interpreting the federal Equal Pay Act.
The opinion notes:
"Without Judge Reinhardt's vote, the opinion attributed to him would have been approved by only 5 of the 10 members of the en banc panel who were still living when the decision was filed. Although the other five living judges concurred in the judgment, they did so for different reasons. The upshot is that Judge Reinhardt's vote made a difference."
Question Posed, Answered
The opinion asks:
"Was that lawful?"
It goes on to answer:
"Because Judge Reinhardt was no longer a judge at the time when the en banc decision in this case was filed, the Ninth Circuit erred in counting him as a member of the majority. That practice effectively allowed a deceased judge to exercise the judicial power of the United States after his death. But federal judges are appointed for life, not for eternity."
Explanation in Footnote
Reinhardt died on March 29, 2018, two days after his 87th birthday. The April 9 opinion contains a footnote on the first page, advising:
"Prior to his death, Judge Reinhardt fully participated in this case and authored this opinion. The majority opinion and all concurrences were final, and voting was completed by the en banc court prior to his death."
That justification for counting Reinhardt's vote, the Supreme Court said, "is inconsistent with well-established judicial practice, federal statutory law, and judicial precedent," adding:
"As for judicial practice, we are not aware of any rule or decision of the Ninth Circuit that renders judges' votes and opinions immutable at some point in time prior to their public release. And it is generally understood that a judge may change his or her position up to the very moment when a decision is released."
Reinhardt's Opinion
Reinhart's opinion came in a discrimination case filed in the District Court for the Eastern District of California by Aileen Rizo, a math consultant for the Fresno County Office of Education. It affirmed Magistrate Judge Michael J. Seng's denial of summary judgment to the county—which acknowledged it paid Rizo less than her male counterparts received, but argued that this was based on a "factor other than sex," rendering it lawful under the Equal Pay Act.
In particular, the county relied on Rizo's salary history.
Reinhardt wrote:
"The Equal Pay Act stands for a principle as simple as it is just: men and women should receive equal pay for equal work regardless of sex. The question before us is also simple: can an employer justify a wage differential between male and female employees by relying on prior salary? Based on the text, history, and purpose of the Equal Pay Act, the answer is clear: No."
Other Instance
Yesterday's Supreme Court opinion points, in a footnote, to an instance where Reinhardt was listed as a judge who concurred in an opinion which was filed four months after his death. There, Chief Judge Sidney R. Thomas wrote for the majority in lending deference to an Internal Revenue Service regulation, which a dissenter—Kathleen M. O'Malley of the Federal Circuit, sitting by designation—insisted "is invalid as arbitrary and capricious."
The footnote reflects the Ninth Circuit's subsequent action of vacating that opinion.
An Aug. 7 order lists Thomas, O'Malley and Circuit Judge Susan P. Graber as the judges now coomprising the panel. It declares:
"The Opinions filed July 24, 2018, are hereby withdrawn to allow time for the reconstituted panel to confer on this appeal."
Oral argument in the case took place, anew, on Oct. 16, in San Francisco. Thomas expressed gratitude to O'Malley for flying in from the District of Columbia to hear argument in the one case, and told counsel:
"Nice to see all of you, again."
An new opinion has not yet been filed.
Memorandum Opinions
The Supreme Court, while taking note of that case—Altera Corporation & Subsidiaries v. IRS—did not allude to two memorandum opinions (which are non-precedential) which Reinhardt was listed, posthumously, as joining.
Those were Silberstein v. Fox Entertainment Group, Inc., a trademark infringement case, in which an opinion was filed April 25, 2018, and Wabakken v. California Department of Corrections and Rehabilitation, a whistleblower case in which an amended opinion was filed that same day.
In Wabakken, a footnote said: "Due to the death of Judge Reinhardt, the petition for panel rehearing and amended memorandum disposition were voted upon only by Judges [William A.] Fletcher and [John B.] Owens."
A memorandum opinion was filed at 1 p.m. on March 29, 2018, in U.S. v. Gambaryan, by a three-judge panel which included Reinhardt. The jurist died that afternoon, of a heart attack.
Copyright 2019, Metropolitan News Company