Monday, July 1, 2019
Page 1
Manuel Real, Most Senior Federal Judge, Dies At 95 After More Than 52 Years on Bench
By a MetNews Staff Writer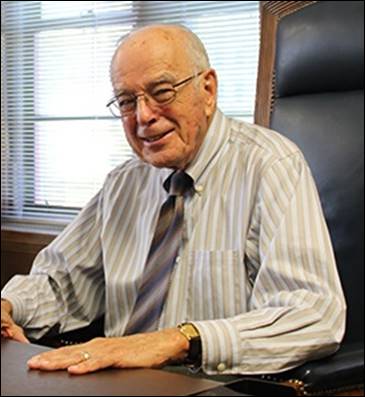 MANUEL L. REAL
1924-2019
Manuel L. Real, a judge of the U.S. District Court for the Central for the Central District of California since 1982, has died at the age of 95.
An appointee of President Lyndon Johnson, he went on the bench on Nov. 3, 1966, was chief judge from 1982–1993, assumed senior status on Nov. 4, 2018, and served a total of 52 years and 235 days. He was the most senior federal judge in the nation.
Real died Wednesday night.
Chief Judge Virginia A. Phillips said yesterday:
"I am sad beyond words at the death of our beloved friend, colleague, mentor and leader. Judge Real has been the heart and soul of our district since it was formed in 1966, and his passing leaves an unfillable void for us, his family, the legal world and the larger community. His legacy of public service is an inspiration beyond compare."
Statement Recounts Accomplishments
A statement by the court said:
"Under his leadership and in large part thanks to his dedication and key support, Congress created the Southern and Eastern Divisions of the Court in 1980 and 1992, respectively. During his tenure at the Central District, Judge Real also lent his considerable assistance to understaffed courts throughout the country and served as a member of the Judicial Conference of the United States from 1981 to 1984. In one of his most well-known cases, on January 20, 1970, Judge Real ordered the desegregation of the Pasadena Unified School District and enjoined the school district from discriminating on the basis of race."
He declared in the Pasadena schools decision:
"Commencing in September of 1970, there shall be no school in the District elementary or junior high or senior high school, with a majority of any minority students."
In response, the district ordered forced busing.
Involved in Controversies
Real was known for his pleasant manner in social settings but abrasiveness on the bench. He was frequently enmeshed in controversy—one of which led to an effort to impeach him, which, in the end, fizzled.
In 1999, he placed Deborah M. Canter on probation after she pled guilty to loan fraud and making false statements under oath, with one condition being that she and her probation officer meet personally with him every four months. She filed for bankruptcy temporarily halting her eviction from her home; then, with the stay lifted and as her scheduled departure from the abode neared, she sent a letter to Real asking for his assistance in keeping her in the house; Real assumed jurisdiction over the bankruptcy case, which had been assigned to a bankruptcy judge; and he reinstated the previous order staying the eviction.
Canter lived rent-free for years in a house she had been ordered to vacate. Eventually, the Ninth U.S. Circuit Court of Appeals reversed, holding that Real lacked good cause for taking control of the case and re-imposing the stay.
Probe Terminated
The Ninth Circuit Judicial Council on Sept. 29, 2005, by a vote of 7-3, ended its investigation into misconduct charges against Real which drew a drew a sharp dissent from then-Judge Alex Kozinski, now retired, who said Real had "committed serious misconduct by abusing his judicial power."
The Judicial Council of the United States, in a 3-2 decision on April 29, 2006, determined that it could not sanction Real because then-Ninth Circuit Chief Judge Mary M. Schroeder, now on senior status, did not properly investigate the complaint.
U.S. House Judiciary Committee Chairman James Sensenbrenner, R-Wis, on July 18, 2006, filed a resolution to look into possible impeachment of Real, then 82. Sensenbrenner said in a statement:
"When the judicial branch has failed to address serious allegations of judicial misconduct, as the Ninth Circuit arguably has in this matter, the Constitution provides the Congress only one course of action: opening an impeachment inquiry."
Testimony by Real
On Sept. 21, 2006, Real testified before a House of Representatives subcommittee looking into the possibility of an impeachment of him based on his action in the bankruptcy case. An Associated Press account quoted him as insisting:
"I did not receive any secret communication from Ms. Canter. I did not make any rulings in her bankruptcy based upon such a communication or for the purposes of benefiting her personally."
The AP report noted:
 "Real has been a subject of controversy for many years, much of it generated by his public feud with a brash, outspoken civil rights lawyer named Stephen Yagman. The two have battled for more than two decades and it was Yagman who brought the complaint that is now leading to calls for Real's impeachment."
$250,000 Sanction
In 1984, Real imposed a $250,000 sanction on Yagman based on his conduct in a trial, with the Ninth Circuit reversing what it termed a "massive sanction award" The opinion notes:
"Yagman has requested that the action be remanded to a different district judge. This type of relief is exceedingly rare."
But the request was granted.
Last June 7, the Ninth Circuit reversed Real, remanding the case to the District Court and specifying, for the 24th time in the past 10 years, that it go to a judge other than Real.
Handling of Trust
A three-judge Ninth Circuit panel on Nov. 13, 2009, took issue with Real's handling of a trust stemming from deposits by the Philippines dictator Ferdinand Marcos, who had died in 1989.
Funds had been deposited with Merrill Lynch; a number of claimants sought funds from Marcos's estate; Merrill Lynch filed an interpleader and deposited $33.8 million in assets in a court registry; in 2004, Real held that plaintiffs in the class action were entitled to the assets; the assets went into a settlement account; the U.S. Supreme Court ordered the interpleader dismissed and remanded.
Real provided an accounting. The Ninth Circuit said of that accounting:
"On October 23, 2008, the court issued a minute order stating that the accounting was complete and that '[t]he current balance for the Merrill Lynch account is $34,689,631.27.' The order was accompanied by a half-page 'accounting' of the assets' management during their eight years under the court's control. The accounting is filled with cryptic notations such as '4,944,268.28' for 'OTHER DISBURSEMENTS' and '118,745,095.36' for 'TOTAL SALES.' This curious statement plainly fails to account for all transactions involving the assets during the eight years they were held in the clerk of court's custody. It does not identify any earnings attributable to interest or dividends;  it does not itemize gains or losses, or the prices of any securities bought or sold;  it does not list specific transactions such as sales of securities or transfers of funds, who authorized any such transactions or the reasons therefor. It doesn't give the reader even a basic understanding of the path by which $33.8 million worth of assets deposited in September of 2000 came to be worth $34.7 million today."
The panel commented:
"Two Supreme Court Justices remarked on the desirability of transferring this case to a different district judge….The district judge's handling of the case on remand confirms the prescience of these views."
Such an order was made.
Law Practice
Real received his law degree from Loyola in 1951. He was an assistant United States attorney for the Southern District of California from 1952-55; was in private practice from 1955-64; and was United States attorney for the Southern District of California from 1964-66.
Johnson nominated on Sept. 26, 1966, for a judgeship on the newly-created District Court for the Central District of California, and he was confirmed by the Senate on Oct. 20, 1966, taking office on Nov. 3, 1966.
On Oct. 9, 1975, Real was planning on walking from his chambers to the Hall of Administration, expecting to be appointed by the Board of Supervisors as district attorney, replacing Joseph Busch, who had died in office. However, he only mustered two votes of supervisors and John Van de Kamp, later state attorney general, got the job.
Services for Real have not yet been announced.
Copyright 2019, Metropolitan News Company