Monday, February 25, 2019
Page 1
Word Meaning 'Condensed' Can Be Protected As Brand Name—Ninth Circuit
Opinion Reverses Judgment-as-Matter-of-Law in Favor of Maker of Vietnamese Soup Base That Used Word 'Cốt,' Copying Competitor
By a MetNews Staff Writer
The Ninth U.S. Circuit Court of Appeals on Friday reinstated a jury's verdict that a company's trademarks on "Cốt"-brand Vietnamese soup bases were infringed by a competitor, reversing a District Court judge's determination that the word—one of the meanings of which is "condensed"—is merely descriptive.
A three-judge panel, in a memorandum opinion, declared that District Court Judge Cormac J. Carney of the Central District of California erred in awarding judgment as a matter of law to defendant VV Foods, a Texas company doing business in California. The judge countermanded a determination of a jury that VV had infringed on seven trademarks held by Orange County's Quoc Viet Foods, Inc.
The trademarks are on the "Supplemental Register," indicating that they are merely descriptive, but with the prospect of becoming protectible if they acquire secondary meaning.
Carney's Decision
In a June 14, 2016 order granting VV Foods judgment, Carney explained:
"This is a trademark case involving soup base for pho, a Vietnamese noodle soup. The traditional preparation of pho is highly labor-intensive: a pho cook will begin by boiling beef bones for 30 minutes, discarding the water, washing the bones, and then boiling them again to slowly extract the bone marrow and make a broth….Properly done, this process takes about a day….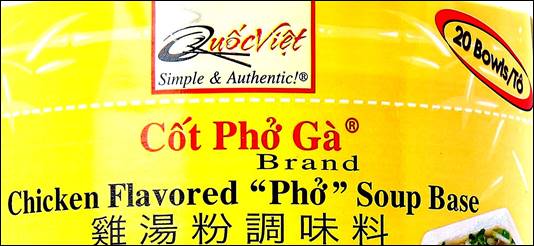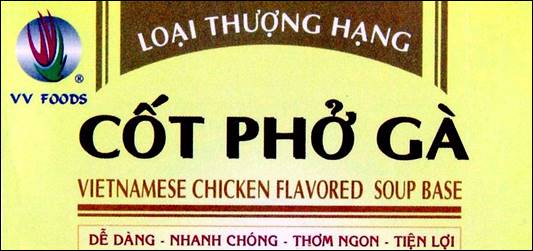 Quoc Viet and VV Foods are rival manufacturers of Vietnamese soup bases. The Ninth U.S. Circuit Court of Appeals on Friday reversed a judgment in favor of VV that Quoc Viet's use of the word "Cốt"—a meaning of which is "condensed"—is merely descriptive and could not have gained a secondary meaning in the 10 months, at most, from the time Quoc Viet began using it on packages and when VV copied that use.
``
"To simplify this process for individual consumers who do not have the time necessary to prepare pho. Tuan Nguyen—the president and CEO of Plaintiff Quoc Viet. Inc.—devised a soup base, sold in paste form, to winch consumers could add water and quickly create pho broth without the intense traditional preparation process….Quoc Viet began selling its first two soup base products— one beef-flavored and one chicken-flavored. The beef-flavored soup base was labeled CỐT PHỞ BÒ and the chicken-flavored base was labeled CỐT PHỞ GÀ."
Meaning of Words
In Vietnamese, "phở bò" means "beef pho soup" and "phở gà" means "chicken pho soup."
Quoc Viet added additional flavors; emerging as a competitor, VV, also expanded its product line.
Carney noted:
"The parties dispute the meaning of 'cốt': Quoc Viet argues that 'cốt' means 'bones of the dead' or 'skeleton,' and that its meaning has nothing to do with pho soup. Defendant VV Foods LLC argues that 'cốt' means 'condensed,' 'concentrated,' or 'base,' and that in the context of Quoc Viet's products, 'cốt' simply describes a pho soup base."
Language Experts
The judge recited that testimony of language experts indicated that "cốt" has varying meanings, one of which is "condensed." He wrote:
"If a company sells blue-colored umbrellas under the "Blue Umbrellas" mark, the mark is not suggestive merely because 'blue' can also mean 'melancholy' or 'obscene.' What matters is whether any meaning of a mark describes the product or not. It requires no imagination or mental leap to apply the right definition of a term, among several. Taken together, the language experts' testimony only supports one conclusion: that 'Cốt' describes the products at issue."
Carney said Quoc Viet had a burden of showing that the descriptive word "cốt" had acquired a secondary meaning between the time it began using the term in January of 2002 and when VV started using it in September or October of that year.
"No reasonable jury could have found that it did so," he declared.
On Aug. 25, 2016, Carney, acting on VV's cross-action, ordered cancellation of the 'Cốt' trademarks—the seven which jurors found were infringed by VV and nine others. Carney, following a bench trial, found that the additional nine marks were also descriptive, without having acquired a secondary meaning.
Ninth Circuit Decision
Reversal of judgment in favor of VV and invalidation of Quoc Viet's marks came in an opinion signed by Circuit Judges A. Wallace Tashima and Kim Wardlaw, along with District Court Judge Robert W. Pratt of the Southern District of Iowa, sitting by designation.
The opinion declares:
"All involved agree that the validity of all sixteen trademarks depended on whether the word cot. which appears in each mark, is suggestive or descriptive with an acquired secondary meaning. The jury, in fact, had substantial evidence from which it could find that the marks were suggestive because they required some 'exercise of imagination' due to the play on words of cốt's multiple meanings….And, a jury could also reasonably have found that if the marks were descriptive, they acquired secondary meaning before VV Foods began to use them. Quoc Viet advertised extensively and exclusively used the marks, and VV Foods intentionally copied Quoc Viet's products and labels with the intent to deceive….Thus, we reinstate the jury verdict as to validity and infringement."
Carney had found VV's motion for a new trial to be moot in light of his granting it judgment as a matter of law. Now, it isn't, the memorandum opinion says, leaving it to Carney to act on the motion, on remand.
The case is Quoc Viet Foods, Inc. v. VV Foods, LLC, 17-55331.
Use on Register
Translations of "cốt" on the supplemental register, in connection Quoc Viet's marks, are in accord with the definition put forth by VV.
The June 13, 2006 trademark on "Cốt Phở Gà" sets forth: "THE ENGLISH TRANSLATION OF THE WORD 'COT' IS 'PURE' OR 'ORIGINAL' AND 'PHO GA' IN THE MARK IS 'CHICKEN NOODLE SOUP.' "
No claim was made to the exclusive use of "pho Ga" except in combination with the word, "Cốt."
Other trademarks define "Cốt" as "essence"—such as "Cốt Bún Bò Huế" being "ESSENCE VERMICELLI BEEF SOUP."
Copyright 2019, Metropolitan News Company