Tuesday, February 26, 2019
Page 1
Court of Appeal:
Man Who Addressed Council Committee Had Right to Address Full Body in Special Session
Loophole in Brown Act Is Spotted Rendering Inapplicable Usual Bar to Second Appearance
By a MetNews Staff Writer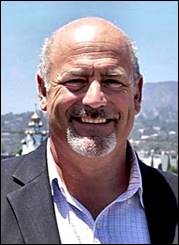 ERIC PREVEN
Screenwriter
A community activist who addressed a Los Angeles City Council committee in opposition to a project was wrongfully denied an opportunity to address the full 15-member body at a special session, the Court of Appeal for this district has held, pointing to a loophole in the Ralph M. Brown Act.
The usual one-bite-at-the-apple rule precluding the need for the full council to hear from someone who put forth his or her views on an item during a committee hearing does not apply to special meetings, Div. One declared in an unpublished opinion, filed Friday. It reverses a judgment of dismissal which followed Los Angeles Superior Court Judge John P. Doyle's order sustaining, without leave to amend, the city's demurrer to a petition for a writ of mandate and complaint for declaratory relief sought by writer/producer Eric Preven.
Preven spoke on Dec. 15, 2015 before the City Council's five-member Planning and Land Use Management Committee to urge disapproval of a proposed real estate development near his Studio City home. Based on his already having provided input, Preven was denied an audience the following day when the full council, at a "special" session, took up the committee's recommendation to approve the project.
While regular sessions require 72 hours' public notice and an opportunity for public comment on any matter within the legislative body's jurisdiction, special sessions require only 24 hours' notice, but no action may be taken and no public comment may be heard on any matter not contained in the notice.
Sitting on assignment to the appeals court, Los Angeles Superior Court Judge Gregory J. Weingart explained:
•In 1986, the Brown Act, Government Code §54950 et seq., was amended to require a public comment period at regular meetings of a city council or board of supervisors—with an exception, in §54954.3(a), where the would-be speaker had previously addressed a committee on the agenda item.
•In 1991, a further amemdment mandated public comment at regular meetings of legislative bodies "before or during" consideration of an item.
•In 1993, language was added relating to special meetings, providing: "Every notice for a special meeting at which action is proposed to be taken on an item shall provide an opportunity for members of the public to directly address the legislative body concerning that item prior to action on the item." The wording was changed in 1994 from "prior to action on the item" to "before or during consideration of that item."
While public comment may be barred at a "regular" meeting if the person desiring to speak already addressed a committee on the item, Weingart pointed out, there is no such exception applicable to special meetings.
City's Contention
"Instead of arguing section 54954.3(a)'s committee exception applies to special meetings, the City claims it complied with the Brown Act because section 54954.3(a) requires the opportunity for public comment 'before...consideration' of the special meeting agenda item, and Preven was given the opportunity to comment before the special city council meeting at the…committee meeting the preceding day," Weingart said. "We do not agree that section 54954.3(a)'s language requiring the opportunity for public comment 'before...consideration' by a legislative body at a special meeting can be construed so broadly."
He continued:
"A fundamental rule of statutory construction requires that every part of a statute be presumed to have some effect and not be treated as meaningless unless absolutely necessary….Construing the phrase requiring the public be allowed to address a special meeting 'before...consideration of that item' to create what would in effect be a committee exception for special meetings renders the committee exception language already in section 54954.3(a) superfluous. Section 54954.3(a) requires that any public comments—whether at a regular or special meeting—occur 'before or during' the legislative body's consideration of that item. If public comment 'before' a regular or special meeting includes a prior committee meeting, the committee exception language for regular meetings would be superfluous and unnecessary."
Pattern of Conduct
Weingart declared:
"Given the plain language of the statute, and its legislative history, we find the Brown Act does not permit limiting comment at special city council meetings based on comments at prior, distinct committee meetings. Preven adequately alleged a claim that he was improperly denied the opportunity to comment on the agenda item at a special meeting. Preven also adequately alleged a pattern of conduct by the City at special city council meetings in violation of the Brown Act. He therefore stated a claim in his amended petition for a writ of mandate and complaint for declaratory relief under the Brown Act."
The opinion does affirm the judgment of dismissal as to Preven's action under the California Public Records Act. The petitioner acknowledged that he made no requests under that act and indicated that he does not seek to proceed under it.
Each side was ordered to bear its own costs on appeal.
Preven commented yesterday that the city has "been using this now discredited argument" that the committee exception applies at special meetings "to deny the members of the public the right to speak to their elected representatives on matters of public interest and importance," remarking:
"This appellate decision prevents this from happening again."
His trial and appellate counsel, Yolo County attorney Paul Nicholas Boylan, commented:
"This is an important decision that addresses a state-wide issue. The opinion needs to be published on order to end the possibility any California public agency can misinterpret the Brown Act the way the City of Los Angeles has been misinterpreting the Act."
Los Angeles Deputy City Attorney Paul L. Winnemore, who argued for the city, did not respond to a request for comment.
The case is Preven v. City of Los Angeles, B287559.
Preven, who made a failed bid for a Los Angeles City Council seat in 2015, ran for mayor of Los Angeles in 2017, coming in ninth in the 11-person primary, with .74 percent of the vote. He was one of two unsuccessful challengers last year to county Supervisor Shiela Kuehl, finishing second in the primary, drawing 14 percent of the ballots.
Copyright 2019, Metropolitan News Company