Friday, March 29, 2019
Page 1
Justice Liu Says Death Penalty System In State Is Ineffective, Dysfunctional
By a MetNews Staff Writer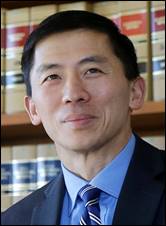 —AP
In this 2017 file photo California Supreme Court Associate Justice Goodwin Liu pauses in his office in San Francisco.
California Supreme Court Justice Goodwin Liu yesterday declared in a concurring opinion that California only theoretrically has a death penalty—with executions not being carried out—and the system being marked by "dysfunction."
His comments come on the heels of a March 13 executive order by Gov. Gavin Newsom imposing a moratorium on executions in California. The last one occurred in 2006.
Liu, joined by Justice Nariano-Florentino Cuéllar, said:
"[A]s the Executive Order underscores, our decision affirming the judgment does not alter a fundamental reality: A death sentence in California has only a remote possibility of ever being carried out. As leaders of the judiciary have long observed, the death penalty presents serious challenges for the fair and efficient administration of justice. For decades, those challenges have not been meaningfully addressed. As a result, California's death penalty is an expensive and dysfunctional system that does not deliver justice or closure in a timely manner, if at all."
1998 Judgment
He continued:
"This case is instructive: The death judgment was issued in 1998. Now, 21 years later, we affirm the judgment on direct appeal, but there is more litigation to come in the form of habeas corpus petitions in state and federal courts. This timeline is typical of our capital cases."
Lui pointed to disparagement of the current system by Chief Justice Tani Cantil-Sakauye and her immediate predecessor, Ronald George.
Proposition 66, enacted by voters in 2016 to streamline the death penalty system, he said, was ill-fated, explaining:
"Proposition 66 thus did not enact or put to the voters the key reforms that leading authorities consider fundamental to a workable death penalty system. Proposition 66 did not reduce the bottlenecking of direct appeals in this court. It did not provide additional resources to enable this court, the courts of appeal, or the trial courts to expedite capital cases. And it did not provide additional resources for appointment of qualified counsel."
Unkept Promise
The jurist declared that "the promise of justice in our death penalty system is a promise that California has been unable to keep," remarking that voters and legislators must "decide whether California should double down on the current system or chart a new course."
Cantil-Sakauye wrote for a unaninimous court in the case in affirming the death sentence of Thomas Potts who brutally murdered an elderly couple during a robbery in their home. Her opinion rejects various contentions including instructiuonal error and prosecutorial misconduct.
The case is People v. Potts. The opinions appear in today's Slip Opinion Supplement at Page 1407.
Copyright 2019, Metropolitan News Company