Friday, July 26, 2019
Page 1
Court of Appeal:
Dispute Over Early Photos of Disneyland to Go to Trial
Granddaughter of Photographer Gains Striking of Only Two Paragraphs in Action Against Her
By a MetNews Staff Writer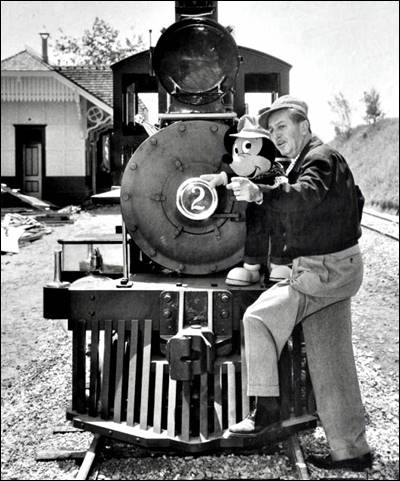 Above is a photo of Walt Disney taken at Disneyland in the mid-1950s by Mell Kilpatrick. The Court of Appeal has held that the granddaughter of the photographer is not entitled to a striking of the entire complaint against her in the Los Angeles Superior Court that is based on her representations that the holder of some of Kilpatrick's photos and negatives possesses them unlawfully and that she is the true owner.
The granddaughter of a photographer who was a friend of Walt Disney and snapped shots of the construction and 1955 opening of Disneyland, as well as celebrities who visited there, has failed to persuade the Court of Appeal for this district to order the striking of the entire complaint filed against her by a man she insists is in possession of photos and negatives that were stolen from her garage.
However, Div. Four, in an unpublished opinion filed Wednesday, did reverse Los Angeles Superior Court Judge Alan S. Rosenfeld's order denying an anti-SLAPP motion to the extent of directing that two paragraphs be excised. Justice Thomas Willhite wrote the opinion.
The plaintiff, Anthony Christopher—described in his complaint as "a collector of vintage memorabilia"—is in possession of photos taken in the mid-1950s by Mell Kilpatrick, who died in 1962. Christopher alleges that he purchased the photos, as well as negatives, from someone purporting to be the son of Kilpatrick.
Wording of Ad
He is suing Kilpatrick's granddaughter, Carlene Thie, for thwarting his sale of the items though her placing a classified ad in the Los Angeles Times saying:
"WANTED
"Info on Tony Christopher of Landmark Entertainment Group in Burbank, CA. Tony has my grandfather's stolen Disneyland images. Have you had any contact w/him? Need info for court case."
The court case was a small claims action. Prospective buyers with whom Christopher was negotiating backed out, citing the ad.
He sued Thie; she dismissed the small claims action and cross-complained; both parties dismissed their actions without prejudice; Christopher again sued Thie, alleging interference with prospective advantage, intentional infliction of emotional distress, and other torts.
Ruling on Thie's anti-SLAPP motion, Rosenfeld found that the first prong of the anti-SLAPP statute was met in the form of protected activity involving public communications concerning matters of public interest, but declared that the defendant failed to satisfy the second prong by showing a probability of prevailing on the merits.
Excised Paragraph
One of the two paragraphs the Court of Appeal ordered stricken alleges:
"In or around January, 2014, Defendant caused the publication of an advertisement falsely stating that Plaintiff has her 'grandfather's stolen Disneyland Images.' "
The paragraph then notes that the Jan. 22, 2014 ad in the Times is attached as an exhibit.
Willhite wrote:
"The advertisement stated that Thie wanted information about Christopher for a court case; the highlighted statement indicated the subject of the court case. To be sure, the advertisement was poorly worded. But the clear implication is that Thie was asking for information regarding Christopher that might be relevant in a court case in which Christopher is accused of having stolen images. Therefore, it is absolutely protected by the litigation privilege and cannot form the basis for tort liability."
Other Paragraph
The other paragraph says:
"Defendant, armed solely with her own belief that she is somehow entitled to an interest in the negatives which Plaintiff purchased for full value over twenty-two years ago, then initiated an action in Small Claims division of the Los Angeles Superior Court (Case Number ALH14G00120) against Plaintiff alleging copyright infringement and possession of stolen goods."
That must be stricken, Willhite declared, explaining:
"There is no question that the filing of a small claims court action is protected by the litigation privilege, and cannot be the basis for liability for any tort other than malicious prosecution."
(Actually, Div. Two of the Court of Appeal for this district declared in 1980 in Pace v. Hillcrest Motor Co.: "We conclude that a cause of action for malicious prosecution cannot be grounded on institution of a small claims proceeding." The 1990 California Supreme Court case cited by Willhite did not involve a small claims action and Pace has never been overruled or contradicted.)
Balance of Complaint
Aside from those two paragraphs, the rest of the pleading remains intact, under the decision.
Willhite rejected Thie's contention that Civil Code §47 renders privileged her communications to third parties as to her assertion of ownership of the images. That provision applies to any "communication, without malice, to a person interested therein...by one who is also interested."
There is a triable issue, the jurist said, as to malice.
Willhite noted that Christopher met with Thie sometime between 2003 and 2006 and that she viewed a sampling of the negatives. He remarked:
"[T]here is no evidence that Thie had ever catalogued the photographs and negatives she stated she had acquired from her grandfather's darkroom; without such a catalog, she would have no basis to determine whether the photographs and images in Christopher's collection had once been a part of her acquisition."
The jurist went on to point out:
"[A]ccording to Thie's own declaration, she did not start acquiring her grandfather's photographs, negatives, and other items until 1988, more than 30 years after the photographs at issue were taken. Despite Christopher's assertion that he had acquired the collection from a man who claimed to be a relative of Kilpatrick, Thie presented no evidence to negate the possibility that some other relative of Kilpatrick acquired the photographs and negatives in the collection sometime before 1988."
Identity of Seller
The complaint sets forth that the person who sold Christopher the collection of images "stated that he was the son of the original photographer"—which would have been Thie's father or, if he had a sibling, her uncle. However, a declaration by Thie recites that Christopher, in a telephone conversation, initially represented he had purchased the items from her father but, when she advised that he had been dead for more than 30 years, corrected himself, saying that the purchase was from her brother.
Willhite said:
"Thie stated in her own declaration that Christopher told her that he purchased the collection from Thie's brother, yet Thie provided no evidence to establish that he could not have so acquired it—she did not deny that she had a brother, nor did she provide a declaration from her brother or someone with knowledge to refute Christopher's assertion."
He reasoned that "a trier of fact could conclude that Christopher…was correct in his assertion that he purchased the collection from Thie's brother or some other relative who had access to Kilpatrick's negatives and photographs before Thie took the eight boxes from Kilpatrick's darkroom."
Police Report
The jurist added:
"[A]lthough Thie stated in her declaration that several boxes of her grandfather's photographs, negatives, and other possessions were stolen from the garage of her home in 1994, she has never produced any other proof of the alleged theft (such as a police report) despite being asked for such proof multiple times over several years.
"In short, a reasonable trier of fact could infer from this evidence (or lack of evidence of the alleged theft) that Thie had no reasonable ground to believe that Christopher possessed photographs and negatives that were stolen from her and that her statements were made with reckless disregard for Christopher's rights. In other words, a trier of fact reasonably could conclude that Thie acted with malice, thus defeating the common interest privilege."
The case is Christopher v. Thie, B288151.
Howard S. Fredman of the Century City firm of Fredman Lieberman Pearl represented Thie and Raymond C. Schreck, whose office is south of downtown Los Angeles, acted for Christopher.
Copyright 2019, Metropolitan News Company