Friday, November 22, 2019
Page 1
Former State Bar President Pasternak, Who Led LACBA, Other Groups, Dies
By a MetNews Staff Writer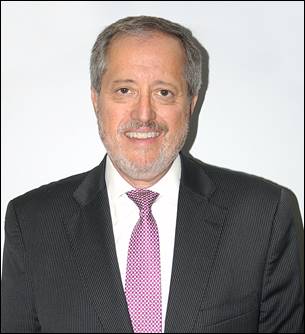 DAVID PASTERNAK
1951-2019
Former State Bar President David Pasternak—who, as a young lawyer, headed the Los Angeles County Bar Association Barristers, in later years served as the County Bar president, and more recently was a founder and chair of LACBA's Senior Lawyers Section—died yesterday at age 68 after a long battle with cancer.
He was afflicted with that disease while heading the State Bar in 2015-16.
The indefatigable lawyer remained active professionally, as a receiver, and in bar activities, though he had become frail.
Last year, he received the prized Shattuck-Price Award, LACBA's highest honor.
Pasternak was known for his loyalty to his family. Cynthia Pasternak, his wife and partner in Pasternak, Pasternak & Alsbrook ALC, is a former president of the Beverly Hills Bar Association.
David Pasternak was an ardent Bruin; he graduated cum laude from UCLA's undergraduate school. His law degree—also earned cum laude—is from Loyola.
He chaired LACBA's Litigation Section, served as a member of the Judicial Council, and was president of the Chancery Club.
Brot Comments
Ronald F. Brot, the current president of LACBA, commented:
"The LACBA community has lost a legendary leader in David Pasternak. His contributions to the Los Angeles County Bar Association and the State Bar of California are legendary. He was a gifted lawyer, a remarkable yet humble leader, and a good man with aspiring vision. His inspiration will live on long after him. We mourn the loss of a friend who was such a great part of who we are and what we strive to be."
LACBA's Immediate Past President Brian Kabateck reflected:
"Dave loved the bar, he loved LACBA and he loved his work at the State Bar. I think he really loved lawyers and helping lawyers. Lawyers everywhere can learn a lesson from the life Dave led, volunteer, get involved and let your voice be heard.
"Giving back was important to him, he often offered to help me while I was LACBA president from 2018-19 and wanted to be a bigger part of the Loyola Law School community all while spending time with his wife and family. We have lost a legend and a good and true friend."
Praise From Kelly
Patrick M. Kelly, of Wilson Elser Moskowitz Edelman & Dicker—who, like Pasternak, was president both of LACBA and the State Bar, and was this year's recipient of the Shattuck Price Award—offered these words:
"David was a tremendous father, a great public servant, a strong leader and a trusted friend. He was truly a renaissance man and was caring and competent in everything he did. His resume of community service speaks for itself but I think his best quality of all is that he always seemed to bring out the very best in those around him."
The 2017-18 LACBA president, Michael Meyer of DLA Piper, termed Pasternak "a true gentleman and a scholar who was respected and admired by all."
Senior Lawyers Co-Founders
Co-founders with Pasternak of the Senior Lawyers Section were Patricia Phillips and Harry L. Hathaway. Both are LACBA past presidents.
Phillips said:
"David and I 'grew up' together, he advancing through the chairs of the Los Angeles County Bar Association Barristers and me on the LACBA ladder. We were very close and worked together in many ways to make LACBA the prime bar association in the country. Together we founded the Senior Lawyers Section, David taking the laboring oar as he worked out all the processes and procedures to make that happen.
"He always took a back seat to others yet without David, none of these things would have happened. He was a wonderful friend who has been taken from us way too soon. We will all miss him beyond my ability to say. Dear David, know that we love you."
Hathaway Praises Colleague
Hathaway had this to say:
"The death of David Pasternak will leave an unbelievable void in the lives of all who knew him. I had the good fortune of considering him a good friend, a fellow past president of the LA County Bar and as one of his lawyers in a large, international receivership case.
"He was deeply respected by all who worked for or against him in his receivership matters. He was generous of his time and resources with others. He totally committed himself to his profession, public service and his loving wife and beautiful family.
"David was a Prince of a person and the King in his profession and community. His work and accomplishments and care for others will be remembered for all time."
'Great Shining Star'
Marc Sallus, who has held various bar posts—including the presidency of the Beverly Hills Bar Association and chair of the Conference of California Bar Associations—said:
"We have lost a great leader of our community that is irreplaceable. He was able to create great programs that have helped the underrepresented and oppressed in California. He was a great friend to all of us. A great shining star that changed the law and fought the good fight has gone off. We all suffer this lost. We should follow his example and go forward to improve the law and our community."
Former San Fernando Bar Association President Lee Kanon Alpert said he found Pasternak "to be an unusually dedicated servant of our legal profession and outstanding lawyer in areas he practiced," adding:
"He will be missed as an advocate for our profession, a lawyer with true professionalism and most importantly as a kind, caring and dedicated family man, professional and simply a person of integrity and caring."
Unmatched Legacy
Ellen A. Pansky of Pansky Markle, who has held numerous bar posts, remarked:
"David was a collegial colleague and a friend to many of us. David's legacy as a devoted leader of the State Bar and LACBA is unmatched."
Roy G. Weatherup, a partner in Lewis Brisbois, termed Pasternak "a great lawyer and an outstanding leader of the Los Angeles County Bar Association."
Attorney Brent Braun, who chairs the "Chancellors," a financial support group for City of Hope, said in an email to members of that organization:
"It is with great sadness that I inform you our friend and founding City of Hope Chancellors member Dave Pasternak passed away this morning at 12:50 am surrounded by his wife Cindy and family.
"Dave was a highly successful and most respected lawyer, he fought a valiant battle against cancer with grace, elegance, calm and courage. He was a great man, we are honored to have had the gift of his friendship."
Copyright 2019, Metropolitan News Company