Tuesday, January 8, 2019
Page 1
Court of Appeal:
Must Yank Firm From Case Because Lawyer Had Job With Adverse Party
By a MetNews Staff Writer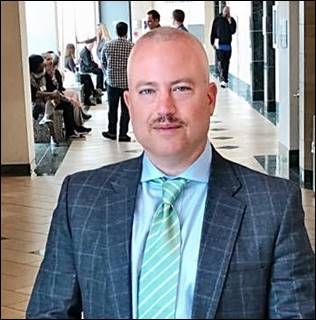 DARREN M. RICHIE
Attorney
The five-lawyer downtown Los Angeles law firm headed by attorney Darren M. Richie must be disqualified from representing a party in a case whose interests are adverse to a company for Richie had served as president and chief operating officer, even though he never had an attorney-client relationship with that company, the Court of Appeal for this district declared yesterday.
Presiding Justice Dennis Perluss of Div. Seven wrote the opinion.
The law firm, Richie Litigation, represented Joseph Ra, a former executive for O'Gara Coach Company, LLC., which Richie headed prior to his admittance to the State Bar of California in 2017. The company, a Beverly Hills car dealership specializing in high-end luxury marques such as Aston Martin and Bentley, was sued by Marcelo Caraveo, who alleged that both it and Ra had engaged in fraud in Caraveo's purchase of various luxury vehicles.
O'Gara filed a cross-complaint against Ra, who in turn filed one against his former employer.
Trial Court's Ruling
Los Angeles Superior Court Judge Gerald Rosenberg denied O'Gara's motion to disqualify Richie Litigation. He based that denial on his finding that there was no attorney-client relationship between Richie and O'Gara Coach.
"The fact that he might have received confidential information about O'Gara [while he] was employed there is not enough," he said, adding:
"There is no authority cited to disqualify a former employee who then becomes an attorney."
Perluss responded by saying that "disqualification to support the fundamental principle of protecting client confidences is not limited to situations in which an adversary's privileged communications have been acquired through a prior attorney-client relationship," and that in cases where an attorney has reviewed such privileged communications, disqualification can be an appropriate protective measure.
He said:
"Because Richie never had an attorney-client relationship with O'Gara Coach while employed as its president and chief operating officer, the trial court correctly rejected O'Gara Coach's argument for disqualification of Richie and Richie Litigation based on a theory of improper successive representation. However, the court erred in failing to consider O'Gara Coach's alternate argument that disqualification of Richie and his law firm was required as a prophylactic measure because the firm was in possession of confidential information, protected by O'Gara Coach's attorney-client privilege, concerning Ra's allegedly fraudulent activities at issue in this litigation."
Privilege Holder's Right
The jurist noted that "if the holder of the attorney-client privilege has not waived the privilege, lawyers representing an adverse party who have received such information knowing it is privileged have an ethical duty not to use it," adding:
"It does not matter whether the information has been provided deliberately or inadvertently…or by an employee of the opposing party's counsel or the opposing party itself….Nor is it necessary for the party seeking to protect its privileged information to make an affirmative showing of existing injury from the misuse of the privileged information; the threat of such use is sufficient to justify disqualification….
"Here, O'Gara Coach presented evidence, undisputed by Ra, that Richie, as president and chief operating officer of O'Gara Coach through February 2016, participated in meetings, phone calls and email communications with outside counsel investigating Ra's and Thomas Wu's activities that developed theories material to O'Gara Coach's defense and forming the basis for its cross-claims in this litigation and that are protected by the lawyer-client privilege. The privilege belongs to O'Gara Coach. Richie, even though no longer an officer of O'Gara Coach, has no right to disclose information protected by that privilege without O'Gara Coach's consent."
The presiding justice went on to note that where a client itself discloses privileged material, disqualification of the attorney is not an appropriate remedy, but that such a rule does not apply when "the confidential information comes into an attorney's possession through a former employee of the adverse party who is now an employee (or principal) of that attorney's law firm…."
In such a case, he said, requires a stricter rule. He wrote:
"Under the applicable legal standards, therefore, Richie Litigation might properly represent Richie in his ongoing litigation with O'Gara Coach, notwithstanding Richie's possession of relevant confidential information protected by O'Gara Coach's attorney-client privilege (an issue not presented by this appeal); but, given Richie Litigation's failure to demonstrate any screening of Richie from other O'Gara Coach litigation matters, the firm may not continue to represent Ra in the instant matter."
The case is O'Gara Coach Company, LLC v. Ra, 2019 S.O.S. 149.
Ethan J. Brown, Rowennakete P. Barnes and James F. Warren IV of Brown, Neri, Smith & Khan in Los Angeles represented Ra on appeal. O'Gara Coach was assisted by Marc J. Poster and Jonathan H. Eisenman of Greines, Martin, Stein & Richland, also in Los Angeles.
Copyright 2019, Metropolitan News Company