Thursday, November 21, 2019
Page 1
Justice Dissents From Majority Opinion of Which He's the Author
Third District Jurist Louis R. Mauro Says Dueñas Was Wrongly Decided, Then, In a Separate Opinion in the Same Case, Declares He Didn't Really Mean It
By a MetNews Staff Writer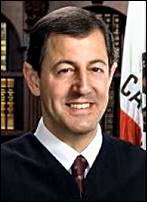 LOUIS R. MAURO
Appellate Justice
]An unpublished opinion of the Third District Court of Appeal, filed yesterday, contains a partial dissent—an extraordinary circumstance given that it was authored by the writer of the majority opinion.
Appellant Lamont Hampstead pled no contest to two felonies—unlawfully driving or taking a vehicle and evading an officer—and to misdemeanor identity theft, drawing a prison sentence of four years and eight months. On appeal, he contended he was shortchanged on credits for presentence jail time and that the case should be remanded, pursuant to the Jan. 8 decision by this district's Div. Seven in People v. Dueñas, for a hearing on his ability to pay the fines and assessments that were imposed.
Acting Presiding Justice Louis R. Mauro wrote the majority opinion. He said:
"We conclude defendant is not entitled to the requested presentence credit. As to defendant's remand request for an ability to pay hearing, we conclude Dueñas was wrongly decided and there was no due process violation."
                       Agreement With Hicks
Part II of the opinion deals with Dueñas. Mauro embraced the Sept. 24 decision by Justice Brian Hoffstadt of this district's Div. Two in People v. Hicks which repudiated the January opinion by Div. Seven's Justice Laurie Zelon.
Mauro's opinion declares:
"We agree with the Hicks analysis in its entirety. The strands of precedent relied upon by the Dueñas court in expanding due process protections to require an ability to pay determination before imposing a mandatory fine, fee, or assessment do not support, and indeed run contrary to, such an expansion. Imposition of the challenged financial obligations has not deprived defendant of access to the courts. Nor has defendant been incarcerated because of his inability to pay.
"There was no due process violation."
Disagrees With Himself
In a turnabout, Mauro then dissented, in part, from his own opinion, saying:
"This case presents the rare circumstance in which I express disagreement with a portion of my authored opinion. While the panel is unanimous with respect to part I of the decision, the panel is not unanimous as to part II. Nevertheless, in an effort to provide timely resolution for the parties, authorship has not been reassigned. As a result, part II reflects a majority view with which I disagree."
He went on to say:
"The California Supreme Court did not grant review of Dueñas or depublish it. Dueñas is citable precedent.
"Some courts have subsequently criticized Dueñas's legal analysis….But until the California Supreme Court has had an opportunity to resolve the current split in authority, I believe it would promote fairness, and would not be unlawful or unjust, to remand the matter and give the trial court an opportunity to consider, in light of current authority, defendant's ability to pay the imposed fine and assessments."
The majority opinion was signed by Justices Andrea L. Hoch and Peter Krause.
Although authors of majority opinions sometimes toss in additional comments in a concurring opinion—a technique generally said to have been devised by the late California Supreme Court Justice Stanley Mosk—for a justice to contradict his or her own words is rare, if not unprecedented.
The case is People v. Hampstead, C086311.
Copyright 2019, Metropolitan News Company