Tuesday, October 8, 2019
Page 1
GOP Assembly Whip Mathis Seeks Records of Time, Money Spent in Defending SB 27
By a MetNews Staff Writer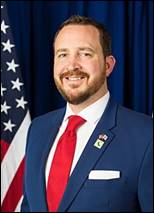 DEVON MATHIS
Assembly GOP Whip
Assembly Republican Whip Devon Mathis of Visalia yesterday made a Public Records Act request to the state Attorney General's Office seeking records showing how much money has been spent on the effort to block President Donald Trump's name from appearing on the California ballot on March 3.
Senate Bill 27 was enacted to require presidential candidates to disclose their private tax information as a condition of having their names included on the ballot—something Trump has indicated he will not do. The constitutionality of the statute is being challenged in seven U.S. District Court actions and in a case before the California Supreme Court.
Yesterday's PRA request seeks an "hourly accounting of Department of Justice attorney staff time expended" in each of those cases, as well as "[t]he salary or hourly pay rate of all Department of Justice attorneys who expended time on any of  the… cases" and "[a]ny billing records of contract legal services retained to assist with the any of the… cases."
                               Prompt Determination Sought
The Public Records Act requires that the agency is to notify the requestor within 10 days if the records that are sought are disclosable but may under "unusual circumstances"—which are frequently found to exist—grant itself an extension of up to 14 days. Mathis called for prompt action, saying:
"I ask for a determination on this request within 10 days of your receipt of it, and an even prompter reply if you can make that determination without having to review the records in question.
"If you determine that some but not all of the information is exempt from disclosure and that you intend to withhold it, I ask that you redact it for the time being and make the rest available as requested. Please provide a signed notification citing the legal authorities on which you rely if you determine that any or all of the information is exempt and will not be disclosed."
Press Statement
Mathis said in a press release:
"We've got homeless veterans, crumbling roads and underfunded schools, and Democrats are wasting tax dollars on this nonsense," said Mathis. "Californians deserve to know what this farce of a law is costing them."
A portion of the press release not attributed to Mathis says:
"A Los Angeles Times editorial called the ongoing fight for the President's tax returns a "waste of public resources" and urged the state to stop spending limited tax dollars to defend an unconstitutional political stunt. Passed under the guise of transparency, SB 27 is one of the largest voter suppression efforts in modern American history, seeking to help Democrats and suppress GOP voter turnout by banning the likely Republican presidential nominee from the primary ballot."
Governor's Declaration
In signing SB 27 into law, Gov. Gavin Newsom in a message to the Senate:
"Today, I am signing SB 27, the Presidential Tax Transparency and Accountability Act. I agree with the Legislature that 'the State of California has a strong interest in ensuring that its voters make informed, educated choices in the voting booth.' As one of the largest economies in the world and home to one in nine Americans eligible to vote, California has a special responsibility to require this information of presidential and gubernatorial candidates.
"These are extraordinary times and states have a legal and moral duty to do everything in their power to ensure leaders seeking the highest offices meet minimal standards, and to restore public confidence. The disclosure required by this bill will shed light on conflicts of interest, self-dealing, or influence from domestic and foreign business interest.
"The United States Constitution grants states the authority to determine how their electors are chosen, and California is well within its constitutional right to include this requirement."
Becerra's Remark
State Attorney General Xavier Becerra has said:
"We'll be ready to do what we need to do to defend California's law and statutes."
U.S. District Court Judge Morrison C. England Jr. of the Eastern District of California said in a ruling on Oct. 1—which the state is contesting—that "Plaintiffs are likely to prevail on the merits" of four of their contentions. He declared:
"Defendants are hereby ENJOINED from enforcing the provisions of the Presidential Tax Transparency and Accountability Act to the extent they require candidates for the presidency to disclose their tax returns as a condition of appearing on California's presidential primary ballot."
Copyright 2019, Metropolitan News Company