Monday, August 5, 2019
Page 1
Chaney Was 'Silent Partner' in Action For Jurists' Back Pay, Mallano Says
By a MetNews Staff Writer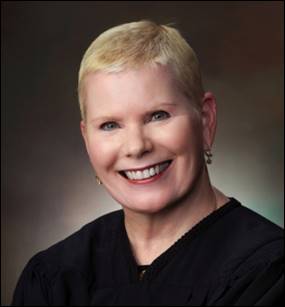 VICTORIA CHANEY
Court of Appeal Justice
Court of Appeal Justice Victoria Chaney of this district's Div. One was a "silent partner" in Mallano v. Chiang—the case that resulted in about $40 million in back pay being provided to sitting and former judges and justices who were short-changed by the state from 2008-2013—the named plaintiff, Robert M. Mallano, disclosed Friday.
Mallano, who was presiding justice of Div. One from  June 4, 2008 to February 28, 2014, told the METNEWS that it was Chaney who arranged for representation in the case by Raoul D. Kennedy and other attorneys at Skadden, Arps, Slate, Meagher & Flom. He termed Kennedy and the others in the firm "masterful lawyers."
The retired jurist said he and Chaney—a member of the appeals court since 2009—"were the clients." He noted:
 "She and I read every paper in the case."
Guidance to Lawyers
He said they provided comments to their attorneys who, he related, expressed no resentment at the input, saying it was a benefit to be able to bounce matters off persons with experience on the bench.
Chaney's role had not previously been made known.
Mallano, a former presiding judge of the Los Angeles Superior Court, said he and Chaney agreed that he would be the named plaintiff in the action, filed in Jan. 2014, given that he would be retiring in four weeks.
No Compromise
In his initial meeting with Kennedy, Mallano said, he explained that he wanted judges to receive 100 cents on the dollar, interest at 10 percent, and attorney fees and costs. He recounted telling the lawyer:
"I'm not compromising."
Mallano and Chaney scored a total victory in the courtroom of Los Angeles Superior Court Judge Elihu Berle, who found that the state had violated  Government Code §68203. That section provides that judicial salaries "shall be increased" annually by the average percentage of salary increases of state employees.
Judgment was entered in the class action on March 10, 2016. Div. Two of this district's Court of Appeal affirmed on June 26, 2018 in an unpublished opinion by Acting Presiding Justice Victoria Chavez, and the state Supreme Court denied review.
Mallano said Superior Court judges have now been paid and retirees have been told, in effect, "The check is in the mail."
 Feting Mallano
The Alliance of California Judges will be honoring Mallano on Oct. 26, 2019 at the Renaissance Long Beach Downtown Hotel. An announcement of the event said, "We owe a debt of gratitude to Justice Mallano for perseverance that has now benefited every sitting and retired judge that served during some or all" of the years when automatic pay hikes were withheld.
There was a time, at the outset of the litigation, when some judges took issue with Mallano bringing suit, expressing a concern that legislators would be miffed with judges, and retaliate.
Mallano said yesterday that no judge expressed that view "directly to me," but recounted that he heard of the rumblings second hand.
"That was not a deterrent for me," he said, adding:
"I didn't see any downside to asking for our pay.
Chaney is expected to be a witness in the Commission on Judicial Performance hearing that begins today in the matter of Court of Appeal Judge Jeffrey Johnson, a member of her division. Johnson is charged with sexual harassment of Chaney and several other women.
Copyright 2019, Metropolitan News Company