Tuesday, June 25, 2019
Page 1
Birthday Party Held for Judge Mackey
By a MetNews Staff Writer
The main ballroom of a hotel was filled on Saturday as well-wishers celebrated the upcoming 90th birthday of Los Angeles Superior Court Judge Malcolm H. Mackey, born July 20, 1929 in Hoboken, New Jersey. Los Angeles Superior Court Judge Samantha P. Jessner told how Mackey made her feel welcome in the Judges' Lounge of the Mosk Courthouse. Her colleague Randolph Hammock presented a humorous roast, ending on the serious note that there is no person he admires more than Mackey. Mackey was presented with a scroll by Los Angeles City Council member Paul Koretz and words of tribute came from Lancaster Mayor R. Rex Parris.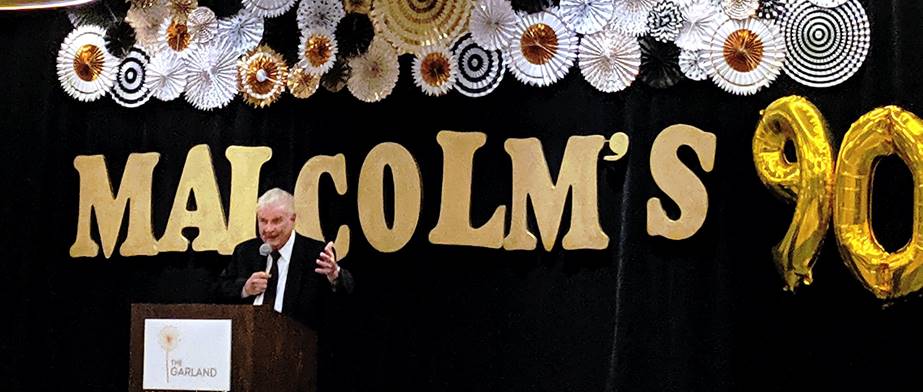 Los Angeles Superior Court Judge Malcolm Mackey recounts his days as a young practitioner in an office at Fifth and Hill Streets, his days on the Los Angeles Municipal Court (1979-89) including service as presiding judge, and his 30 years of service on the Los Angeles Superior Court. He was elected to both courts and triumphed over a challenger last year, capturing 80 percent of the vote.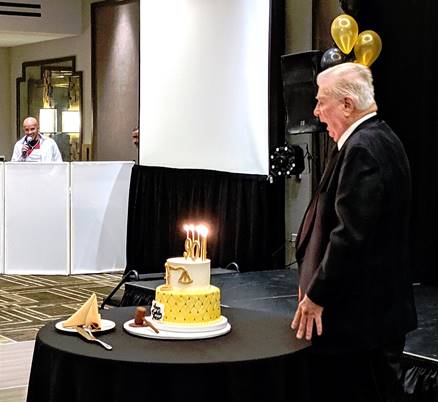 Mackey blows out the candles on his birthday cake at Saturday's celebration.
Copyright 2019, Metropolitan News Company