Friday, October 11, 2019
Page 1
Retired Superior Court Judge Arthur Lew Dies at 74; Was Prosecutor for 14 Years
By a MetNews Staff Writer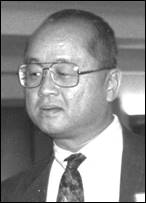 ARTHUR M. LEW
1945-2019
Retired Los Angeles Superior Court Judge Arthur M. Lew has died at the age of 74.
His judicial career spanned 23 years. He was appointed to the Long Beach Municipal Court in 1991 by Gov. George Deukmejian and elevated to the Superior Court in 1994 by Gov. Pete Wilson.
Lew did not run for reelection in 2014 and retired on Oct. 15 of that year. He continued to serve as a judicial officer, however, as a member of the Assigned Judges Program.
He received his law degree from Southwestern in 1975. Although he was admitted to practice on June 28, 1977, he retained his post as a Los Angeles County deputy assessor, which he had assumed in 1970, until moving to the District Attorney's Office as a deputy in 1978. He remained there until he was appointed to the bench.
Former District Attorney Steve Cooley reflected yesterday:
"Art was a solid, reliable, very well liked deputy DA and the same as a superior court judge. He brought a positive upbeat attitude to whatever he did."
No Controversies
Throughout his career, Lew escaped controversy. There was one controversy as to which he was on the periphery.
While a prosecutor, he had occasion to appear in the courtroom of Los Angeles Municipal Court Judge David Kennick. One of the charges with the Commission on Judicial Performance confronted the jurist was this:
"On or about January 21, 1986 during Deputy District Attorney Arthur Lew's examination of a witness at the preliminary hearing, People v. Michael Siravo, A 032461, you stood up, announced a recess, threw down your pencil, addressed Mr. Lew as 'you asshole,' and left the bench."
(The California Supreme Court removed Kennick from office in 1990 based on excessive absences.)
Backed Commission Report
Chief Justice Tani Cantil-Sakauye in 2011, her first year in office, created a Strategic Evaluation Committee ("SEC") to examine the workings of the Administrative Office of the Court ("AOC") which had come under wide criticism, in particular from the Alliance of California Judges. The SEC's 2012 report, among other things, called for increased control by the Judicial Council of the AOC (which now has no separate existence, merely being the Judicial Council's "staff.")
On July 15, 2012, Lew wrote, in response to a request for comments on the SEC Report:
"I applaud our Chief Justice for having the vision and foresight to appoint the SEC. I commend the SEC for having done an outstanding and very thorough job in spite of resistance from within our very own branch. The SEC's findings are thorough, logical, based on fact and very well presented. I strongly urge our Chief Justice and Judicial Council to implement every one of the SEC's recommendations forthwith. There is no logical or legitimate reason not to and any delay will obviously result in further detriment to our branch."
Information on services was not available yesterday.
Copyright 2019, Metropolitan News Company