Wednesday, November 20, 2019
Page 1
Slander Action Over Charge of Racism Is Not a SLAPP—Appeals Court
Opinion Says Actor Shia LaBeouf's Celebrity Status, Publicity Following Profane Outburst at Bartender, Do Not Justify Special Motion to Strike
By a MetNews Staff Writer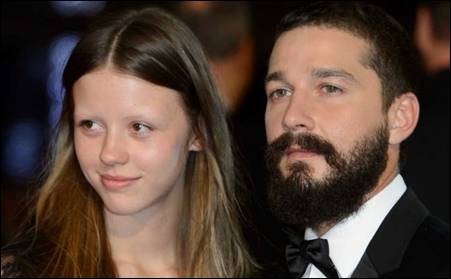 —AP
In this 2014 file photo, Mia Goth and actor Shia LaBeouf arrive for the premiere of Fury at a central London cinema, during the BFI London Film Festival. The couple was refused service on April 5, 2017, by a bartender in Studio City based on their apparent intoxication, leading to a profane outburst by LaBeouf, which resulted in an action against him for slander, and other alleged wrongs. The Court of Appeal held yesterday the action was not a SLAPP.
An actor who launched into a profane tirade, accusing a bartender who refused to serve him and his companion of being a racist, failed to show that an action against him for slander, assault, and intentional infliction of emotional distress was a SLAPP, the Court of Appeal for this district held yesterday.
Justice Luis Lavin of Div. Three wrote the unpublished opinion which affirms Los Angeles Superior Court Judge Laura A. Matz's denial of a special motion to strike brought by defendant Shia LaBeouf. He is being sued by David Bernstein, the bartender/manager at Jerry's Famous Deli on Ventura Boulevard in Studio City.
According to the complaint, filed May 28, 2017, Bernstein declined to serve alcohol to LaBeouf or his companion, English actress Mia Goth, because he discerned they were intoxicated. It recites that videos of LaBeouf's diatribe "were published by TMZ and were circulated instantly world-wide to millions of people via television, internet, social and print media."
Actor Defended
The pleading maintains that LaBeouf "has a large fan base" and that many persons, in postings on the Internet, defended the actor's "false statements," though they were "without any basis in fact."
It avers that LaBeouf appeared to be readying to attack Bernstein, who "reasonably held a Grey Goose Vodka bottle over his shoulder, whereupon Defendant, LaBeouf, retreated and was ushered out of the bar by Jerry's Famous Deli employees."
Alleging continuing harm, the complaint sets forth:
"On a near daily basis, Mr. Bernstein's exposed to significant embarrassment and ridicule as customers that he has never met have alluded to him as "The Racist Bartender" and people that he docs know have constantly been bringing up this event, causing significant emotional distress, humiliation and embarrassment."
LaBeouf's Motion
LaBeouf charged in his memorandum of points and authorities in support of his motion pursuant to Code of Civil Procedure §425.16:
"Plaintiff is attempting to capitalize on Defendant's high profile and celebrity status by commencing the instant action asserting baseless and harassing claims for defamation, assault, and intentional infliction of emotional distress. This action amounts to little more than attempted civil extortion."
Arguing that the first prong of the anti-SLAPP statute is met—that the action be based on public speech "in connection with a public issue"—he said that his allegations were voiced in a public place and the existence of public interest in what he said is evidenced by a video being "posted publicly on the TMZ website."
Bernstein cannot show a probability of prevailing on the merits—under the second prong of the statute—because the alleged slander was merely nonactionable "name-calling," the purported assault "is premised on Defendant's verbal conduct," and the emotional distress claim is founded on conduct that does not meet the requirement of outrageousness.
"Indeed, Plaintiff's own admitted conduct in threatening to hit Defendant with a Grey Goose bottle was more outrageous than anything that Defendant is alleged to have done," LaBeouf remarked.
Lavin's Opinion
In his opinion affirming the denial of the motion, Lavin wrote:
"The defendant's celebrity status, on its own, is not sufficient to render anything the defendant says or does subject to anti-SLAPP protection….
"Here, LaBeouf's statements—calling Bernstein a 'racist'—were not directed at someone in the public eye. Nothing in the record suggests that, prior to this incident, Bernstein was a public figure or had been involved in any issue of public interest….
"There is also no evidence that LaBeouf's comments addressed an ongoing controversy or an issue that had garnered any public interest before LaBeouf lashed out at Bernstein. Rather, the statements concerned an isolated dispute between a bartender and an inebriated client over the bartender's refusal to serve the client alcohol at a restaurant."
He added:
"Although footage of the altercation was later disseminated to many people on the internet and television, a private dispute does not become a matter of public interest simply because it was widely communicated to the public."
The allegation of racism, Lavin said, was "merely part of LaBeouf's tantrum," not a public discourse on the topic of racism.
The case is Bernstein v. LaBeouf, B288054.
Brian G. Wolf and David B. Jonelis of the Century Park firm of Lavely & Singer represented LaBeouf. Arguing for Bernstein were Jens B. Koepke of the Torrance firm of Shaw Koepke & Satter and Bruce A. Wernik and Frederic L.F. Hamilton of the Law Offices of Bruce A. Wernik in Encino.
Copyright 2019, Metropolitan News Company