Wednesday, October 23, 2019
Page 1
Court of Appeal:
Prosecutor's Misconduct Requires Reversal Of Felony Cruelty-to-Animal Conviction
Third District Says Jury Misled as to Requirements for Gross Negligence
By a MetNews Staff Writer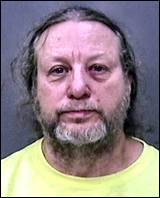 —Shasta County Sheriff's Office
CHARLES VERNON SPERRY
Appellant
The Third District Court of Appeal has reversed the conviction of a man for felony cruelty to an animal because the prosecutor committed misconduct by telling jurors that "the defendant's situation, or the defendant's circumstances" are not relevant to the requisite determination as to whether the accused acted with gross negligence.
Defendant Charles Vernon Sperry, 77, had been caring for his son's dog, Kisses, for eight years until she was removed from his premises by an animal control officer on Dec. 9, 2016. The dog, a pit bull, was emaciated and, when efforts at Haven Humane Society clinic to treat her failed, was euthanized.
Sperry, unaware that Kisses had contracted diabetes, had made futile efforts to restore her health. He testified that, facing eviction, he did not have sufficient funds to pay a veterinarian for treatment and, as the dog continued to lose weight, determined that she would have to be put to sleep, but was waiting for his son to return home to provide the funds for that to be done.
Charges were filed Jan. 25, 2017.
Jury Instruction
Shasta Superior Court Judge Tamara L. Wood on Jan. 30, 2018, instructed jurors:
"To prove that the defendant is guilty of the crime charged in Count 1, the People must prove that the defendant acted with gross negligence. Gross negligence involves more than ordinary carelessness, inattention or mistake in judgment. A person acts with gross negligence when, one, he or she acts in a reckless way that creates a high risk of death or great bodily injury; and two, a reasonable person would have known that acting in that way would create such a risk.
"In other words, a person acts with gross negligence when the way he or she acts is so different from the way an ordinarily careful person would act in the same situation that his or her act amounts to disregard for animal life or indifference to the consequence of that act."
The defendant was convicted by a jury on Jan. 31, 2018. On June 22, 2018, Wood placed him on three years of formal probation.
Renner's Opinion
The conviction was reversed in an opinion filed Monday and not certified for publication. Justice Jonathan Renner wrote:
"The trial court properly instructed the jury that in order to convict defendant of felony animal abuse, the People were required to prove defendant acted with 'gross negligence,' and the court correctly defined gross negligence. The prosecutor, however, argued defendant's situation and circumstances were not relevant to the jury's determination of gross negligence. This is the opposite of what the law requires….Defense counsel properly objected, and the trial court wrongly overruled the objection."
Ordinarily, he said, it would be presumed that the jury would follow the judge's instruction, rather than a prosecutor's argument. But under the circumstance of Wood overruling an objection to the argument, Renner commented, she gave the appearance of validating the prosecutor's representation as to what the law requires.
Renner pointed out:
"There was evidence defendant was trying to mitigate Kisses' deterioration. In an effort to address Kisses' weight loss, defendant treated her for worms; defendant gave her more food, then different food. Defendant gave Kisses milk and Pedialyte, and bathed her twice weekly with flea and tick shampoo. When these efforts did not improve Kisses' condition, defendant knew she likely would have to be euthanized and he was making a plan for that, waiting for his son to return home. This is not evidence of someone who simply does not care what happens to the dog."
The jurist said "it is reasonably likely the jury would have reached a different result had the prosecutor not told them to ignore defendant's circumstances."
The opinion does not reflect any explanation by Sperry as to why, if he could not afford treatment for Kisses, he did not himself take her to the Humane Society or a like facility.
The case is People v. Sperry, C087515.
Copyright 2019, Metropolitan News Company