Monday, December 30, 2019
Page 8
JUDICIAL ELECTIONS: Los Angeles Superior Court Office No. 76
Retiree With the First Name of 'Judge' Competes With Deputy District Attorney
By ROGER M. GRACE, Editor
One judicial contest on the March 3 ballot in Los Angeles County is between Judge Mike Cummins and Los Angeles Deputy District Attorney Emily J. Cole.
The impression voters are apt to have is that Cole is running against a sitting judge of the Los Angeles Superior Court whose first name is Michael, shortened to "Mike." In truth, Cummins, born "Michael Richard Cummins," resigned as a member of the Stanislaus Superior Court in 2006, and in 2017, for political reasons, obtained a name change in the San Luis Obispo Superior Court. His first name is now "Judge" and his middle name is "Mike."
In 2014, a deputy district attorney, Carol Najera, unseated a judge of the Los Angeles Superior Court, James Pierce. The question looms whether Cole, who appears to be bucking a sitting judge, can duplicate Najera's feat.
Cole shares an attribute with Najera that has become a "plus" in elections: being a female.
However, Najera also had the advantages of a Hispanic name, which Cole doesn't, and a high-impact ballot designation of "Violent Crimes Prosecutor." Cole, who prosecutes sex offenders, could not, under legislation effective last year, use a designation indicating a government-attorney status that deviates from the actual title of her office. And, as it is, Najera won by less than one percent of the vote.
While Cole lacks two key benefits Najera had in gaining her slender victory, other recognized factors in judicial elections do come into play—and in each election year of late, fresh techniques and new dynamics have emerged, rendering "conventional" wisdom outmoded. A look at the 2014 race in which Najera defeated Pierce does illuminate considerations that might provide meaningful in the Cole-Cummins race, but it remains that the impact of "Judge" appearing as the first word of the name of a judicial candidate is untested, and unpredictable.
In the Pierce-Najera contest, Pierce took in no contributions. Najera did accept money and spent what she had on slate mailers, buying, at the last minute, spaces that would otherwise have gone unsold, and doing so at bargain rates ranging from $500 to $2,200 each. Also, she relied heavily on social media, then a novel approach.
In the present race, Cole is accepting contributions. Cummins may not do so; he has not yet formed a committee. Should he do so, as a resident of San Luis Obispo County, he is not apt to draw meaningful donations from the legal community here, where he is unknown, nor within his own bailiwick where he would not sit, and where contributors last year were disappointed by his poor showing—less than 36 percent of the vote—in his challenge to the district attorney.
Neither Pierce nor Najera had a political consultant. In this election, Cummins doesn't; Cole does. She's represented by David Gould.
While Gould has handled the campaigns of several successful judicial candidates, it is not clear to what extent those victories were attributable to his guidance. He charges high fees and candidates with the most amount of money to spend have gravitated to him. His name recognition in judicial contests is tied to his having acted as the accountant in judicial campaigns orchestrated by Joseph Cerrell—generally acknowledged as having demonstrated mastery in such contests—who died in 2010.
Gould has a particular incentive to push hard to gain a victory for Cole. If she fails to do, with his help, what Najera did with no professional guidance, it would cast doubt as to the utility of Gould's services.
Cummins, 64, has a law degree from the University of Arkansas at Fayetteville. Cole, 40, received hers from Golden Gate University in San Francisco.
EMILY COLE
Prosecutor Declares She's Ready to Trade Role of Advocate for That of Impartial Adjudicator
Los Angeles Deputy District Attorney Emily Cole criticizes "judges who aren't done being lawyers" when they join the judiciary.
"They advocate when they go on the bench," she complains.
Cole says that while "being a lawyer was a lifelong goal" of hers, and although she enjoys being an advocate—in her current assignment as a member of the Sex Crimes Division, she terms herself a "victims' advocate"—she's ready to switch roles and become a neutral arbiter.
The prosecutor expresses confidence that she would glide into that role with ease, explaining:
"I like to look at both sides."
The judge she would pattern herself after, Cole notes, is Los Angeles Superior Court Judge Hayden A. Zacky.
"He's so prepared," the prosecutor comments, adding that he is "fair to both sides."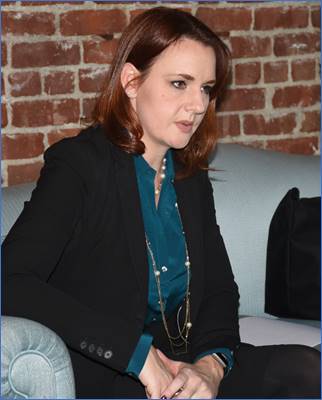 COLE
Without Controversy
Cole—in contrast to her election adversary—is uncontroversial.
Los Angeles County District Attorney Jackie Lacey, who has endorsed Cole, told the METNEWS:
"Ms. Cole is a skilled ethical advocate who brings energy and dedication in handling a voluminous caseload of some of the most serious cases prosecuted by the office including murders, sexual assaults and child abuse cases. The bench will benefit from her considerable expertise and her dedicated professionalism to always seek justice by doing what is right."
One colleague in the District Attorney's Office says of Cole:
"Emily has a reputation for being an incredibly hard worker who researches issues thoroughly and is therefore always well prepared. She also has a great sense of humor and does not let the pressure get to her. She's always ready, willing, and able to help others in her unit without complaint.
"Emily's work ethic and reputation as a team player made her a natural choice for a position as a trial deputy in the prestigious Sex Crimes Division. If Emily is successful in her bid to become a Judge, she will be a great asset to the Superior Court, and a great loss to the District Attorney's Office."
Office Evaluations
In her last three annual office evaluations, Cole was rated "Exceeded Expectations (Very Good)."
The latest report, issued Feb. 15 of this year, covers the period from Nov. 16, 2017 to Nov. 15, 2018. It says:
"Ms. Cole is a dedicated and conscientious employee. She has a strong work ethic….She has never hesitated to take on a new assignment. She has developed excellent relationships with law enforcement officers, court personnel, the bench officers, and the defense bar. She is an excellent prosecutor and an asset to the office."
Cole is also known by her married name, Emily Doss. Her husband is downtown Los Angeles business litigation attorney Bryan S. Doss, who was her classmate at Golden State School of Law in San Francisco. They were wed in 2007, the year Cole joined the Office of District Attorney.
JUDGE MIKE CUMMINS
Ex-Judge Seeks a Return to a Role He Didn't Enjoy Holding
March 8, 2016. Wowee! There was a hot time that day at the Country Hoedown in Valley City, North Dakota. Strumming the guitar at the Eagles Club event was "Judge Mike Cummins."
Publicity for the event says:
"Classic Country Troubadour: Judge Mike Cummins entertains, a former judge, retired from the Superior Court of California. After spending years as a top-rate attorney and ultimately becoming a highly respected jurist, Mike decided at age 60 that he wanted to follow his dream and spend the rest of his time singing and bringing joy to audiences. So his life now is music—the songs of the great Johnny Cash, Merle Haggard, Willie Nelson, Hank Williams, Kris Kristofferson and many other classic country stars, plus a good dose of Mike's own original brand of music."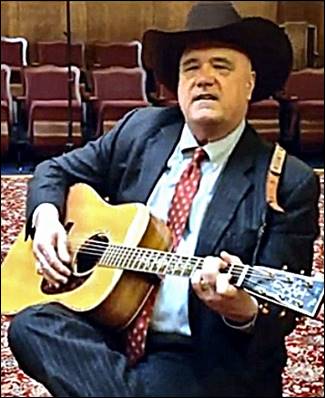 Judge Mike Cummins is seen in a still from a 2014 video that preceded his March 22 performance in Arroyo Grande, a city in San Luis Obispo County.
Even before Michael Richard Cummins's 2017 San Luis Obispo Superior Court-approved name-change to his present moniker, the good ol' boy was appearing with other musicians he rounded up as "Judge Mike & The Lawless." That goes back to 2014.
The March 19, 2014 issue of the San Luis Obispo New Times says that Cummins "has traded in his gavel for a guitar and has begun his long delayed quest to sing and entertain."
(He did not immediately trade in a gavel for a guitar; Cummins had resigned from a judgeship in 2006.)
A calendar item in the Jan. 30, 2015 issue of the Santa Maria Times advises that "Judge Mike & The Lawless will perform Feb. 15 at The Monday Club" in San Luis Obispo "to celebrate their new CD release, 'Breaking Out,' " with "CD signing and meet and greet to follow."
First Love
Music, it would seem, is Cummins's first love—as confirmed by his longtime friend, San Luis Obispo lawyer Ian Funke-Bilu, who has been quoted as saying of Cummins:
"I think it was during his last years when he was a judge that he realized that he didn't really love the law like he loved country music."
Cummins has apparently not had a passion for the law, but an interest in it; it's been not his "jealous mistress," but a steady date. There was, however, a splitting up on Jan. 17, 2017, when he went on inactive California State Bar status, followed by an ostensible reconciliation when he reverted to active status on Feb. 1, 2018, after announcing his candidacy for district attorney of San Luis Obispo County. He remains on active status but has not resumed his practice.
Off to Arkansas
Cummins, who sold cars for awhile in the late 1970s, was persuaded by Funke-Bilu, then a recent admittee, to go to law school. Departing from San Luis Obispo (to which he had moved with his parents from San Diego at age 3), Cummins was off to the University of Arkansas School of Law where he gained his degree.
Admitted to the State Bar of California in 1983, Cummins was in private practice from 1983-89. He was hired in 1989 by the District Attorney's Office in the sparsely populated County of Stanislaus, in California's Central Valley; in 1994, Cummins was appointed to the Stanislaus Municipal Court; he became a Stanislaus Superior Court judge through unification in July 1998; and in March 2005, he went on leave to run for the post of the county's district attorney, losing the June 5, 2006 election by 7 percent.
Returning to the bench on June 26, he retired on Aug. 11. The Aug. 12 issue of the Modesto Bee reports:
"Cummins said he does not harbor ill feelings over the election and is not leaving because he was given a family law calendar, rather than a criminal docket, when he returned to court in late June."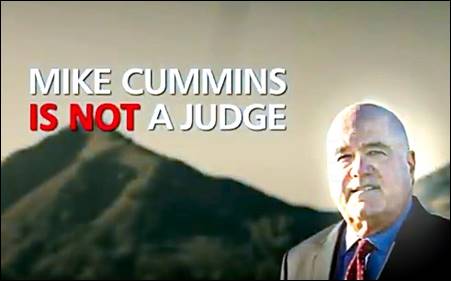 Above is a screenshot from a campaign video paid for by the committee for Dan Dow, the San Luis Obispo district attorney challenged last year by Judge Mike Cummins. The voiceover begins: "Mike Cummins is deceiving voters. Last year, Cummins changed his name to 'Judge' to 'advance professional opportunities,' according to court documents. The truth: Cummins hasn't been a judge in over a decade."
Disliked Judicial Service
Funke-Bilu is quoted in a March 15, 2014 article in the San Luis Obispo Tribune as saying of his long-time compadre:
"Once he became a judge, he felt that would be his career. But he didn't really love it. He did not like it at all, frankly."
That piece relates that Cummins confirmed:
"If I'd loved being a judge, I never would have run for DA."
A Jan. 13, 2018 article in the Tribune—announcing that Cummins was challenging the incumbent San Luis Obispo district attorney in the primary—recites that in 2006, "Cummins found he 'didn't fit the mold' for [a] judge."
District Attorney Race
There was controversy in that San Luis Obispo contest over Cummins's name-change, with the candidate expressing indignation over the charge that he was seeking to fool voters into thinking he was a sitting judge.
After losing the 2018 contest, garnering only 35.67 percent of the vote, he is now seeking to again become a judge, despite his announced antipathy toward that role. There have been various state liens against him in recent years.
Cummins, a divorcee, lives in a home he shares with his present wife in the City of San Luis Obispo.
There is no residency requirement for judges—and indeed, his opponent, Los Angeles Deputy District Attorney Emily Cole (though employed here), resides with her husband and two children in Ventura County. Nonetheless, one prominent observer in the Los Angeles legal community, alluding to Cummins's out-of-county abode and his change of name, brands him a "carpetbagging charlatan."
Change of Name
When Cole announced earlier this month that she would challenge her rival's use of the name "Judge" on the March 3 ballot, charging that he was attempting to perpetrate voter fraud, Cummins protested in an email to the METNEWS, in response to a request for comment:
"Ms. Cole is, at best, incorrect. She is parroting the essence of a 2018 dishonest smear campaign—alleging that I was trying to mislead voters into believing that I was currently a sitting judge. This was, and is, absolutely false. My purpose, in this context, was to fairly and accurately reflect my more than ten years of previous service as a judge in California."
Cole, through her lawyers, did file a writ petition which contested the use of the word "Judge," citing a statute that says a title may not be included on the line with the candidate's name. It also assailed the use of "Retired" as a ballot designation.
The petitioner was David Gould, Cole's campaign consultant. Registrar-Recorder Dean Logan was the respondent and Cummins was the real party in interest ("RPI").
Cummins's Reply Papers
Representing himself, Cummins said in his memorandum of points and authorities that it "is not difficult to understand…why Petitioner so stridently seeks to remove RPl's name from the ballot," remarking:
"RPl's service and experience, of more than ten years as a judge, almost as long as his opponent's entire career as a lawyer, is a highly relevant, important and potentially-politically-potent FACT which Petitioner, and his candidate-client, Ms. Cole, simply wish to conceal from voters—voters who have a Constitutional right to receive and consider relevant and truthful candidate information."
Under the Code of Regulations, the word "Retired" may be used as a ballot designation, in front of a former profession, vocation, or occupation, where the candidate has engaged in no more recent pursuit. Cummins commented:
"Had RPI, upon his retirement as a judge, not then worked as an attorney, but stayed retired, he could have run for this office as 'Michael Richard Cummins' - - 'Retired Judge.' Because of a regulation, a rule which appears to RPI to be highly technical and arguably unfair, he can't. To be sure, RPl's (changed) name of 'Judge Mike Cummins,' and ballot designation of 'retired,' work around that rule. However, they do so in a way that is neither illegal, immoral, unethical, deceptive, untrue, misleading or otherwise improper."
Los Angeles Superior Court Judge James Chalfant on Dec. 17 ruled that the word "Judge" may appear on the ballot because it is part of the name of the candidate, not a title. He also decreed, however, that the word "Retired" may only be used in front of Cummins's most recent profession, which, Chalfant said, is restricted by statute to the words "Attorney," Lawyer," or "Counselor at Law."
Cummins chose "Retired Counselor-at-Law."
Copyright 2019, Metropolitan News Company