Thursday, December 19, 2019
Page 8
JUDICIAL ELECTIONS: Los Angeles Superior Court Office No. 145
DDA Who Is Distant Relative of Ricardo Montalban Vies With TV-Son of Tyne Daly
By Roger M. Grace, Editor
Los Angeles Deputy District Attorney Adan Montalban does not yet have a campaign website mounted. He is bound to have finances dwarfed by those of his opponent for a Los Angeles Superior Court open seat, criminal defense lawyer Troy Slaten.
Yet, Montalban has the "plus-factor" of an Hispanic surname and, appearing beneath that name on the March 3 ballot, will be the words, "Deputy District Attorney, County of Los Angeles."
The ballot designation for Slaten will be "Attorney/Legal Commentator." Some will recognize his name based on his former career (for 20 years) as an actor, and from his recent television appearances as a legal analyst.
Today: a look at Montalban, along with Part Two of a rundown on Slaten.
ADAN MONTALBAN
Prosecutor Is Off to a Late Start In Launching Campaign, but Says He's Not Daunted
Adan Montalban is seeking election to the Los Angeles Superior Court but, as he acknowledges, he has some "catching up" to do. He got in the race at the last minute.
He's a deputy district attorney and his interest in judicial elections, he recites, was spurred by his desire to see a colleague of his, Shannon Cooley, elected to a judgeship. Montalban was an active promoter of her campaign, one which ended both with a whimper—no one filed a declaration of intent to run against her by the Nov. 12 deadline—and a bang: she was, in effect, elected to a judgeship (given the exceedingly remote prospect of a successful write-in campaign for her seat).
Exposed to the political process, though initially intending his role to be that of a backer, he apparently thought, "Why not me?" and jumped into the race for Office No. 145 on Nov. 5.
He has no campaign consultant. No committee, which means he can't take in contributions, yet. No campaign website.
He'll put up a website, he says, once he has his "endorsements squared away," and insists that while he's "coming in late in the game," it's not too late.
Answers Questions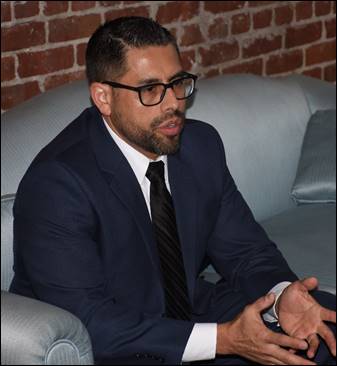 MONTALBAN
While his opponent, criminal defense lawyer Troy Slaten, has been reticent about answering questions relating to his campaign (see the following profile), Montalban has not been similarly guarded.
With respect to campaign finances, he says he's willing to put in $50,000 of his own money. That, plus what he can attract from donors, he says, "should be enough."
Slaten has a campaign adviser, David Gould, who has demonstrated a capacity for gaining entrée for his clients onto slate mailers through group buying. Montalban says he'll seek to combine with other non-Gould clients to buy onto "some of the slate mailers that we think might be important."
When asked as to what organizations he has membership in, he readily identifies the Mexican American Bar Association and the Latino Prosecutors Association.
Illegal Entry
Montalban does not hide the fact that when he was age 1, his parents brought him into the United states from Mexico and "we were undocumented immigrants coming into this country."
He points out that his parents subsequently gained citizenship,
Though illegal aliens, with little means, they did not turn to a distant relative—tied to Montalban's paternal grandfather, a general in the Mexican Army—for assistance. That was the late actor Ricardo Montalban, of TV's "Fantasy Island" fame.
The candidate says of the actor: "I never met him."
Judge's View
A Los Angeles Superior Court judge who has viewed Montalban's performance says:
"Adan Montalban is very good and most affable—will keep you in stitches. He has tried cases before me and did an excellent job. The juries love him, and he has an incredible way of disarming people and very good examination skills."
The jurist adds:
"He is well liked by the bench, colleagues, as well as opposing counsel, and has good judgment. Above average legal mind. I would say he is qualified to well qualified."
Montalban responds:
"I'm humbled that that judge can think that of me. Says a lot. Means a lot."
However, the judge does have a criticism, saying:
"At times he can be a little too cavalier and as a result, he shorts his presentation leaving questions for the juries to figure out. He is very good about boiling the case down to what is important, but sometimes to a fault."
Montalban responds that he has been handling gang-murder cases for the past five years, cases that, with multiple counts and multiple defendants, "can be very complicated."
He explains that "with the amount of time given to us by the courts" to argue to a jury, "we really have to prioritize" what is put forth.
The prospect that jurors might fall asleep if too much is heaped on them is also a concern, he points out, saying:
"Much as I would like to sit there and go over every single aspect, that's not always a possibility."
Office Evaluations
In 2017 and this year, Montalban received ratings in his annual office performance evaluations of "Exceeded Expectations (Very Good)."
However, his rating for 2018 was "Far Exceeded Expectation (Outstanding)" which was at one time akin to an "A" grade in school, but in recent years has been bestowed exceedingly rarely.
The evaluation report says:
"Mr. Montalban is deserving of a Far Exceeded Expectations rating for several reasons….Mr. Montalban completed nine jury trials six of which involved murder charges. For the second consecutive year, he completed the most trials in the Hardcore Gang Division. His two-year total of 21 jury trials, is unrivaled by any of his peers and is particularly impressive in this era of voluminous digital discovery….
"One quality that set him apart from his peers was his absolute desire to be incredibly busy coupled with his insistence to take on additional work. He craved to be overworked. In addition to completing a trial almost every month, Mr. Montalban made himself available for special projects and special trials….
The report also remarks that Montalban "effectively resolved novel, unusual, or rare legal issues with wisdom, creativity, and sound judgment."
TROY SLATEN
Won't Justify Ballot Designation, Doesn't Want to Discuss Campaign Finances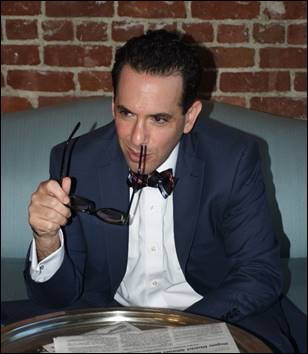 SLATEN
The question is asked of judicial candidate Troy Slaten: "What groups do you belong to?"
His response: "What groups do I belong to? Now, what do you mean? What kind of groups?"
Organizations. Bar associations. Other groups.
The criminal defense lawyer responds:
"So, right now, I belong to—well, I've been making the rounds to several of the Democratic clubs, so I've been joining and learning at several of the Democratic clubs, all around the Los Angeles area."
The question, he's reminded, is what groups he belongs to?
"I don't have any current memberships," he answers.
Seated in a couch at the METNEWS office in downtown Los Angeles recently, the former child actor was glad to talk about his days in show business. He was a regular on "Cagney and Lacey" in 1981-88, portraying the son of New York police officer Mary Beth Lacey, played by Tyne Daly, and was a star of Fox's "Parker Lewis Can't Lose" in 1990-93.
But Slaten is reluctant to provide answers to questions relating to his candidacy.
Ballot Designation
The candidate's ballot designation is "Attorney/Legal Commentator." Under Elections Code §13107(c), for an additional pursuit to be added to the description of "Attorney," it must be a "current principal profession, vocation, or occupation of the candidate, or the principal profession, vocation, or occupation of the candidate during the calendar year immediately preceding the filing of nomination documents."
While Slaten tells of having appeared on the air "hundreds" of times over the past five years as a commentator, he declines to estimate how often he has appeared this year or in 2018.
Has it been an average of once a week?
"I couldn't say," he responds. "I've appeared on, regularly, CNN, HLN—"
Reminded, now, that he's not being asked where he has appeared, but how often, he says:
"I don't have that statistic at my fingertips."
He mentions that the frequency of his appearances "varies," and notes that "during the race, I've turned down several opportunities because of court appearances or things involving campaign appearances," but adds:
"I am still active regarding my legal commentary."
Slaten says he has been on-air "probably several times a month," but won't provide a guess at just how often, at an average.
As it happens, his opponent, Los Angeles Deputy District Attorney Adan Montalban decided not to challenge the ballot designation of "Legal Commentator," saying he saw no particular value in that description.
Candidate's Finances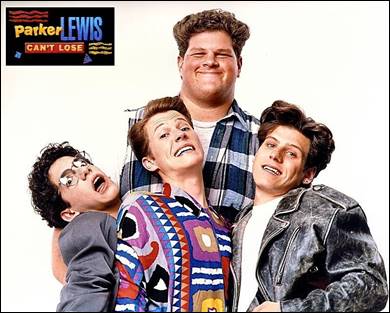 Above is a publicity still from the Fox television show, "Parker Lewis Can't Lose." Slaten, a star of the show, is at left.
Candidate financial reports are due next month. Slaten won't discuss now how much he has raised or how much he's seeking to amass.
How much of his own money is he willing to put in?
"As much as is necessary to win," he says.
What is the most be would contribute?
"As much as me and my advisors think is necessary," Slaten relates.
And how much money does his advisers say will be needed?
"As much as is needed to win" is his answer.
How much is in his coffers?
He'll say only: "We'll be making those required reportings when they're due."
(Slaten has, however, made two contribution disclosures in advance of that. The reports were required because of the amounts: each $5,000. The candidate gave that sum to his committee on Oct. 8 and reported it two days later; Lyndon Williams, an Inglewood Cyber Security Engineer duplicated the donation on Nov. 27 with Slaten reporting it on Dec. 2.)
Slaten's Endorsements
Slaten is endorsed for the Los Angeles Superior Court by television personalities Nancy Grace, an inactive member of the State Bar of Georgia, and Drew Pinsky, a medical doctor who is known on TV as "Dr. Drew." The candidate had appeared as a commentator on the respective shows his endorsers then hosted on the cable network HLN.
However, his endorsements include those of no sitting Los Angeles Superior Court judge. Slaten explains:
"I haven't really been soliciting them because I read the Canons of Judicial Ethics and it appears that I can't be campaigning inside a courtroom, or a courthouse, rather. And I take that seriously.
"So, I'm not roaming the halls seeking endorsements."
But by some means, he says, he will contact judges outside their work environments and gain their support.
Copyright 2019, Metropolitan News Company