Wednesday, July 31, 2019
Page 1
Court of Appeal:
Attorney Fees May Be Awarded Based on Indemnity Clause Where Party Itself Sues
Opinion Validates High Fees Charged by Experienced, Able Counsel
By a MetNews Staff Writer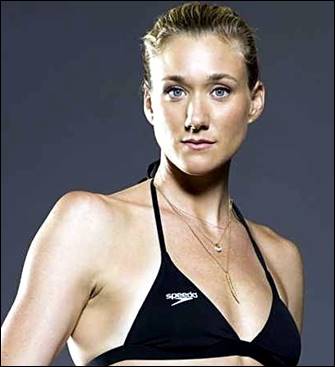 Pictured above is Kerri Walsh Jennings, a volleyball player whose award of attorney fees was upheld by the Court of Appeals for this district. Justice Brian S. Currey said that a fee-shifting provision, though contained in an indemnity clause, was broad enough to justify an award although the defendant was a contracting party, rather than a third party.
Kerri Walsh Jennings, a beach volleyball player who has captured three Olympic gold medals and a bronze medal, was properly awarded attorney fees in an action against a company to which she leased her name and likeness, the Court of Appeal for this district has held, declaring that it doesn't matter that a contractial fee-shifting provision was contained in an indemnification clause.
Justice Brian S. Currey of Div. Four wrote the unpublished opinion, filed Monday. It affirms a judgment by Los Angeles Superior Court Judge William F. Fahey who awarded the plaintiff attorney fees in the amount of $92,726.
In reaching that figure, Fahey held that the expertise of Century City attorney Alan Jay Weil of Kendall Brill & Kelly LLP rendered reasonable the hourly rate of $850 he charged Jennings last year (discounted from his normal $950 per hour rate) and $790 an hour he assessed for services in 2017.
$150,000 Owed
The litigation was based on the Association of Volleyball Professionals ("AVP") having failed to pay Jennings the $150,000 it was contractually bound to provide in exchange for permission to use her name and likeness. She sued it, but AOS Group, LP was substituted for a Doe defendant based on its purchase of all of AOS's assets.
After the action was filed, AOS handed over the sum claimed, plus $27,792 in interests and costs—but there remained a dispute as to whether attorney fees were owed. AOS maintained that a fee-shifting provision would have come into play only if it had been obliged to defend Jennings, based on its breach, in an action against her by a third party.
An indemnification clause in her contract with AVP says that the licensee "agrees to defend, indemnify and hold harmless" Walsh Jennings, "her agent, representatives and employees from and against any and all damages, claims, suits, actions, judgments, costs and expenses including reasonable attorney's fees, arising out of: (a) any material breach by AVP of this Agreement or any representation or warranty made hereunder."
Fahey's Ruling
On Oct. 24, 2017, Fahey denied AOS's motion to strike a demand for attorney fees, saying that the 2000 opinion of this district's Court of Appeal in Wilshire-Doheny Associates, Ltd. v. Shapiro "was correctly-decided and controls here."
In that case, a corporation bound itself, in three agreements, to indemify two corpotate officers—including payment of their attorney fees—in the event they were sued in connection with the discharge of their duties. As it happened, it was the corporation, itself, that sued them.
Resisting payment of attorney fees, the corporation argued that indemnification, necessarily, entails an action by a third party. Disagreeing, Div. One's presiding justice, Vaino Spencer (now deceased), said:
"There is nothing in the language of any of the three indemnity provisions specifically limiting their application to third party lawsuits. Respondents point to no extrinsic evidence introduced to demonstrate that the parties intended these provisions to apply to third party lawsuits only….Thus, it has not been shown the indemnity provisions are inapplicable merely because appellants seek indemnification for attorney's fees and costs incurred in an action brought by the indemnitor…."
In awarding fees after AOS paid what was owed, Fahey stuck to his view that Wilshire-Doheny dictates the result.
Currey's Opinion
In his opinion affirming Fahey's decision. Currey quoted the language in the agreement between Jennings and AVP and declared:
"[T]his language does not limit indemnification to third party claims and extends indemnification to 'any and all' damages incurred by Walsh Jennings arising out of AOS's breach of the Agreement…. Had the parties intended to narrow the clause to cover only third-party claims, they could have done so expressly."
He added:
"The indemnity provision here expressly permits recovery of attorneys' fees arising out of 'any material breach by AOS of this Agreement.' Accordingly, we conclude the trial court properly interpreted the indemnity provision to provide for attorneys' fees in this case."
Amount of Fees
AOS asserted that Fahey abused his discretion as to the amount awarded in attorney fees. Currey responded that the "very experienced trial judge found 'the hourly rates and hours are reasonable,' " quoting Fahey as explaining:
"I am very familiar with the market rates of lawyers in this town. And there are few of them that have been members of the Bar longer than I have. Mr. Weil is one of them."
Weil was admitted to practice on Dec. 20, 1974.
Fahey told the parties at a hearing that he had recently approved fees in excess of $1,200 an hour for services of attorneys at Latham & Watkins LLP, Gibson, Dunn & Crutcher LLP, and Munger, Tolles & Olson LLP, and said:
"Candidly, I think Mr. Weil is in that category. You may disagree, but he's an experienced, very capable lawyer."
Currey drew the conclision that "AOS has failed to carry its burden to show the trial court's award of $92,726 as attorneys' fees and costs constituted an abuse of discretion."
The case is Jennings v. AOS Group, LP, B289681.
Copyright 2019, Metropolitan News Company