Friday, July 5, 2019
Page 1
Court of Appeal:
'Grisly or Gruesome Displays' Can't Be Barred by Shopping Centers
By a MetNews Staff Writer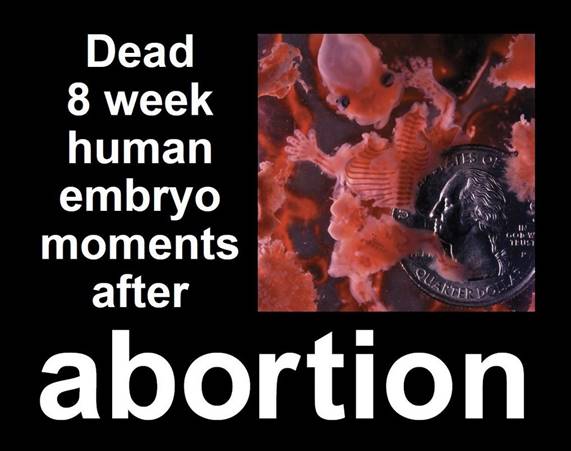 Above is a poster which, under a Court of Appeal decision, shopping center cannot bar.
Div. Three of the Fourth District Court of Appeal has reversed an order permitting two Orange County shopping centers to bar pro-life activists from mounting "grisly or gruesome displays" on their premises.
However, the panel left intact a ban at the Fashion Island Shopping Center in Newport Beach and the Irvine Spectrum Center on body cameras and limiting expressive activities to specified locations.
Justice David A. Thompson wrote the majority opinion, in which Justice Raymond J. Ikola joined. Acting Presiding Justice Richard M. Aronson wrote a concurring opinion.
Thompson pointed to the California Supreme Court's 1979 decision in Robins v. Pruneyard Shopping Center which held that California's constitutional free-speech provision—Art. I, §2—authorizes expressive activities at shopping malls which, it said, resemble cities.
Contest-Based Exclusion
In Tuesday's opinion, Thompson said:
"[W]e consider Plaintiffs' contention the trial court erred in concluding the restriction on signs depicting "grisly or gruesome" imagery is constitutional. Plaintiffs argue the restriction is content-based and does not withstand strict scrutiny. We agree."
The shopping centers argued that the restriction is content-neutral because it "simply addresses the manner" and "style" of communications, not the content of the messages.
"We are not persuaded," Thompson wrote.
He said enforcement authorities would have to examione the displays to determine if they were violative of the restriction.
"This is a classic indication of a content-based restriction," he declared.
Spencer's 1987 Opinion
Thmpson's view is contrary to that stated by Court of Appeal Presiding Justice Vaino Spencer (now deceased) in her July 28, 1987 opinion for this district's Div. One in H-CHH Associates v. Citizens for Representative Government. She expressed agreement "to a significant extent" with the contention that time-place-and manner restrictions on expressive activity at a Pasadena plaza were too limiting, but said:
"The use of 'fighting words,' obscenities, grisly or gruesome displays or highly inflammatory slogans likely to provoke a disturbance, of course, could be prohibited. Examples of the latter would be pictures of aborted fetuses, gross racial caricatures or slogans such as 'kill the pigs now.' "
In the case before Thompson panel, the anti-abortion activists seek to display photographs of aborted embroys.
Thompson Comments
Thompson addressed Spencer's opinion by saying:
"Given the simultaneous reference to 'fighting words' and "obscenities," it appears H-CHH was attempting to refer to categories of unprotected speech, not speech protected by some level of constitutional scrutiny….Irrespective of whether the H-CHH court's statement was in line with the law at the time it was decided more than three decades ago, recent United States Supreme Court precedent requires we reach a different conclusion."
He noted that the nation's high court in 2010 declared unconstitutional a federal statute that the commercial production, sale, or possession of depictions of cruelty to animals a crime. The following year, he recited, that court struck down a California statute banning the sale of violent video games to minors without parental supervision.
In light of those decisions, Thompson said, "we decline to add grisly and gruesome depictions, directed at minors or otherwise, to the categories of speech which fall outside the scope of constitutional protection."
The ban on body cameras and restrictimg areas where displays may be mounted are content-neutral and constitutional, he proclaimed.
Aronson's Opinion
Aronson said in his concurring opinion:
"…I write separately to dispel the notion that protecting young children from psychologically harmful images cannot ever be a compelling state interest. Under certain circumstances, it very well might be."
He went on to say:
"Here, the image in question is a poster with the words "Dead 8 week human embryo moments after abortion." The image on that poster shows a dead fetus, with its head, face, spinal cord, arms, fingers, and body all visible and identifiable, and with the head clearly severed from the body. Because strict scrutiny applies, Defendant must establish its prohibition on this 'grisly and gruesome' image is (1) necessary to serve the compelling interest of protecting the physical and psychological well-being of its younger patrons and (2) the least restrictive means to achieve that interest. Defendant failed to make this showing.
"Although this image conceivably might bother or even traumatize some children, Defendant presented no evidence—no percipient witness testimony, no expert witness testimony, no studies or scientific reviews, or other evidence—on whether, how, or to what extent viewing that image would negatively impact children or whether the negative impact might vary by age group."
The case is Center for Bio-Ethical Reform v. The Irvine Company, 2019 S.O.S. 3186.
Copyright 2019, Metropolitan News Company