Friday, July 12, 2019
Page 1
Judge Scott Gordon to Retire From Bench, Ending 42-Year Public Service Career
Has Been Police Officer, Prosecutor, Court Commissioner, Judge
By a MetNews Staff Writer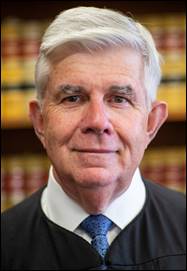 SCOTT GORDON
Los Angeles Superior Court Judge
Scott Gordon, a prosecutor in the O.J. Simpson murder trial who went on to become a Los Angeles Superior Court commissioner, then a judge, will leave the bench Aug. 16, the MetNews has learned.
"After 42 years of public service in Los Angeles County, I am in fact going to be retiring," Scott confirmed.
"I will be remaining very active in the Los Angeles legal and family law communities, but I am not able to discuss my immediate plans until after Aug. 16," he said.
That hints at an intention of becoming a private judge. Judges are precluded, before leaving the bench, from telling of plans to join a dispute resolution firm.
Gordon's Reflections
He reflected:
"My time with the Los Angeles Superior Court has been a wonderful experience in all respects. The judicial officers and staff of the Los Angeles Superior Court are amazing professionals and colleagues. I have had the opportunity to serve in some challenging and rewarding assignments including supervising Judge of the Family Law Division and supervising Judge of the Criminal Division. I have presided over some fascinating cases working with some of the finest lawyers in the country.
"I have had to opportunity to work with judges around the world on issues involving child abduction and safety and building democratic judicial systems.
"For the last three years I have had the great honor of being a member of the Judicial Council of California. This has been a tremendous privilege and learning experience. The chief justice and other members of the Judicial Council have been mentors, colleagues and friends and I am grateful to have had the opportunity to serve California with them."
Gordon added:
"A.A. Milne said—and I could not agree more—'How lucky I am to have something that makes saying goodbye so hard.' "
APJ Race
The judge, whose tenure on the Judicial Council will end when he retires from the court, seemed to be headed for the post of presiding judge, but last year lost the election for assistant presiding judge to Judge Eric Taylor.
In 2002, judges of the Los Angeles Superior Court elected Gordon as a court commissioner. His first courtroom was next to that of Judge Katherine Mader, who joined the District Attorney's Office the same day as he.
He was with that office for 16 years, then served as a commissioner for eight years until his 2010 appointment as a judge by Gov. Arnold Schwarzenegger.
His 1985 law degree is from Southwestern. He studied there while serving on the Santa Monica police force.
Gordon is an adjunct professor at Southwestern. He's been on the faculty for 29 years.
In May, the Los Angeles County Bar Association's Criminal Justice Section conferred on him its "Judge of the Year Award." That same section honored him in 1999 as "Prosecuting Attorney of the Year."
Other awards he's received include those of "Chief Justice's Award for Exemplary Leadership," 2018; "Spenser Brandeis Award," Los Angeles County Bar Association's Family Law Section, 2014: "Family Law Judicial Officer of the Year," the American Academy of Matrimonial Lawyers, 2011; "Judicial Officer of the Year," Southwestern Law School Alumni Association, 2008; and "Excellence in Teaching Award for 2003" from Southwestern.
He has received various commendations from Congress, the state Board of Equalization, the Assembly, the Board of Supervisors, and the Los Angeles Commission on Assaults Against Women.
In 1997, Gordon was one of three prosecutors from the United States chosen to go to The Hague in the Netherlands to serve on the United Nations International Criminal Tribunal as a legal specialist. He has taught judges and legal professionals from Eastern Europe and Iraq at the CEELI Institute in Prague, Czech Republic, with his courses dealing with judicial independence, building democratic court systems and fighting corruption.
He has been an advisor to judges in California on matters relating to the Hague Convention matters has been invited by the United States Department of State to be one of the four U.S. judges serving on the International Network of Hague Judges.
Copyright 2019, Metropolitan News Company