Tuesday, September 17, 2019
Page 1
Dino Fulgoni, Retired Superior Court Judge, Prosecutor in Onion Field Case, Dies
By a MetNews Staff Writer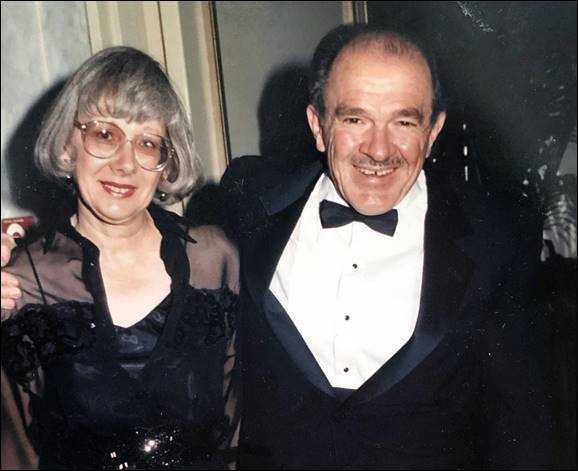 Retired Los Angeles Superior Court Judge Dino Fulgoni (1933-2019) is seen with wife, Dorothy Fulgoni.
Dino John Fulgoni, a chief prosecutor in the "onion field" case during 27 years as a Los Angeles deputy district attorney, and a judge of the county's Superior Court for eight years, has died at the age of 85.
Death occurred late last week during open heart surgery. There will be no memorial service.
Fulgoni was appointed to the bench by Gov. George Deukmejian on Oct. 30, 1989, and took office a week later, retiring in 1997.
'Onion Field' Case
"The Onion Field," a 1973 best-selling novel by Joseph Wambaugh, made into a 1979 movie, concerned the kidnapping of two Los Angeles police officers and the slaying of one of them at an onion farm near Bakersfield. Fulgoni was portrayed in the film by actor Michael Pataki.
In his book, Wambaugh described Fulgoni as "a short, muscular, craggy man."
As the office expert on diminished capacity, Fulgoni also played a major role in the successful murder prosecution of Manson follower Leslie Van Houten.
Cooley's Tribute
The county's immediate past district attorney, Steve Cooley, said yesterday:
"As a deputy district attorney, Dino Fulgoni was an iconic figure.
"Virtually all of today's prosecutors did not know him. They stand on his shoulders for the groundbreaking legal work he did in the psychiatric and DNA arenas."
Cooley is the author, along with retired Los Angeles County Deputy District Attorney Robert Schirn, of a series of "Blue Lives Matter" books on local law enforcement cases. It was in connection with an upcoming book that the two recently visited Fulgoni at his home in Big Bear Lake.
Cooley recounted "interviewing Dino about the murder of LAPD officer, Oscar Joel Bryant, 50 years ago," remarking:
"He was as sharp as ever, remembering and recollecting that case and prosecutorial stories without missing a beat.
"There will never be one quite like Dino Fulgoni."
LAPD Blog
Mike Thies, a longtime member of the Los Angeles Police Department's elite Major Crimes, now retired, posted on his LAPD blog:
"I was fortunate to have worked several murder cases with Dino during his tenure in the office and appreciated him as a friend and a brilliant prosecutor. We had one particularly complex and difficult serial murder case that in my opinion would not have resulted in a death penalty conviction without Dino's assistance and legal acumen."
He later elaborated that the case was one in which one Donald Miller was convicted of four murders and four attempted murders, with special circumstances, and sentenced to death. Thies noted that Miller "died on Death Row…of natural causes."
Courtroom Episode
The Associated Press on Oct. 2, 1991, reported on an event that day:
"A man charged with shooting at an aircraft attacked his lawyer and a sheriff's deputy in court Wednesday, authorities said. The judge was about to leap into the fray when the man was subdued.
"The defendant, Jimmie Adams, 34, was apprehended by additional deputies called to the courtroom, said Sgt. Larry Lincoln.
"Superior Court Judge Dino Fulgoni had jumped off the bench to help.
" 'I was looking away, then turned around and found the public defender and deputy on the floor and the judge about to leap on him,' said Deputy District Attorney Ken Marks."
The UPI version was somewhat different, saying:
"Judge Fulgoni, shorty but wiry, jumped down from the bench and assisted two bailiffs in wrestling Adams to the floor."
Fulgoni's Background
Born Nov. 6, 1933 in New York City, Fulgoni received his law degree from USC. He spent two years in private practice with the law firm of Velarde & Takasugi before becoming a prosecutor. (Carlos Velarde became a judge of the Los Angeles Superior Court and Robert M. Takasugi served as a judge of the U.S. District Court for the Central District of California; both are now deceased.)
In the D.A.'s Office, Fulgoni served as head deputy in the Special Crimes Division which dealt with cases in which complex scientific evidence was presented.
Fulgoni is survived by his wife. Dorothy Jean Fulgoni, and three children.
Copyright 2019, Metropolitan News Company