Tuesday, October 8, 2019
Page 1
Ninth Circuit:
Flynt, Others May Challenge Cardroom Licensure Restriction
Action to Block California's Ban on More Than One Percent Ownership of Casino in Other States As Proviso of License Here Gets Green Light; Majority Says Statute of Limitation Has Not Run
By a MetNews Staff Writer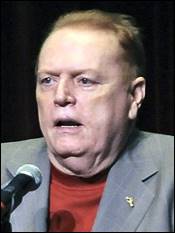 LARRY FLYNT
Adult Business Operator
The Ninth U.S. Circuit Court of Appeals yesterday ordered reinstatement of a civil rights action which seeks a declaration that California statutes that bar a holder of a license to operate cardrooms in the state from having more than a one percent interest in an out-of-state casino-style gambling operation is violative of the Dormant Commerce Clause.
That declaration is sought by adult businesses entrepreneur Larry Flynt and others. Their action was dismissed without leave to amend by District Court Judge John A. Mendez of the Eastern District of California.
Mendez held that the action, filed Nov. 30, 2016, was time barred because one of the plaintiffs, Haig T. Kelegian Jr., in June 2014 was denied renewal of his cardroom license by the state Gambling Commission based on his ownership of a chunk of a casino in Seattle, in violation of Business & Professions Code §§19858 and 19858.5, contained in the Gambling Registration Act. He regained the California license after divesting himself of the out-of-state interest and paying a $210,000 fine.
California's two-year statute of limitation on personal injury suits was applied by the judge. In dissenting from the reversal, Circuit Judge Johnnie B. Rawlinson agreed with Mendez.
Not Time-Barred
Circuit Judge Diarmuid F. O'Scannlain, joined by colleague Mary M. Schroeder, found that that a two-year statute did apply, but that the clock did not start ticking in June 2014. O'Scannlain explained:
"When the continued enforcement of a statute inflicts a continuing or repeated harm, a new claim arises (and a new limitations period commences) with each new injury….Assuming for the sake of analysis that §§ 19858 and 19858.5 violate the Dormant Commerce Clause, Licensees have demonstrated a continuing violation. Sections 19585 and 19858.5 operate on an ongoing basis to prohibit them from investing significantly in numerous casinos outside of California. And every two years, the Commission stands ready to enforce such prohibition as part of the state's license renewal process…."
He continued:
"Licensees therefore suffer a new injury each time they abstain from investing for fear that the Commission will enforce the statutes' prohibition….With each new injury, a new claim arises, and the statute of limitations period begins anew."
California's Contention
The state argued that there was no continuing injury—just a continuing effect of the commission's determination in 2014. O'Scannlain responded:
"The Commission's decision, however, is not what prohibits Licensees from pursuing their desired investments. The statutes themselves do that. Ultimately, the Commission's decision did nothing but enforce the statutes against a particular plaintiff—Kelegian Jr.—with respect to a particular investment. That all three Licensees continue to be precluded from exploring other investment opportunities is not a consequence of the Commission's decision, as the dissent would have us conclude, but rather a result of the continued existence of the statutes themselves and the realistic threat of future enforcement."
O'Scannlain found no merit in the state's contention that the plaintiffs are precluded from challenging the statutes because they "urged the California Legislature to adopt California Business and Professions Code section 19858.5." He said:
We are unaware of any theory of judicial estoppel that would preclude relief on the basis of a litigant's legislative lobbying."
Rawlinson's Dissent
In her dissent, Rawlinson reasoned:
"As the majority acknowledges, a statute of limitation commences running when the claim accrues….
"It is undisputed that Plaintiffs Larry C. Flynt, Haig Kelegian, and Haig Kelegian, Jr. became aware on June 12, 2014, that the challenged statute prohibited any interest in a gambling establishment outside California if that interest exceeded one percent. Because Plaintiffs desired to acquire prohibited interests in gambling establishments outside California, the injury imposed by the statute accrued as to them at the latest on June 12, 2014, when the California Gambling Commission required Kelegian, Jr. to divest himself of a community property interest in a gambling establishment that exceeded one percent. At that point, Plaintiffs knew or had reason to know that the statute imposed an actual injury upon them."
In the action, the plaintiffs contend that the California statutes violate the Dormant Commerce Clause which prohibits states from unduly burdening interstate commerce.
Content of Statutes
Sec. 19858 denies a cardroom license to any person who holds any interest in a casino-style gambling operation within or outside the state; §19858.5 provides an exception, permitting out-of-state interests of not more than one percent.
Flynt—who owns the Hustler Casino and Larry Flynt's Lucky Lady Casino, both in Gardena—is the publisher of Hustler Magazine and produces sexually explicit videos. O'Scannlain's opinion notes that the complaint "alleges that prior to 2014 and as late as November 2015, he declined offers to purchase casinos in Nevada, Iowa, Colorado, Louisiana, and Mississippi because of California's ownership restrictions."
It says the Kelegians also allege that the statutes deterred them from investing in gambling enterprises in other states.
The case is Flynt v. Shimazu, 17-17318.
Earlier Action
Flynt earlier challenged the constitutionality of Proposition 1A, enacted by the voters on March 1, 2000, which allowed limited gambling on Indian reservations. He claimed that allowing slot machines on reservations but not in card rooms violates equal protection.
Div. Two of the First District Court of Appeal held on Dec. 26, 2002 "that granting certain federally recognized tribes" exclusive authorization to certain "gaming rights through the tribal-state compacts challenged herein passes constitutional muster under the rational basis test and does not constitute a denial of equal protection."
That case is Flynt v. California Gambling Control Commission.
Copyright 2019, Metropolitan News Company