Wednesday, June 12, 2019
Page 1
Ninth Circuit:
Judge Fitzgerald Not Disqualified Based on Brother's Job
Contention Rejected That Judge Should Not Have Remained on Case Based on Plaintiff's Complaints About Sibling to His Employer Which, Assertedly, Might Have Caused Loss of Post as First AUSA
By a MetNews Staff Writer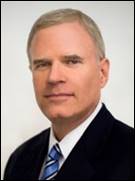 MICHAEL FITZGERALD
District Court Judge
The Ninth U.S. Circuit Court of Appeals held yesterday that a judge of the District Court for the Central District of California properly denied a motion to disqualify a colleague, Judge Michael Fitzgerald, from remaining on a case despite the plaintiff having complained about Fitzgerald's twin brother to higher-ups in his office, which was possibly the cause of his demotion.
Bringing the disqualification motion was Almont Ambulatory Surgery Center, LLC, the lead plaintiff in an action brought by 13 surgical centers and one physicians' medical group suing to obtain payments from health insurers for Lap–Band weight-loss surgeries. The complaint alleged "deliberate, willful and concerted effort" on the part of the defendants "to indefinitely avoid paying for Lap-Band services for its morbidly obese members."
The surgery—once widely touted on billboards urging that those who are overweight contact 1-800-GET-THIN—has come into disrepute based on complications and dangers.
The action by Almont and others was dismissed by Fitzgerald when it was unable to proceed based on its counsel withdrawing—a withdrawal which Almont alleged was induced by actions of the U.S. Attorney's Office for the Central District of California.
In particular, a subpoena was served on the law firm of Sheppard, Mullin, Richter & Hampton LLP, in connection with a criminal investigation into providers of lap band surgeries, creating a conflict between Sheppard Mullin and its clients in the civil proceeding.
Disqualification Motion
A Dec. 19, 2016 declaration by plaintiffs' attorney Mark Jubelt, in support of recusal, quotes from a redacted memorandum which claims a conflict of interest on the judge's part, noting that his twin brother, Patrick Fitzgerald, was first assistant U.S. attorney for the district and the brothers reside in the same home, and are business partners.
It says:
"While the Court apparently does not think its relationship to its twin brother prosecutor who oversaw all of the investigation proceedings regarding the [redacted] to Plaintiffs' counsel. Plaintiffs are deeply concerned with the conflict of interest presented in this case….
"On September 30,2016,... First Assistant Patrick Fitzgerald was demoted from First Assistant to Head of National Security in the Central District. Plaintiffs do not know if the Court blames Plaintiffs for this incident....
"Plaintiffs have made significant complaints against First Assistant Patrick Fitzgerald to the Justice Department for his handling of the criminal investigation matters involving Plaintiffs. These complaints may well be the cause of the First Assistant's demotion. To a reasonable observer, this case has so many extreme problems that the Court's failure to investigate the government's false creation of a conflict with Sheppard Mullin has a debilitating appearance of impropriety that cannot be underestimated."
Wright's View
District Court Judge Otis Wright III on March 8, 2017, denied a renewed disqualification motion. He said:
"The court is once again called upon to decide whether brothers, one of whom is a United States District Judge and the other a highly placed prosecutor in the United States Attorneys Office, can practice their respective professions in the same court house. Some apparently feel, that from an appearances standpoint, the answer is 'No.' "
Wright indicated he would answer in the affirmative, explaining:
"This case is somewhat unusual in that Judge Fitzgerald is not being accused of bias or prejudice against or in favor of a party….Nor is he being accused of being in possession of information about the parties or the case learned extrajudicially….Moreover, despite repeated assertions to the contrary, neither the prosecutor, Patrick Fitzgerald nor any Assistant United States Attorney under his supervision or otherwise, is counsel of record representing a party in any of the three related cases before Judge Fitzgerald. The United States of America is not a party to these related civil actions."
Judicial Probe
The plaintiffs had asked Michael Fitzgerald to conduct an investigation into actions by the U.S. Attorney's Office. Wright commented:
"To the extent Judge Fitzgerald was expected to inquire into why the government served discovery upon a law firm and demanded testimony from specific lawyers, that is quite simply, none of the judiciary's business."
He declared:
"There was nothing even remotely improper in Judge Fitzgerald's handling of this matter. Indeed, there is no evidence of any impropriety on the part of the U.S. Attorney's Office in general or Patrick Fitzgerald in particular. And even if there were, Judge Fitzgerald lacked jurisdiction to intercede. Aside from the fact there was nothing for Judge Fitzgerald to inquire into, he lacked the authority to make the inquiry which plaintiffs seek. For these reasons, the motion seeking a recusal order is DENIED."
Ninth Circuit Opinion
A Ninth Circuit panel—comprised of Senior Circuit Judge Diarmuid F. O'Scannlain, Circuit Judge Michelle T. Friedland, and District Court Judge David A. Ezra of the District of Hawaii, sitting by designation—yesterday affirmed Wright's order. The panel said, in a memorandum opinion:
"…Almont's theory—that Judge Fitzgerald had an irreconcilable conflict of interest because (1) his brother, an Assistant United States Attorney for the Central District of California, allegedly supervised a criminal investigation involving Almont's managers and sabotaged Almont's legal representation, and (2) the government was a party to this case—finds no support in the record. As Judge Wright properly found, the U.S. Attorney's Office engaged in no impropriety with respect to Almont's representation. Furthermore, AUSA Fitzgerald did not enter an appearance in this case, and the government was never a party at any stage of the proceedings. Absent any factual support for its motion, Almont has failed to show that disqualification was required under federal law or applicable codes of judicial conduct."
The opinion also rejects Almont's contention that it should have been allowed to present certain documents in support of the disqualification motion for an in camera inspection, observing that such "would have prevented the employee plan defendants from mounting an effective defense to the motion in violation of their due process rights."
Relief From Judgment
Almont sought relief from the judgment under Federal Rule of Civil Procedure 60(b) (the federal analogue of California's Code of Civil Procedure §473(b).) The memorandum opinion says:
"Almont's proffered reasons for failing to retain counsel by the court's deadline are contradicted by the record and do not establish excusable neglect as required by Rule 60(b)."
The case is Almont Ambulatory Surgery Center, LLC v. United Health Group, Inc., 17-55301.
Patrick Fitzgerald is currently chief of the Central District's National Security Division which was a section when he headed it from late 2009 until August 2015, when he began a 13-month stint as first assistant United States attorney.
Also decided yesterday, by memorandum opinion, was Almont Ambulatory Surgery Center, LLC v. International Longshore and Warehouse Union, 16-56241. The panel rejected the contention that the judge—Fitzgerald— improperly dismissed the case for lack of prosecution based the plaintiffs' failure to obtain counsel by the deadline set by the court.
The complaint alleged a refusal by the ILWU's welfare plan to pay for lap band surgeries, assertedly in contravention of the Employee Retirement Income Security Act of 1974 (ERISA).
Copyright 2019, Metropolitan News Company