Friday, October 25, 2019
Page 1
Fields to Give Talk on Shakespeare, Shylock
By a MetNews Staff Writer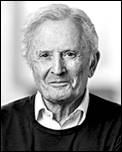 BERTRAM FIELDS
Attorney
Veteran Los Angeles entertainment-law attorney Bertram Fields on Monday night present a talk on Shakespeare and his character Shylock, preceding a reading of "The Merchant of Venice" by a cast that will include Tony Award-winner Al Pacino.
Shylock was a character—a money-lender—in that play, generally thought to have been penned between 1596 and 1599. Fields, who has represented innumerable celebrities, is a partner the Century City law firm of Greenberg Glusker.
His portion of the program is slated for 7:30 p.m., with the performance scheduled to start at 8 p.m. The site will be the Gindi Auditorium at the American Jewish University, 15600 Mulholland Drive, in Los Angeles, with tickets and sponsorships starting at $500.
The one-night-only event is being staged to benefit The Shakespeare Center of Los Angeles. A support group for the center, comprised of legal professionals, dubs itself the "Los Angeles County Bard Association."
Its chair, retired Los Angeles Superior Court Commissioner Alan H. Friedenthal, said yesterday:
"Law and justice permeates the works of Shakespeare from 'Merchant of Venice' to 'Measure for Measure,' from 'Lear to Hamlet.' "
He noted that the center in 2012 we presented the "Trial of Hamlet" with participation of U.S. Supreme Court Justice Anthony Kennedy. Another such major event, Friedenthal said, is planned for next year.
Tickets for Monday's program are available online at www.shakespearecenter.org or by telephoning (310) 559-9334, ext. 102.
Copyright 2019, Metropolitan News Company