Wednesday, June 19, 2019
Page 1
Ninth Circuit Judges Get a Surprise at Argument: Deputy A.G. Agrees With Position of Inmate
Members of En Banc Panel Question Whether There Is Anything for Them to Decide
By a MetNews Staff Writer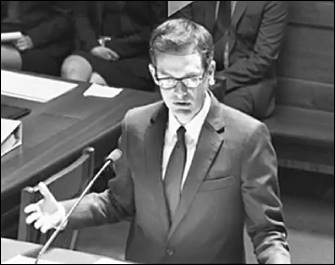 Deputy Attorney General Michael J. Mongan takes judges of the Ninth U.S. Circuit Court of Appeals by surprise in expressing agreement with the position of the petitioner who is seeking habeas corpus relief.
Members of the Ninth U.S. Circuit Court of Appeals, sitting en banc, yesterday expressed astonishment that a deputy California attorney general was agreeing with the stance of an inmate, who is seeking habeas corpus relief, that a Sixth Amendment violation should be presumed based on the trial lawyer's racial animus toward him, in particular, and African Americans such as he, in general.
A rehearing, en banc, was granted after a three-judge panel held last year that petitioner Ezzard Ellis was not prejudiced by the bigotry of his assigned lawyer, Donald Ames, now deceased, because he did not know of the lawyer's bias until years later and is unable to point to substandard performance by Ames in handling the case. The Office of Attorney General, at that time, argued against Ellis's position.
At the oral argument session yesterday in San Francisco before 10 judges (with an eleventh one planning to hear the tape), Deputy Attorney General Michael J. Mongan explained the switch in position by saying that after the three-judge panel ruled, his office took "a fresh look at the legal landscape."
Advisory Opinion
Judge Andrew Hurwitz called the situation "strange" and suggested that his office could simply enter into an agreement with Ellis's lawyer. He told Mongan that he is now asking the Ninth Circuit "to write what would an advisory opinion."
Later, he asked Mongan, rhetorically, whether, if the court affirms the denial of habeas corpus relief, "Do you leave this defendant in jail?"
Saying that the state obviously would not—noting, "You've just told us, 'This is an outrage' "—he asked, "Are we really deciding a case or controversy here?"
Judge Kim Wardlaw commented:
"I don't know whether this case is even justiciable any longer."
Smith Expresses Concern
Expressing a concern that granting relief would lead to a flood of habeas petitions, Judge Milan Smith remarked:
"You're opening up a Pandora's box, aren't you?"
He continued:
"I'm kind of shocked that the state would advocate such a position."
He said that adopting the parties' view would "really upset our judicial system."
Smith also expressed the view that the opinion would be an advisory one and, seeing no continued viability of the appeal, said:
"This case is done. It's just done."
With the parties in agreement, he observed, the case is "a very troubling case, procedurally," adding that it could be viewed as "contrived."
Judge Jay Bybee said that if the parties are in agreement, they can enter into a stipulation in state court proceedings and need no federal relief.
2018 Opinion
The three-judge panel deciding the case on June 7, 2018, was comprised of Circuit Judges Michael Daly Hawkins, A. Wallace Tashima, and Jacqueline H. Nguyen. Nguyen wrote a concurring opinion, in which her colleagues joined, expressing regret that the result was dictated by the circuit's 2001 en banc opinion in Mayfield v. Woodford.
She remarked:
"It makes no difference that Ellis was unaware of his counsel's beliefs. The deleterious effect of such racism on the outcome is usually impossible to prove and, under these circumstances, we should presume prejudice.
"Because I cannot in good faith distinguish Ellis's case from Mayfield, I reluctantly concur in the opinion. Had we not been bound by Mayfield, I would have granted Ellis's petition."
Overruling Mayfield
At yesterday's session, Chief Judge Sidney Thomas said the three-judge panel affirmed the denial of a writ under compulsion of the en banc opinion in Mayfield. He suggested that the present en banc panel declare that "Mayfield was wrongly decided," and remand the case to the three-judge panel or to the District Court.
As Hurwitz rephrased Thomas's solution: "We say, 'Mayfield is gone.' Poof."
Ellis was convicted of murder with special circumstances, attempted murder, and robbery. The defendant learned, well after the trial, principally from statements by Ames's daughter, of derogatory remarks about him and others of his race.
The case is Ellis v. Harrison, 16-56188.
Copyright 2019, Metropolitan News Company