Friday, August 30, 2019
Page 1
Court of Appeal:
 Judge Pro Tem Did Not Abuse Discretion In Curtailing Testimony in DVPA Case
Defendant Had No Entitlement to Sealing of Records Based On Being 'High Profile Individual'; Papers Had Been Publicly Filed
By a MetNews Staff Writer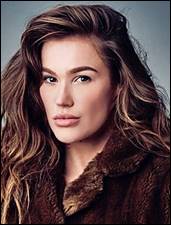 BRITTANY EASTERWOOD
Actress
The Court of Appeal for this district has affirmed the granting of a domestic violence restraining order against a man whom the plaintiff, an actress, insists raped her, and has found no fault with the bench officer declining to seal the records over the defendant's protest that he is "a high profile individual."
Justice Victoria Chavez wrote the opinion which was filed Wednesday and not certified for publication. It affirms orders of Encino attorney Ron W. Saxman, sitting as a judge pro tem.
The plaintiff is Brittany Easterwood, star of a little noted 2018 horror film, "Narcissist."
Conflicting Versions
She says: she arrived at the home of Ronald Barry Curtis on July 18, 2018 after he beseeched her to come and help him work on a movie soundtrack; that she had dated him for five years but broke off the relationship in 2017; that her purpose in coming was to tell him in person that she didn't want to assist him; that he restrained her and raped her.
He says: she came for the purpose of having sex and to get money from him; they argued when he caught her deleting nude photos of her from his cellphone; they then worked on the movie, had consensual sex, and he gave her $540.
Saxman found her testimony more credible that his and issued a three-year restraining order pursuant to the Domestic Violence Prevention Act ("DVPA.")
Appellant's Contentions
On appeal, Curtis argued that Saxman unreasonably limited questioning of Easterwood and excluded testimony by him that would have lent credence to his version. Chavez responded:
"The record discloses no abuse of discretion or grounds for reversal in the trial court's rulings limiting Curtis's cross-examination of Easterwood and precluding Curtis from testifying about Easterwood's boyfriends or her past hospitalizations and drug or alcohol use. The trial court acted within its discretion by limiting the parties' testimony to the relevant events—those that occurred on July 18, 2018."
She continued:
"The claimed evidentiary errors, moreover, would require reversal only if a different result would have been reasonably probable had the errors not occurred…, and Curtis fails to establish any prejudice resulting from the trial court's rulings. Easterwood testified, without objection, that Curtis threw her to the ground, restrained her, threatened to kill her, and raped her."
Chavez said it is "not reasonably probable that the trial court would have reached a different result" if the excluded testimony had been admitted.
Sealing Order Denied
The jurist was unsympathetic to Curtis's insistence that Saxman erred in not sealing the records in the case, saying:
"Curtis's request to seal the record, based on his claim that he was 'a high-profile individual,' was supported by his own testimony that he worked on 'many pictures and documentaries' and with 'many major Hollywood stars, like Julianne Moore.' The trial court noted, however, that the parties had already publicly filed their pleadings in this matter and implicitly found that the facts presented established no 'overriding interest' to overcome the right of public access. The record discloses no abuse of discretion."
The case is Easterwood v. Curtis, B293434.
Yan Goldshteyn of the Maven Law Firm in Beverly Hills represented Curtis. Easterwood made no appearance in the appeals court.
Curtis's Los Angeles Superior Court action against Easterwood for failing to repay a loan of $49,000 resulted in a judgment for the plaintiff.
He alleged that in 2017, he provided the funds for her care at Brookhaven, a rehabilitation center for women, and that she promised to repay him after her discharge; that when he came on visiting day, she gave orders not to admit him; that she has made no repayment.
Los Angeles Superior Court Judge Elaine W. Mandel granted summary adjudication on his cause of action for breach of contract, finding other causes of action to be unsubstantiated.
Under a June 11 judgment, Easterwood owes Curtis, with interest and costs, $57,473.
Copyright 2019, Metropolitan News Company