Friday, March 8, 2019
Page 1
C.A. Grants Reprieve to Dog County Ordered Killed
Justice Segal's Opinion Directs That Further Administrative Proceedings Be Conducted to Determine If Husband and Wife Who Were Attacked While Walking on Private Road Were Trespassers
By a MetNews Staff Writer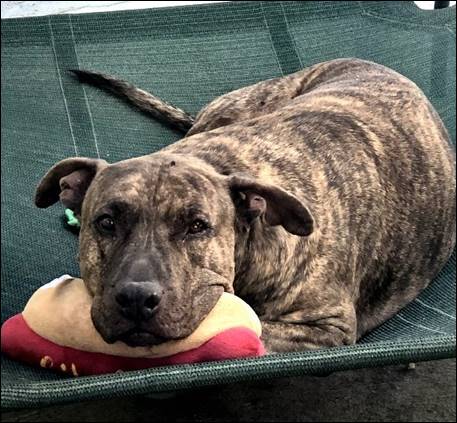 Above is Venice, declared to be a "vicious dog" by a Los Angeles County Department of Animal Care and Control hearing officer and ordered killed based on his attack on a couple walking, without permission, on a private road in a gated community in Newhall. The Court of Appeal for this district on Wednesday reversed the Los Angeles Superior Court's denial of a writ of mandate, instructing that the matter be remanded to the department for a determination as to whether the couple was trespassing, which would preclude a vicious-dog finding.
The Court of Appeal for this district has reversed an order that a dog who attacked a couple strolling on a private road be put to death, directing that an administrative hearing officer give more careful attention, on remand, to the question of whether the husband and wife who were bitten were trespassers.
Justice John Segal of Div. Seven wrote Wednesday's unpublished opinion which countermands Los Angeles Superior Court Judge Mary H. Strobel's denial of a petition for a writ of administrative mandamus sought by Ethan Adamson, 30, who lives in his parents' home in a gated community in Newhall. He is fighting an order by a Los Angeles County Department of Animal Care and Control hearing officer that his four-year-old Labrador/pit bull mix, Venice—found by his sister on Venice Beach—be killed as a "vicious dog" based on his attack on Michael and Shannon Smith.
The attack by Venice and two other dogs (one owned by the sister) took place over a period of about 10 minutes, with Michael Smith sustaining serious injuries. Venice was apparently the primary aggressor.
Private Property
The Smiths were walking on Wildwood Canyon Road, located past a gate, on private property. The road serves six residences—though there was testimony by Adamson's sister that the power to grant "permission to walk on this road where it's on our property" is limited her family and to occupants of the two homes behind the her family's residence.
No homeowner had consented to the Smiths' presence.
At issue was the applicability of County Code §10.37.170 which provides:
"No dog may be declared potentially dangerous or vicious if any injury or damage is sustained by a person who, at the time the injury or damage was sustained, was committing a wilful trespass or other tort upon premises occupied by the owner or custodian of the dog…."
What renders a private road "private," the hearing officer declared, is simply that it is not publicly maintained, but, he insisted, members of the public have a right to travel on it, so they can't be trespassers.
Erroneous Assumption
Segal wrote:
"[B]ecause the public does not always have the right to travel on a private road, use of a private road by a member of the public, without the owner's permission, may constitute a trespass."
He pointed to Vehicle Code §490 which provides:
" 'Private road or driveway' is a way or place in private ownership and used for vehicular travel by the owner and those having express or implied permission from the owner but not by other members of the public."
Road Is 'Occupied'
The jurist went on to say:
"[T]he hearing officer determined the Adamsons did not occupy the property on which the Smiths sustained their injuries because the Smiths sustained their injuries on Wildwood Canyon Road. The hearing officer, like the trial court, apparently concluded a property owner cannot possibly 'occupy' that portion of his or her property that is used as a road. The law, however, is otherwise."
Among authorities he pointed to was the Sixth District Court of Appeal's 2017 decision in Vieira Enterprises, Inc. v. McCoy which held that a person can be an "occupant" of a private road.
The opinion directs the Superior Court to order a remand to the department for a determination as to whether the Smiths were willfully trespassing on a road closed to the public and occupied by the Adamson family.
The case is Adamson v. County of Los Angeles Department of Animal Care and Control, B278803.
Representing Adamson on appeal is West Los Angeles attorney Steven L. Martin, along with Adamson's brother-in-law, Newhall lawyer Arran S. Treadway, who handled the trial court proceedings. Principal Deputy County Counsel Diane C. Reagan was the attorney on appeal for the department.
Attorney Comments
Martin mentioned yesterday that the family has had to incur the expense, over the past three years, of Venice being boarded at a kennel, pending resolution of the legal proceedings. He described the dog as a "sweetheart" who has "always been loving, and kind, and playful," adding:
"Venice is a beloved family pet who was condemned to be destroyed following a rather flawed administrative hearing in which certain evidence was inappropriately admitted, evidence favorable to Venice's case was disregarded and the applicable law was ignored. Despite the considerable expense of this litigation and of boarding Venice over the last 3˝ years since the incident, the Adamsons will continue to fight for his life and his return home.
The attorney provided copies letters to Marcia Mayeda, director of the county department, Animal Care and Control, in an ill-fated attempt to an agreement that Venice be allowed to return home.
Kennel-Owner Comments
Ligaya Kelly, proprietor of Bouquet Canyon Kennels where Venice is boarded, said of the dog: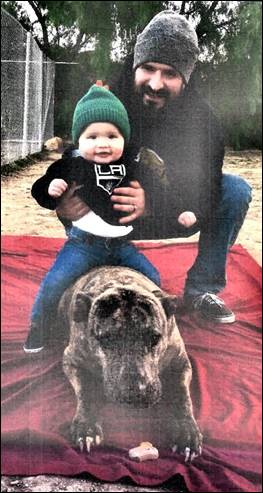 Venice is seen with Ethan Adamson—who has been maintaining a court battle to save his dog, the subject of a county death warrant—and son Griffin, now 13 months old.
"In his 3˝ years at our facility he has worked with all of our employees and family on staff (roughly 15 different people) without incident. He's been treated by our veterinarian on our property and off without incident. He's never once shown aggression towards anyone and, for the most part is dog friendly. He's not food or treat aggressive, allows us to place our hands in his food bowl while eating, walks on leash to the play yard, allows us to check him over lifting his legs, looking in his ears, trimming his nails, etc... without any issue.
"While I realize the severity of the incident that took place I personally feel this incident was isolated. I don't feel Venice is a direct threat to the public and that the family should have no trouble abiding by any requirements set to keep him contained."
Kelly added:
"If the County succeeds in having Venice destroyed it will set a precedent for future cases in where a dog who bites a human with or without provocation will be destroyed for doing exactly what we expect of them, protecting their home and family. I think that many of my customers would agree that their dog isn't just a pet, it's security for their family."
Gentle With Child
Adamson wrote:
"I am a husband and a father. If Venice was a 'Vicious Dog' I would never lake my one year old son to see him. My son feeds him milk bones and rides on top of him as if he is a small horse. They lay with one another and exchange kisses while my son, pets him, even aggressively as some kids do.
"The main thing I would like to know is, why is the County so determined to kill my dog or keep him imprisoned for the rest of his life, which I can't afford to do? The man who was bitten trespassed on our property moments before it got dark. There are inaccurate claims that my dog attacked him unprovoked. There is no evidence of that other than the man's unsworn statement. We don't believe that he did not provoke Venice or his brother Max. I had Venice for three years prior to this incident and took him to every dog beach from Long Beach to Santa Barbara. We've never had an incident nor a complaint."
Parties' Pleadings
The petition for writ of mandate alleges:
"It was brought to light at the June 18th, 2015 hearing the trespassing parties said after being  approached by the dogs they 'kicked him' and 'hit him [Venice] with a stick' after being  allegedly attacked. The trespassers admitted they knew the surrounding property before they  approached and came on to the property. They knew the former neighbors from the past. They  knew they were walking on to a horse ranch and assumed the risk of running into a dog."
"The trespassers knew the former neighbors of the ranch property admittedly and knew FOR  A FACT there were dogs on the private ranch property. The trespassers were well aware of the  chance there were dogs on both properties and still MADE THE DECISION to trespass."
The department's answer generally and specifically denies the allegations except to acknowledge that the county administers the vicious-dog provisions and "that an administrative hearing was held on June 18, 2015 in Long Beach, CA, when the dog 'Venice,' was determined to be a vicious dog, within the meaning  of Los Angeles County Code section 10.37.030." It declares that certain conclusions set forth in the petition "do not require a response" and sets forth seven affirmative defenses.
Copyright 2019, Metropolitan News Company