Monday, January 7, 2019
Page 1
USC's Disciplinary Process Is 'Fundamentally Flawed'—C.A.
Issues Latest in a String of Decisions Establishing Students' Rights
By SHANE PATRICK ETCHISON, Staff Writer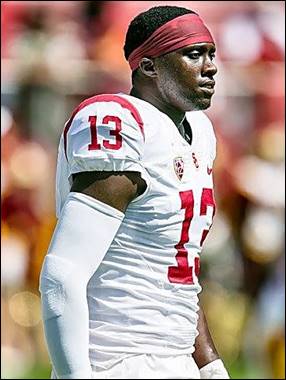 —AP
BRYCE DIXON
Former Trojan
The Court of Appeal for this district Friday filed its latest decision criticizing USC for having a "fundamentally flawed" disciplinary process which denied a student accused of sexual assault his due process rights before his expulsion.
Acting Presiding Justice Thomas L. Willhite Jr. wrote the opinion reversing Los Angeles Superior Court Judge Howard L. Halm's denial of a student's petition for writ of administrative mandate to set aside his expulsion.
The student, Bryce Dixon (referred to in the opinion as "John Doe" despite litigating under his own name below), was a freshman tight end for USC's football team. He had a sexual encounter with a senior who also worked for the school as an athletic trainer (identified in the opinion as "Jane Roe").
Dixon claimed the encounter was consensual; Roe claimed it was not, and reported it to the administration. One of the respondents in the case, Kegan Allee, the Title IX investigator assigned to the matter, found that Dixon had engaged in nonconsensual sex with Roe in violation of the school's code of conduct.
The former student claimed that Allee was biased against him, and that the school's disciplinary process did not afford him an opportunity to question witnesses before a neutral factfinder in violation of his due process rights; under USC's policy, Allee acted as both the investigator and the factfinder.
Prior Cases Cited
Willhite noted that several recent cases have looked at the due process rights afforded university students accused of sexual assault.
The most recent such case, filed Dec. 11, was Doe v. USC, from this district's Div. Seven. In it, Justice Gail R. Feuer explained the court's determination that an investigator's reliance on another person's witness interview summaries was not enough to comport with the accused student's right to have a credibility determination made by a neutral factfinder.
Willhite responded:
"In our view, the analysis in USC v. Doe…did not fully consider a key question: whether the right to a fair hearing, and in particular the right to cross–examination, has any practical efficacy without structural procedural changes in a procedure such as that used by USC. It is true that an administrative procedure in which a single individual or body investigates and adjudicates does not, 'without more,' violate due process."
USC's Procedure Lacking
He added:
"When credibility of witnesses is essential to a finding of sexual misconduct, the stakes at issue in the adjudication are high, the interests are significant, and the accused's opportunity to confront adverse witnesses in the face of competing narratives is key.…Under such circumstances, the performance of this key function is simply too important to entrust to the Title IX investigator in USC's procedure.
"As we have explained, in USC's system, no in–person hearing is ever held, nor is one required. Instead, the Title IX investigator interviews witnesses, gathers other evidence, and prepares a written report in which the investigator acts as prosecutor and tribunal, making factual findings, deciding credibility, and imposing discipline. The notion that a single individual, acting in these overlapping and conflicting capacities, is capable of effectively implementing an accused student's right of cross–examination by posing prepared questions to witnesses in the course of the investigation ignores the fundamental nature of cross–examination: adversarial questioning at an in–person hearing at which a neutral fact finder can observe and assess the witness' credibility."
Allee Wasn't Biased
Despite finding USC's process fundamentally flawed, the jurist noted that Dixon had not proven Allee was biased against him.
"While we understand why Doe believes Dr. Allee might harbor an inherent bias against someone accused of sexual assault, Doe's obligation on appeal is to demonstrate actual bias," he said.
He quoted, with approval, Halm's assessment that :[t]he fact that, before her employment at USC, Dr. Allee did some work as a victims' advocate,...and gave presentations regarding preventing sexual assault, does not establish that Dr. Allee is likely biased against all men...accused of sexual assault."
Willhite added:
"Doe has not provided evidence to demonstrate that Dr. Allee's findings and conclusions were premised on actual bias against him or generally against anyone accused of sexual assault, or that there is a high probability of such bias."
The case is Doe v. Allee, B283406.
Dixon was represented by Mark M. Hathaway and Jenna E. Parker of Hathaway Parker in Los Angeles. Counsel for the respondents were Julie A. Young and Karen Pazzani of Young & Zinn in Los Angeles, and Kenneth R. Pedroza and Cassidy C. Davenport of Cole Pedroza in Pasadena.
Attorney's Statement
Hathaway, who also represented the expelled student in Doe v. USC and a spate of other recent cases resulting in opinions lambasting universities' disciplinary processes, said in a statement:
"The decision against USC appears to be consistent with the new Title IX guidelines announced by Secretary of Education Betsy DeVos in November and published in the Federal Register 83 Fed. Reg. 61462, on November 29, 2018. The proposed regulations require all universities that receive federal funding to (1) 'provide for a live hearing' at which 'the decision-maker must permit each party to ask the other party and any witnesses all relevant questions and follow-up questions, including those challenging credibility'; (2) eliminate the 'single investigator model'; and (3) provide students an opportunity to 'inspect and review' all the evidence collected during the investigation, 'including the evidence upon which the recipient does not intend to rely in reaching a determination regarding responsibility.'…
"Today's decision builds on recent favorable California Appellate rulings that define the scope of fairness and due process protections universities must provide to accused students in sexual misconduct proceedings."
Petitioner in Prison
Dixon is currently serving a six-year sentence at a state prison in Norco. The former football player—who achieved 14 catches and nearly 200 yards and four touchdowns in his freshman season—was sentenced as part of a plea bargain in April 2016.
He was arrested that year for armed robbery and carjacking, along with another former college football player, Trey Lealaimatafao, formerly of Louisiana State University.
The pair went on a crime spree in South Los Angeles, during which Dixon admitted to personally using a knife.
Dixon, 22, will be eligible for parole in 2021, a year before his sentence is over, according to the California Department of Corrections and Rehabilitation.
Copyright 2019, Metropolitan News Company