Monday, July 29, 2019
Page 1
Court of Appeal:
Judge Properly Declined to Strike as SLAPP Defamation Allegations Against Cosby
Opinion Says Evidence Indicated Comic Had Authorized Attorney's Statements Denying Sexual Misconduct Which Could Be Construed as Accusing Dickinson of Lying
By a MetNews Staff Writer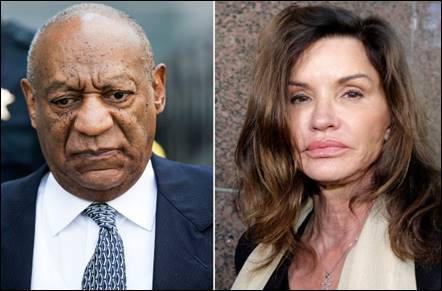 —AP
In this split photograph, on the left, Bill Cosby is seen leaving the U.S. District Courthouse in Philadelphia. On the right, model Janice Dickinson is seen outside a courthouse in Los Angeles.
The Court of Appeal for this district on Friday affirmed Los Angeles Superior Court Judge Randolph Hammock's order declining to strike as a SLAPP former supermodel Janice Dickinson's claims against incarcerated comedian Bill Cosby based on his attorney's denial of her allegations that Cosby drugged and raped her in 1982.
Div. Eight filed its opinion a day after Dickinson's lawyer, Lisa Bloom, held a press conference to announce a "very large settlement" with Cosby's insurance company in her defamation action. Bloom said Dickinson will be "fully compensated for being called a liar."
Presiding Justice Tricia A. Bigelow did not mention in the opinion that the matter is apparently moot in light of the settlement of the underlying action.
Cosby has been in a Pennsylvania state prison since September, having been convicted on three counts of aggravated indecent assault in connection with drugging and molesting another of his several accusers, Andrea Constant.
Dickinson I
In 2017, the Court of Appeal held that none of Dickinson's causes of action was subject to a special motion to strike under Code of Civil Procedure §425.16; on remand, she added causes of action; Hammock granted an anti-SLAPP motion except as to statements in press releases put out by Cosby's then-lawyer, Martin Singer, in November 2014.
The press releases were immediately precipitated by allegations by Linda Traits who accused Cosby of assaulting her when she a waitress at West Hollywood cafe in which he was a part owner. However, Singer's statements alluded to allegations by other women and proclaimed their falsity.
Cosby argued on an appeal from Hammock's order that he's not vicariously liable for what his attorney said and that Singer's statements were, in any event, merely an expression of opinion.
Bigelow said in Friday's opinion that nothing decided in Dickinson I would be reexamined, but that the Nov. 20 and Nov. 21, 2014, press releases were not in issue in that opinion.
Second Prong
Cosby did not dispute that the first prong of the anti-SLAPP statute—protected speech—was satisfied. The question was whether Dickinson had shown a probability of prevailing on the merits.
She couldn't, Cosby maintained, because there was no indication he had authorized Singer's statements. Disagreeing, Bigelow said:
"Singer stated in his declaration that he has been practicing law for 40 years, and it is his general practice to discuss the contents of all correspondences and press statements with a client and receive approval before transmitting them to the intended recipients. He further testified at deposition that he did not have discretion to independently respond to media inquiries regarding Dickinson's disclosure. From this evidence, the fact finder could reasonably infer that Singer sought and received Cosby's approval or authorization of the press releases before they were issued."
The jurist continued:
"Further supporting such an inference, the evidence shows Cosby continued to employ Singer and declined to issue retractions after Singer published the various statements, which Cosby knew to contain falsehoods. A trier of fact could reasonably find such behavior inconsistent with a claim that Singer was acting without Cosby's approval or authorization. Although far from overwhelming, this evidence is sufficient to meet the minimal burden of proof required to survive an anti-SLAPP statute."
These facts, Bigelow said, point at least to a ratification of the statements.
'Of and Concerning'
Cosby also argued that Dickinson was not mentioned by name in the two press releases and that they were not "of and concerning" her.
Bigelow noted that the Nov. 20 press release said:
"Ms. Traitz is the latest example of people coming out of the woodwork with fabricated or unsubstantiated stories about my client"
The jurist commented:
"Singer issued the press release in the immediate wake of numerous women publicly accusing Cosby of sexual misconduct, which was a topic of considerable public interest. The press release itself was concerned primarily with discrediting one such woman's recent allegation that Cosby offered her drugs and made sexual advances on her decades ago. In this context, it is reasonable to read the reference to 'stories about my client' to refer specifically to accusations of Cosby's sexual misconduct. Further, the phrase 'coming out of the woodwork' suggests the accusers had not previously made their disclosures public. Thus, the statement could be reasonably interpreted as referring specifically to the women who recently publicly accused Cosby of sexual misconduct, and implying that their accusations were false.
"Dickinson undoubtedly fits that description, a point even Singer acknowledged during his deposition."
Other Press Release
She added:
"For the same reasons, we think a reasonable trier of fact could conclude the allegedly defamatory statement in the November 21 press release—'The new, never-before-heard claims from women who have come forward in the past two weeks with unsubstantiated, fantastical stories about things they say occurred 30, 40, or even 50 years ago have escalated far past the point of absurdity'—is also of and concerning Dickinson."
The case is Dickinson v. Cosby, B291701.
Bloom represented Dickinson in the appeal. Alan A. Greenberg, Wayne R. Gross, and Sarah Kelly-Kilgore of Greenberg Gross acted for Cosby.
Copyright 2019, Metropolitan News Company