Friday, November 22, 2019
Page 3
Court of Appeal:
Restaurant Can Be Liable for Food Poisoning Without Pinpointing Germ Causing Illness
By a MetNews Staff Writer
Div. Three of the Fourth District Court of Appeal, in a 2-1 decision, has reinstated an action against Chipotle Mexican Grill, Inc. brought by a woman who says she became seriously ill after consuming food at a Chipotle restaurant in Fullerton.
The complaint filed by Christina Spellman alleges:
"As a result of ingesting the unclean, tainted, dirty, adulterated, contaminated and diseased food stuffs at CHIPOTLE, Plaintiff suffered food poisoning and the ill-effects thereof, including, diarrhea, chills, pain and discomfort, vomiting, dehydration, colitis, and other serious physical ailments."
The entrée she ate was a "chicken bowl." Two companions of Spellman consumed the same dish and, while suffering no serious illness, did experience diarrhea.
Summary Judgment Granted
Orange Superior Court Judge Glenn R. Salter granted summary judgment, reasoning that Spellman could not prove causation because her medical expert was unable to pinpoint the germ that caused the illness.
Reversal came in an opinion filed Wednesday, and not certified for publication. Acting Presiding Justice Richard M. Aronson wrote:
"We conclude a plaintiff in a food poisoning case need not determine the actual foodborne pathogen that caused the plaintiff's illness to show a triable issue exists on causation."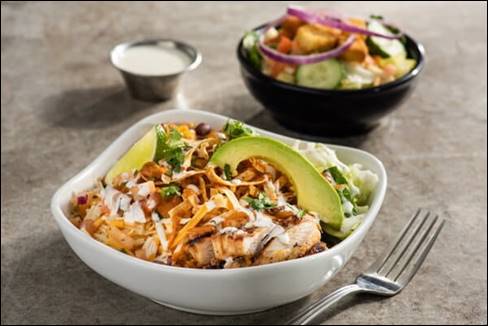 Above is a "chicken bowl," as served at Chipotle restaurants. The Fourth District Court of Appeal, in a 2-1 decision, has reinstated an action against Chipotle Mexican Grill, Inc. by a woman who claims she became ill from consuming the dish.
Proving Causation
He said that under the allegations in the complaint, Spellman "could prove causation if she presented evidence showing a link between her particular illness (gastroenteritis) and Chipotle's wrongful conduct, such as improper handling of food used to make the chicken bowl she consumed."
The jurist added:
"A reasonable jury could conclude the symptoms Spellman and her two friends suffered after eating the chicken bowls are consistent with foodborne illness."
Medical Expert's Declaration
Spellman's medical expert, in a declaration, identified several pathogens, any one of which could have precipitated the symptoms experienced by Spellman.
"[A] jury could infer that Chipotle's failure to maintain proper food holding temperatures for cooked chicken or other food resulted in the growth of a pathogen on the food used to make Spellman's chicken bowl and Spellman's consumption of that pathogen-infested chicken bowl resulted in her gastroenteritis," Aronson declared. "Although there were several potential pathogens, this fact is not fatal to a causation finding because the jury could infer causation based on any number of reasonable hypotheses."
Without explanation, Aronson was identified in the opinion as "Acting P.J." although the presiding justice of the division, Kathleen E. O'Leary, participated in the case.
O'Leary's Dissent
She dissented, beginning her opinion with this quotation from Justice David Sills of her division (now deceased) in the 2008 case of Sarti v. Salt Creek Ltd.:
"Just because you get sick soon after eating at a restaurant doesn't prove bad food or some other contamination at the restaurant caused it. Any other rule would be untenable, since it would make restaurants de facto health insurers of their customers."
O'Leary commented:
"I agree with my colleagues that a plaintiff in a food poisoning case need not always determine the precise foodborne pathogen that caused his or her illness. However, in this case, Christina Spellman underwent extensive testing for common foodborne illnesses at the emergency room. Multiple tests for shigella, salmonella, and campylobacter were all negative. There simply was no reliable evidence Spellman's symptoms were a result of any foodborne pathogen."
Particular Condition
Sills also said in Sarti that expert testimony must show "a specific link between the particular kind of food poisoning…and any particular unsanitary condition at the restaurant."
O'Leary remarked that even if the expert declaration put forth in opposition to summary judgment "was sufficient to establish Spellman contracted a particular foodborne illness, the declaration fails to link that illness to a particular unsanitary condition at the Fullerton Chipotle that could have caused it."
The case is Spellman v. Chipotle Mexican Grill, Inc., G056221.
Copyright 2019, Metropolitan News Company