Tuesday, March 19, 2019
Page 1
Court of Appeal:
Eligibility Provisos May Be Imposed on Sheriff Candidacy
By a MetNews Staff Writer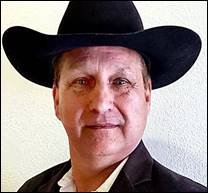 BRUCE BOYER
Businessman
The Court of Appeal for this district held yesterday that a businessman who lacked law enforcement credentials and experience was legitimately barred from running last year for the post of sheriff of Ventura County, rejecting constitutional challenges to the statutory requirements for candidacy.
Div. Six, in an opinion by Justice Kenneth Yegan, said that although the election—won by William Ayub—is over, would-be candidate Bruce Boyer's contention that Government Code §24004.3 is invalid presents "a matter of public interest" that is "likely to recur in the future," justifying deciding the appeal despite mootness.
Section 24004.3 provides that a candidate for sheriff must hold a bachelor's degree and master's degree, as well as an advanced certificate issued by the Commission on Peace Officer Standards and Training. Specified years of law enforcement experience is also mandated.
Supreme Court Decision
Citing the California Supreme Court's 1956 opinion in Wallace v. Superior Court of Placer County, where the court struck down a statute that required a Superior Court judge to reside in the county where he or she serves, Boyer insisted that the Legislature may not impose conditions on seeking or holding a state constitutional office. Yegan responded:
"But California Constitution, article XI section 1(b) states: 'The Legislature shall provide for...an elected county sheriff, an elected district attorney, an elected assessor, and an elected governing body in each county.' (Italics added.) It is an express power and includes the power to set candidacy requirements for the elected office of county sheriff."
 Yegan went on to say:
"Unlike Wallace, which addressed the election of superior court judges, our state Constitution directs the state Legislature to provide for the election of the office of county sheriff."
Experience Matters
The jurist, who served on the Ventura Municipal Court and Ventura Superior Court prior to his appointment to his appellate post, commented:
"We are quick to observe a common sense reason why appellant cannot prevail. Experience is the best teacher. This is true whether you are a plumber, a teacher, a doctor, or a lawyer. It also applies to being the elected sheriff of a county where there are several hundred deputy sheriffs and several hundred non-sworn personnel to supervise. It does not matter how intelligent you are or if you are acting in good faith.
He continued:
"There is a good reason why the Legislature has imposed an experience requirement. To get a 'feel' for law enforcement, i.e., coming to a true understanding of it, you must learn about it in the field by doing it. The people of California have been well served by personnel who have worked their way up the chain of command to leadership. Such personnel have years of practical experience."
Prior Decision
Boyer insisted that §24004.3 breaches equal protection of the law and deprives county residents of their First Amendment "right to vote for the elected officials of their own choosing." Yegan said these contention were rejected in the 2003 Court of Appeal decision in Rawls v. Zamora.
"We concur and adopt the same analysis here," he wrote.
Boyer wanted to run on a platform of opposing SB 54, signed into law in 2017. It limits information rthat local law enforcement agencies to federal authorities concerning persons velieved to be illegal aliens who are being held in custody.
The case is Boyer v. Ventura County, B289919.
Studio City attorney Joel S. Farkas represented Boyer, and was opposed by Assistant Ventura County Counsel Roberto R. Orellana.
Copyright 2019, Metropolitan News Company