Tuesday, July 2, 2019
Page 4
Robert Bonner Pays Tribute to Judge Manuel Real
(The following is the text of remarks—with stage directions intact—delivered March 14 before the Federal Bar Association by Robert C. Bonner in tribute to Manuel Real, a judge of the U.S. District Court for the Central District of California, who died Wednesday. From May 24, 1989 to Aug, 12, 1990, Bonner was a colleague of Real on the District Court. He resigned from the bench to serve as head of the Drug Enforcement Administration. He has also served as commissioner of the U.S. Customs Service and Commissioner of Customs and Border Protection. Reference is made in the remarks to Lane Dilg; she is Santa Monica's city attorney and is president of the Board of Directors of the Federal Bar Association.)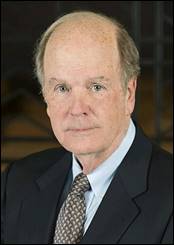 ROBERT C. BONNER
Former District Court Judge
Your Honor [addressing Judge Real], may I approach the "lectern"?
Thank you, Lane [Dilg].
I am delighted to have this opportunity to pay tribute to Judge Real.
The arc of his career intersected with mine in 1966 when he was appointed by President Johnson to be a United States District Judge for the Central District of California, a mere 53 years ago. And I had just become the law clerk to a judge of the district court, Al Stephens.
I emphasize Central District because that very year—1966—the Central District was created out of the old Southern District of California. I can think of no other sitting judge whose judicial career spans the entire history, not just of the Central District, but any federal judicial district in our country.
Manny had just moved from being the United States Attorney to District Judge and I, as a young law clerk right out of law school and new to southern California, was in awe of this man....[Look at Manny] And I still am.
Five months ago, on Nov 4, 2018, Manny Real turned senior. At that time, he was the longest serving active federal district judge, ever, in the history of our nation, having served as an active judge from 1966 to 2018. That alone is a formidable achievement and is a record not likely to be beaten for a long, long time,...if ever.
But his contributions to the federal judiciary are far more than longevity. He served brilliantly as the Chief Judge of the Central District for over a decade, from 1982 to 1993. And I and many of us still call him "Chief."
We often talk about the importance of an independent judiciary. Manny Real embodies this value. He was fiercely independent. Some Ninth Circuit judges might say, to a fault. But I say he decided cases without fear or favor. His independent spirit as a judge is legendary.
And did he decide cases. It has always amazed me how many lawyers aspire to and are appointed to trial judgeships who have trouble making decisions. Manny wasn't one of them.
…I will tell you this: Manny's productivity as a district judge was (and still is) off the charts.
Some say that Judge Real gets reversed twice as much as other district judges. I don't know whether this is accurate, but I will say that Manny decided more than twice as many cases as your average district judge.
Manny Real ran his courtroom, as all good federal judges do or should. He did case management before the Federal Judicial Center started teaching it to new judges.
Perhaps one Manny story—and there are too many for me to tell—is a lawyer who evidently thought he was in Superior Court did something, like walk into the well area. Oh, my God! Judge Real's verbal decapitation was not for the squeamish.
But the lawyer who defended his handling as something that was permitted in Superior Court, Manny upbraided this lawyer by declaring:
"Counsel, this is not Burger King. In this courtroom, we do it my way!"
And because of Judge Real, every Assistant U.S. Atttorney and Federal Public Defender knows that this is NOT a podium. It is a "lectern".
On the bench, Manny was and is all business. No warm and fuzzy. But off the bench, as all of us who know Manny know, he is perhaps the most charming and generous person I have ever met.
He got things done. As an AUSA, I tried a number of cases before Judge Real, including a mission impossible bank burglary, called the Laguna Niguel case. Manny would sometimes go to 7 or 8 p.m., so you needed to have your witnesses there or you would rest—that is to say, Manny would rest your case for you.
But we tried an identical case in one week that took three weeks to try in another judge's courtroom. I won't mention the other judge's name.
Later, I followed in Manny's footsteps and moved from being United States Attorney to a federal district judgeship. Manny was Chief Judge and he sworn me in. Later, when President George Bush the First asked me to head the Drug Enforcement Administration, I went to see Manny in his chambers. He basically said:
"Rob, why would you leave the best job in the world to go back to that swamp [he used a somewhat harsher word] they call Washington, D.C."
That's exactly what you would expect the quintessential federal district judge to say.
[Looking toward Manny] Unfortunately, I did not follow your advice.
[Toast.] So, from the federal judge who may have served the shortest period of time on the federal district court to the one who has served the longest:
Chief Judge Real, we salute you. We thank you for your extraordinary service to the federal judiciary and the cause of justice.
Copyright 2019, Metropolitan News Company