Wednesday, February 6, 2019
Page 1
Court of Appeal:
Jurist Defied Due Process by Not Hearing Both Sides
James Blancarte—Then Commissioner, Now Judge—Taken to Task for Granting Restraining Order  Based Solely on Petitioner's Account of Post-Hearing Hallway Confrontation Outside Courtroom
By a MetNews Staff Writer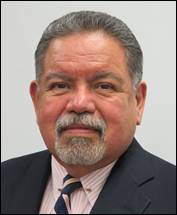 JAMES BLANCARTE
Superior Court Judge
The Court of Appeal for this district has held that a Los Angeles Superior Court commissioner defied due process rights of a man by issuing a restraining order against him which, though initially denied, was granted later that day based on accusations by the petitioner as to an incident that had just occurred in the courthouse hallway—with the respondent not being allowed to tell his side of the story.
Presiding Justice Frances Rothschild of Div. One authored the opinion, filed Monday and not certified for publication. It reverses a order by then-Commissioner James Blancarte, who was elevated to a judgeship last Dec. 14 by then-Gov. Jerry Brown.
Coming before Blancarte on July 5, 2017, was a request for a restraining order under the Domestic Violence Protection Act sought by Mohammed Amouchal against Alexis Igor Kutyba. The petition stemmed from an encounter on Feb. 7 of that year during which Kutyba allegedly pushed Amouchal and threatened him.
Initial Denial
Blancarte initially denied relief at the hearing, saying:
"It's just pushing each other, what happens on the playground...in grammar school."
He told Amouchal that if there were a recurrence of physical force being exerted by Kutyba against him, he could refile the petition, assuring him that if that happened, "I will remember this case and I will issue aggressive restraining orders."
Ruling on a matter also on his calendar, Blancarte later considered Amouchal's petition for a restraining order against Kutyba's sister, which he granted. A short time after that, he heard the sister, who was in the hallway, shouting, and he had her, Kutyba and Amouchal brought into the courtroom.
Commissioner Poses Questions
He queried Amouchal as to whether Kutyba was involved in the row. The petitioner responded:
"Yeah. They all threatened me."
Blancarte asked what Kutyba had said; Amouchal provided a purported quote:
"What you get now. You so smart. You're the big Mohammed."
Without hearing from Kutyba, Blancarte proceeded to grant a restraining order, telling the respondent that "what you did outside my courtroom is unacceptable," adding:
"You're not to molest him like you did outside my courtroom…."
"You are not to disturb his peace like you did outside my courtroom."
When Kutyba tried to speak, the then-commissioner admonished:
"You don't have—no. Stop it. I am not interested [in] hearing from you anymore."
He set forth the terms of a three-year restraining order, and when Kutyba tried to ask a question, Blancarte declared:
"I am done for today."
In explaining the reversal, Rothschild said (referring to Kutyba by his first name):
"The court's failure or refusal to allow Alexis to speak regarding the incident outside the courtroom deprived him of any opportunity to be heard on that dispositive factual issue. The court heard Amouchal's version of the events without permitting Alexis to offer evidence, cross-examine Amouchal, or argue the issue. Under these circumstances, Alexis was denied a meaningful opportunity to be heard and, therefore, deprived of his right to due process.
Rothschild added:
"Amouchal concedes that the court 'did not permit [Alexis] to speak,' but offers as justifications that 'there was nothing left to be said' and "no testimony would have persuaded the court to take any alternative path." The assertion that Alexis had nothing to say, however, is speculation belied by his apparent attempt to speak while the court was reciting the terms of the restraining order. Amouchal's assertion that the court would not have been persuaded by any further testimony is not only speculative, but assumes that Commissioner Blancarte had made up his mind upon hearing from Amouchal and appeared to decide the case without hearing from Alexis. Although the assumption is borne out by the record, it merely points to the unfairness of the hearing…."
Judicial officers, she pointed out, are expected to keep open minds until all evidence is in.
"Amouchal's point thus reinforces our view that Alexis was deprived of due process and that the restraining order must be reversed," Rothschild wrote.
Family Law Code
She noted that Blancarte also ran afoul of Family Code §417 which provides that, absent a stipulation of the parties to the contrary or written findings by the judge as to inappropriateness of testimony, "the court shall receive any live, competent testimony that is relevant and within the scope of the hearing…."
Rothschild said:
"Here, the parties did not stipulate to forgo oral testimony and the court made no finding of good cause for refusing to receive live testimony. The court was thus required to receive any live, competent testimony that was relevant and within the scope of the hearing….
"It appears that the court granted the restraining order based on its determination that Alexis had 'molest[ed]' Amouchal outside the courtroom and 'disturb[ed] his peace.' What happened during the incident outside the courtroom was therefore relevant and within the scope of the hearing, and Alexis, who was involved in the incident, was competent to testify about the matter."
Without knowing what Kutyba would have said if allowed to speak, she said, the error cannot be dismissed as harmless.
Lifetime Bar
In a footnote, Rothschild recited that at the hearing, Blancarte decreed that Kutyba must "stay at least 100 yards away" from Amouchal "at all times and all places" and that this meant his physical proximity to the petitioner in the courtroom "is the closest that he will ever be" to Amouchal "again in his life." The Domestic Violence Protection Act, she mentioned, "does not permit restraining orders for life; the maximum is five years."
The order to Kutyba, she reiterated, was to expire in three years.
The case is Amouchal v. Kutyba, B284389.
Kutyba represented himself on appeal. Century City attorney Patrick Thomas Santos acted for Amouchal.
Copyright 2019, Metropolitan News Company