Thursday, November 14, 2019
Page 1
No Basis for Firing Teacher Who Expressed Pleasure at Reduced Class Size—C.A.
Some Saw Remarks as Racist Because Diminished Attendance Was Attributable To Students Staying Home in Protest to Plans to Construct Border Wall
By a MetNews Staff Writer
A school district in Riverside County has been rebuffed by the Court of Appeal in its effort to fire a teacher whose expression of delight at having a small class one day was perceived by some as racist because the reason for several students being absent was that they were observing "A Day Without Immigrants," a nationwide stay-home protest against plans to build a border wall.
Div. Two of the Fourth District, in an unpublished opinion by Justice Douglas P. Miller, on Tuesday affirmed Riverside Superior Court Judge Sunshine S. Sykes's denial of a petition for a writ of administrative mandamus sought by the Jurupa Unified School District. The district sought to overturn the Commission on Professional Competence's decision that the employment of science teacher Charles Baugh will not be terminated.
Baugh's dismissal was sought based largely on his participation in an exchange of observations on Facebook with other Rubidoux High School teachers after-hours on Feb. 16, 2017, the day when school children and workers across the nation remained at home as a means of expressing disapproval of President Trump's actions against illegal immigration. He was also faulted for wearing an inappropriate costume on Halloween.
Facebook Posts
One teacher, Geoffrey Greer, commented in the course of the Facebook dialogue:
"Well. A day without immigrants. Perhaps all the missing workers in all the various industries out there had the intended impact and sent the desired message. I don't know. As for the public school system, having my class size reduced by 50% all day long only served to SUPPORT Trump's initiatives and prove how much better things might be without all this overcrowding. That's want [sic] you get when you jump on some sort of bandwagon cause as an excuse to be lazy and/or get drunk. Best school day ever."
Another teacher, Robin Riggle, mentioned having had a total of 50 absences, over all the periods she taught, and Baugh later remarked:
"I had 49. Quieter classes, more productive—let's do this more often."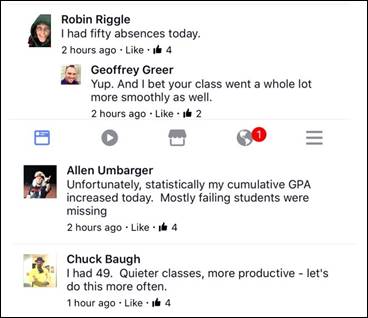 Above is a portion of the dialogue among teachers following "A Day Without Immigrants" which resulted in diminished class sizes. The Jurupa Unified School District unsuccessfully appealed from the denial of a writ seeking to fire teacher Charles Baugh.
Adverse Reactions
The exchange stirred emotions. There were cries to discharge the five teachers and one counselor who participated in the colloquy; about 300 Latino students staged an unruly walk-out at Rubidoux High that included attempting to take down the American flag and mount the Mexican flag; and nationwide news coverage took place.
Greer resigned before the start of the next school year. Riggle was transferred to another school in the district.
Baugh and two others were placed on paid administrative leave.
The commission determined that Baugh, Riggle, and the two other teachers would not be fired, but did allow the district to end the employment of guidance counselor Patricia Crawford, who posted this comment:
"Cafeteria was much cleaner after lunch, lunch, itself, went quicker, less traffic on the roads, and no discipline issues today. More, please."
Miller's Opinion
The district contended that it should be allowed to oust Baugh from his post because his conduct showed he is unfit to be a teacher and had committed immoral conduct. Addressing the teacher's alleged unfitness, Miller said:
"[S]ubstantial evidence supported the superior court's finding that Baugh's own comment did not directly disparage students or immigrants, did not mention race or origin, did not express agreement with Greer's comments and did not evince a hostility toward the general public. His comment did not show he was clearly unfit to teach. While it may not have been good judgment on Baugh's part to comment in the same thread as Greer, Baugh himself testified that he only was responding to Riggle's comment regarding class size."
With respect to the allegation of immoral conduct. The jurist wrote:
"[A]lthough Baugh exhibited bad judgment by commenting on the Facebook post, it did not amount to immoral conduct. Further, his motive was not to disparage Hispanic students, but to comment on the class size."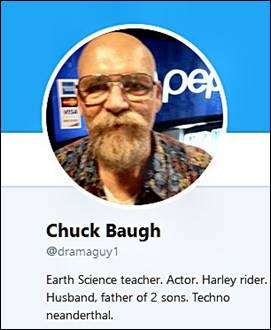 Baugh is seen above as depicted on Twitter.
Alternative Basis
While focusing on Baugh's participation in the Facebook dialogue, the district also argued that his unfitness to teach and immoral conduct on his part were established by Baugh having dressed on Halloween in 2015 as Walter White, a character from the cable television show "Breaking Bad," aired from 2008-13. White was a high school chemistry teacher who produced and sold crystallized methamphetamine.
Baugh handed out to teachers, and not pupils, rock candy resembling methamphetamine. When the principal admonished Baugh that the costume was inappropriate, he went home and changed clothing.
Miller said that Baugh "dressed as Walter White only because he resembled the character and thought it would be funny, rather than based on an attempt to promote drug use," and noted that he "was not disciplined for his behavior" at the time.
The case is Jurupa Unified School District v. Commission on Professional Competence, E071552.
Copyright 2019, Metropolitan News Company