Monday, February 4, 2019
Page 3
Ninth Circuit:
No Basis for Relief From 2010 Decision Against Estate of Anna Nichole Smith
By a MetNews Staff Writer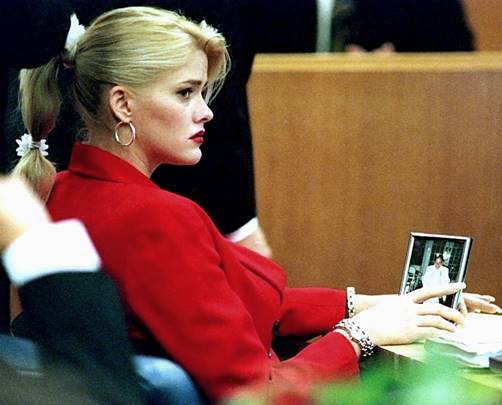 —AP
Anna Nicole Smith holds a photo of her late husband as she listens to his son testify during the probate trial in Houston, Oct. 5, 2000. The Ninth U.S. Circuit Court of Appeals on Thursday affirmed the denial by the District Court for the Central District of California to relieve her from an adverse judgment entered eight years ago.
The Ninth U.S. Circuit Court of Appeals has declined to breathe new life into litigation between the estate of Anna Nichole Smith—a Playboy cover model who in 1994 wed an 89-year-old billionaire, J. Howard Marshall, who died the following year—and the estate of the billionaire's son, E. Pierce Marshall, who branded Smith a gold-digger and sought to block her from obtaining assets.
Smith died in 2007 from an overdose of a prescription medicine and E. Pierce Marshall died the year before.
In a memorandum opinion filed Thursday, a three-judge panel declined to reverse an order by District Court Judge David O. Carter of the Central District of California denying a motion by the estate of Smith for relief from an adverse judgment which the Ninth Circuit in 2010 directed be entered, on remand.
'An Old Friend'
Thursday's opinion recites:
"Like visiting an old friend, we turn once again to this decades-old dispute over the estate of Texas oil baron J. Howard Marshall II. Vickie Lynn Marshall (better known as Anna Nicole Smith) filed a compulsory counterclaim in her bankruptcy proceeding asserting that E. Pierce Marshall tortiously interfered with a multi-million dollar inter-vivos gift Vickie was to receive from J. Howard, Vickie's then-husband and Pierce's father. We held in 2010 that Vickie's claim for tortious interference with a gift failed because it required factual showings precluded by an earlier Texas probate court judgment."
The Texas judgment of Dec. 7, 2001 declares "that Vickie Lynn Marshall does not possess any interest in and is not entitled to possession of any property within the estate of J. Howard Marshall II or [the Living Trust] because of any representations, promises or agreements made by J. Howard Marshall II" and that she "shall take nothing."
$88.6 Million Award
The Bankruptcy Court for the Central District of California found that E. Pierce Marshall tortiously interfered with Smith's receipt of an inter vivos gift to her from J. Howard Marshall II. Pierce Marshall appealed to the District Court, and Carter conducted de novo review and, after a bench trial, awarded Smith $88,585,534.66, plus costs.
The Ninth Circuit reversed; the U.S. Supreme Court reversed and remanded; and the Ninth Circuit, in its 2010 opinion, again reversed.
Noting the final judgment in Texas, it said in the 2010 opinion "that we agree with Pierce Marshall that the doctrine of issue preclusion applies and that it prevents Vickie Lynn Marshall's success on her claim for tortious interference."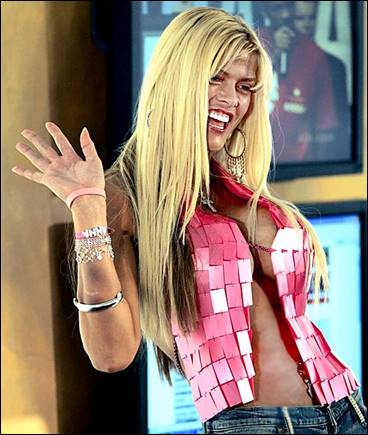 —AP
Anna Nichole Smith is seen during an appearance backstage at a concert in Philadelphia on July 2, 2005.
Texas Appeals Court
The memorandum opinion on Thursday recites:
"Following our opinion and entry of judgment below, that Texas probate judgment—after having been stayed for thirteen years—went up on appeal, where the Texas Court of Appeals affirmed it after making some modifications."
On the basis of those modifications—which included eliminating an award of attorney fees to Pierce Marshall's estate—Smith's estate sought to be relieved of the judgment against here, invoking Rule 60(b). That rule permits relief from a final judgment under various circumstances including the judgment being "based on an earlier judgment that has been reversed or vacated."
The memorandum opinion filed Thursday says:
"In her Rule 60(b) motion, Vickie argues our 2010 holding has been undermined by the modifications to the Texas probate judgment….We disagree, and conclude that the Texas judgment was not modified in a way that impacts our prior holding."
The modifications to the Texas judgment, the opinion declares, do not affect "our prior issue-preclusion analysis…and we see no reason to disturb our prior judgment."
'Rule of Mandate'
While affirming Carter's decision, the opinion rejects his rationale. Carter found that under the "rule of mandate," the District Court lacked jurisdiction.
The memorandum opinion says:
"The rule of mandate proscribes the jurisdiction of the lower court following an appellate decision…, and prevents re-litigation of 'whatever was before [the] court, and disposed of by its decree'….The mandate, however, 'relates to the record and issues then before the court, and does not purport to deal with possible later events.'…
"The district court had jurisdiction notwithstanding the mandate. Vickie's Rule 60(b) motion was based on 'later events' not before us or disposed of by us in 2010: the Texas Court of Appeals' modifications to the preclusive judgment in 2015. That we previously reversed and directed judgment for Pierce is irrelevant, because our decisions are based on legal reasoning, not ipse dixit. A district court has jurisdiction to hear even frivolous Rule 60(b) motions, so whether a later event is material is similarly irrelevant."
The case is Marshall v. Stern, 17-55789.
Copyright 2019, Metropolitan News Company