Tuesday, April 2, 2019
Page 3
Court of Appeal:
Challenge to Barring of 2018 Ballot Designation Is Moot
Orange County Panel Finds Issues in Case Involving Suspended Attorney Lenore L. Albert Are Not of Broad Public Interest, With Likelihood They Will Recur
By a MetNews Staff Writer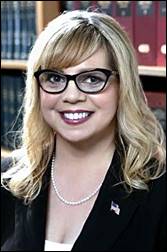 LENORE L. ALBERT
suspended attorney
The Fourth District Court of Appeal has dismissed as moot a challenge by an unsuccessful candidate in 2018 for the post of district attorney of Orange County to the denial of her use of the ballot designation, "Civil Rights Attorney."
Div. Three on Friday, in an unpublished opinion by Justice Raymond J. Ikola, spurned erstwhile candidate Lenore L. Albert's appeal of orders by Orange Superior Court Judge Craig L. Griffin, finding no justification for addressing the merits notwithstanding mootness.
Albert had been suspended from law practice by the California Supreme Court in December 2017 for a minimum of 30 days, with suspension to continue indefinitely until she paid sanctions in a civil rights case—which she had not done as of the time Orange County voter Mark Daniels brought a writ petition on March 19, 2018, to block her candidacy. Daniels also challenged her ballot designation.
Candidacy Permitted
Griffin allowed Albert's name to remain on the ballot, given the prospect she might regain active bar status by the time of the June 5 primary election through paying the sanctions, explaining:
"[W]here a candidate not presently qualified can become so by the mere passage of time or by action on matters entirely within the candidate's control, any challenge to eligibility before the election is premature."
But he disallowed, as misleading, the ballot designation which included the word "Attorney." The judge also disapproved her alternative designation of "Civil Rights Advocate."
Albert protested that the ruling was "based on a pattern and practice of depriving candidates in Orange County" of their rights of free speech and equal protection.
In a four-person primary, Albert came in fourth, garnering 3.8 percent of the vote.
Ikola's Opinion
In Friday's order dismissing Albert's appeal, Ikola said:
 "Albert's contentions are moot as there is no effectual relief we can provide her….A question becomes moot when the appellate court cannot grant any effectual relief or render an opinion affecting the matter….So it is here. A ruling on the merits would have no effect on Albert's candidacy because the election already has been held and Albert did not prevail."
Ikola continued:
"Relying on an exception to the mootness doctrine, Albert contends the appeal is not moot because '[t]he case presents an issue of broad public interest that is likely to recur' and '[t]here is also a possible recurrence of the controversy between the parties.' We find no merit in Albert's argument. This is a routine dispute over a ballot designation, and no matter of broad public interest is being litigated. In our view, the issues specific to this case — her suspension from the practice of law — are not likely to recur."
The case is Daniels v. Kelley, G056153.
Remains Suspended
Albert—who remains under State Bar suspension and currently faces additional disciplinary charges—represented herself. Acting for the petitioner was Brea attorney Gregory Diamond.
Diamond's client, Daniels, is a Democratic activist who was backing a candidate in the 2018 primary, Brett Murdock, who came in third. Incumbent Tony Rackauckas was forced into a run-off with then-Supervisor Todd Spitzer, who prevailed in the Nov. 6 general election.
On March 6, 2018, Albert lost, for the most part, three appeals of anti-SLAPP motions granted to persons she sued, while in a fourth case, she gained a partial reversal. Acting Presiding Justice William W. Bedsworth of Div. Three wrote the opinions.
Albert was the Democratic Party's unsuccessful candidate for the Assembly in 2016.
Copyright 2019, Metropolitan News Company