Friday, January 11, 2019
Page 2
PERSONALITY PROFILE:
R. REX PARRIS
Overcoming Adversity, He Became a Mega-Star Trial Lawyer, Accomplished Mayor
BY SHERRI OKAMOTO
R. Rex Parris is an unconventional man who has taken an unconventional path to success as a high-powered trial attorney—named last year by U.S. News & World Report as one of the nation's top lawyers—and popular local politician.
"The paths to success are always found on the fringe," he opines, and his own route has been an amazing saga.
From his impoverished childhood, to his past struggles with drug addiction and alcoholism, Parris says he "wouldn't change anything" since all experiences are parts of the person he is today.
That person is one who is equally prone to dropping expletives as he is to quote from the Dalai Lama and now-deceased U.S. Army Gen. H. Norman Schwarzkopf. Parris rattles off conclusions of studies in cognitive science and neurolinguistic programming with the same ease and familiarity as he recites the most recent unemployment and crime rates for his beloved city of Lancaster, of which he is mayor.
He was born Raymond Rex Parris Jr. in neighboring Palmdale, then a town (a city since 1962), but his parents always called him by his middle name. Parris says he suspects it was because he was not the "shining light in his father's eyes" for the few short years the father was in his life.
Father's Desertion
His father walked out on the family when Parris was only 11, leaving his mother, a waitress, to raise four small boys on her own.
Parris recalls that time in his life as being very "dark." Money was always scarce, and the family relied on public assistance to get by.
He started working at the age of 14; he quit school in 10th grade to work full-time.
After a few years of figuring out his priorities, Parris headed off to the local junior college "because," he says, "that's where the girls were."
That's also where Parris had his first taste of politics. He mounted a successful campaign for freshman class president, appearing on the ballot as "R. Rex Parris."
Parris says he made the decision to add his first initial to make his name stand out from those of the other candidates, and has stuck with that moniker ever since.
Aside from winning the position as class president, Parris also won the heart of his opponent's girlfriend. Once she transferred out of Antelope Valley College, Parris recounts, he followed her to the University of California at Santa Barbara, then Southwestern Law School. After gaining admittance to the State Bar in 1980, Parris followed his girlfriend to Bakersfield, where she had taken a job with a law firm.
That relationship floundered once Parris and his girlfriend began their careers. But Parris wasn't broken-hearted for long.
Encounters Future Wife
He had taken a job at the Bakersfield office of Borton Petrini, doing insurance defense work. (The then-managing partner, George Martin, reflects that Parris was "one of the most creative attorneys I ever hired," noting: "I always knew he would be a great trial attorney.") One day when Parris was looking out the window of his office, he saw a motorcyclist pull up to the building and park.
The motorcyclist took off her helmet and shook out a mane of stunning red hair, "just like a commercial," Parris recalls—and perhaps resembling the opening sequence of Charlie's Angels where Jaclyn Smith doffs a helmet.
From that moment, he says, he was in love. That motorcyclist was a secretary for the firm, and she would later become Parris' wife.
Parris and wife Carrol Parris have been married for 35 years now. They have four children, three of whom are now practicing attorneys. Two—Khail A. Parris and Rutger R. Parris—work with Parris at his firm, and his younger brother, Robert A. Parris, is of counsel to the firm.
Parris credits his wife, who is not an attorney, with keeping the firm running.
"She handles all the money, the management," Parris says, while he runs "the legal end."
Around the office, he notes, it is not uncommon for an employee to ask him: "What does Carrol think?"
Parris and his wife opened Parris Law in 1985, with one computer and some rented space in a Lancaster office building.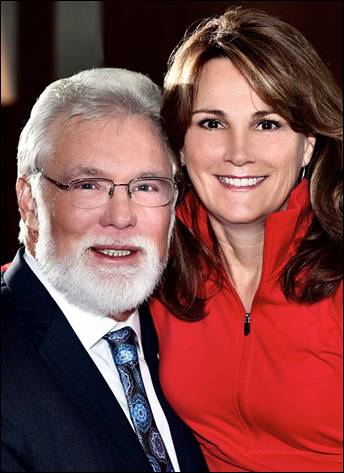 R. Rex Parris and Carrol Parris have been married for 35 years. The photograph above was taken in 2011.
Relies on Advertising
Parris announced formation of the new firm by having mailers included in the local newspaper. Although the U.S. Supreme Court in 1977 invalidated bars on lawyer advertising, Parris's mailers still did not comport with prevailing practices in the Antelope Valley.
In the parking lot of a grocery store, Parris ran into an attorney with one of the established local personal injury firms who, he remembers, lectured him that personal injury practitioners in the area had an unwritten agreement not to advertise, and he "wouldn't have any friends" if he didn't cooperate. Parris says his response was that he "didn't come back to Lancaster to make friends with lawyers."
Utterly defying custom, Parris's firm became the first to put up billboards in the Antelope Valley. By the time his competitors decided to do the same, Parris says, his firm had cornered the market.
His beatific smile now greets every motorist heading north on the 14 freeway, along with his name—and Parris says he thinks that name-recognition helped him clinch the mayoral race in 2008.
Defers Candidacy
Parris says he had been thinking about making a bid for several years, but had promised his wife that he wouldn't make a run for office until the children were in college. By the time the children were out of the house, Parris says, his wife had apparently forgotten about the deal. She certainly hadn't realized Parris was planning to run for mayor.
Parris says his wife learned of his candidacy by overhearing his planning sessions with his friends, George Runner and Frank Visco, at the kitchen table. She was not happy about it, he relates.
Runner is a former California state senator and immediate-past chairman of the California State Board of Equalization. He is also a former mayor of Lancaster and a former city councilman.
It was in 1982 when Runner was seeking a seat on the City Council that Parris first met him. Parris had been backing one of his opponents, but the men struck up a friendship that has lasted to this day.
Visco was chairman of the California Republican Party in 1989-91, and Parris says their friendship dates back to when they were both teenagers.
Parris, Runner, and Visco had been getting together for years—plotting political strategy and fundraising for candidates—before Parris decided to make his bid for mayor.
Visco says he and Runner urged Parris to become a candidate "because the city needed a strong mayor."
He comments:
"We thought Rex was the only one with name identification and fortitude to do political battle necessary to combat the city's crime and gang problems. So we encouraged him to put his hat in the ring, and obviously the rest is history."
Wins Election
In the April 8, 2008 winner-take-all mayoral contest in Lancaster, Parris, pitted against four rivals, attracted 42.6 percent of the votes—those votes numbering a mere 4,259 in the sparsely populated city. His ballot designation was "Civil Justice Attorney."
Parris says his first few years in office were "difficult," not just because of the time and stress inherent in being a mayor, but because he "pissed a lot of people off, and those people had guns."
At the time, gang violence was plaguing Lancaster. There were neighborhoods where police officers wouldn't enter without backup, and there was gunfire every night, Parris notes.
He acknowledges that he resorted to "draconian measures" to tackle the problem, using anything from dog licensing requirements to zoning regulations to injunctions to drive the gangs out of his city.
Parris still expresses regret over having placed his family at "substantial physical risk," but heightened security measures did keep them from harm, he says.
The crime rate in Lancaster has plummeted, Parris boasts, and there have been no major incidents as of late.
Solar Energy
"This guy is amazing," Visco says of Parris. "He brought one of largest Chinese manufactures in to Lancaster, he started a solar energy program that's a model for the world, and he has been getting resources to help solve the homeless population problem.
"Rex fights for this community."
The solar energy effort is generally seen as Parris's most notable achievement. He made Lancaster into one of the first cities in the world to generate more energy than it uses, thanks both to the desert sun that beats down on the city and his initiative.
An April 8, 2013 article in the New York Times says that there are "at least two things to know" about Lancaster:
"One, the sun just keeps on shining. Two, the city's mayor, a class-action lawyer named R. Rex Parris, just keeps on competing."
The article advises:
"Two years ago, the mayor, a Republican, decided to leverage the incessant Antelope Valley sun so that Lancaster could become the solar capital 'of the world,' he said. Then he reconsidered. 'Of the universe,' he said, the brio in his tone indicating that it would be parsimonious to confine his ambition to any one planet."
It adds:
"To that end, Lancaster just did what former Gov. Arnold Schwarzenegger failed to do in 2006: require that almost all new homes either come equipped with solar panels or be in subdivisions that produce one kilowatt of solar energy per house. He also was able to recruit the home building giant KB Home to implement his vision, despite the industry's overall resistance to solar power."
The article quotes Parris as saying that the city would "move mountains" to accommodate solar-energy entrepreneurs, and reports his boast that gaining a permit for a solar installation would take a mere 15 minutes. It describes him as "aggressively pro-business."
City's Assessment
The city's website says:
"Demonstrating the City's municipal fortitude and progressiveness, Parris has been at the forefront of repositioning Lancaster as a global leader in the field of alternative energy. His vision of making Lancaster the Alternative Energy Capital of the World, and his various successes in this endeavor, has garnered worldwide media attention. Under his auspices, Parris has led the City into forward-thinking unique partnerships with innovative organizations from all over the world."
Under his watchful eye, unemployment in Lancaster has dropped below four percent, and the downtown area underwent a major revitalization during the worst of the recession.
It uses drone technology to respond to 911 calls, and a state-of-the art homeless facility will be opening early next year.
Spawns Controversy
Despite winning reelection three times and the plaudits he has received, Parris is not bereft of controversy.
A Sept. 20, 2009 article by Ann M. Simmons in the Los Angeles Times observes that Parris "has proudly forged a reputation as a no-nonsense, hard-boiled politician, more Old West sheriff than diplomat," adding:
"After all, Parris is the guy who tried to ban dogs known to be favored by gangs [pit bulls and Rottweilers], proposed restrictions on landlords who want to rent to tenants with Section 8 federal housing vouchers, helped fund a program to bus homeless people out of town and shut down a local motel to prevent the notorious Mongols motorcycle club from meeting in Lancaster. Supporters cheer him for ratcheting up public safety, coming to the aid of local merchants and kicking aside roadblocks for developers wanting to do business in town."
Parris came under fire in 2014 for funding a campaign mailer that labeled an aspirant for election to the City Council a "gang candidate" who wants to make Lancaster a "magnet for street gangs." The candidate, Johnathon Ervin, had opposed some of Parris's efforts to thwart gang activities in the city and participated in organizing a 2012 demonstration at which local sheriff's deputies were labeled "murderers and thugs." The rally followed the fatal shooting in Florida of an African American man by a Neighborhood Watch participant.
CBS television stations in Los Angeles—KCBS and KCAL—quoted Parris as saying:
"It is absolutely my opinion that if this particular candidate gets elected, we will have a much more difficult time controlling gangs."
A KCAL reporter asked Parris if the warning of Ervin possibly feeding privileged information to gangs was "over the top." Parris said that there were 23 gang slayings in Lancaster in 2008, when he was elected, and none in 2011, telling the reporter:
"When you have 23 murders of young people, and you were the guy opposing everything we did to save those children's lives, I don't know that it's that far over the top."
Fifth Term
Parris expresses doubt that he will seek a fifth term as mayor.
"I'm really proud of what we have accomplished," Parris says, but "16 years is enough."
Despite all this time holding elected office, Parris says he never thought of himself as a politician. That term implies some sort of ambition to move to high office, he observes. Parris says he sees himself simply as the leader of the city, responsible for the well-being of its 150,000 residents.
He says he would never want to seek any other elected office, as "I don't really play well with others."
Parris suggests that the hallmark of his leadership is that the city is "constantly trying new things," which means "sometimes there are some incredibly painful failures, and sometimes there's incredible successes."
These successes are what led to GQ magazine naming him one of the 10 most influential mayors in America.
Paul Chappell, senior pastor of the Lancaster Baptist Church and founder of the West Coast Baptist College, terms Parris "the visionary leader the Antelope Valley needed," elaborating:
"He has exhibited courage to confront the tough issues and compassion to help the hurting and needy. He speaks with conviction, listens with consideration, and leads with determination."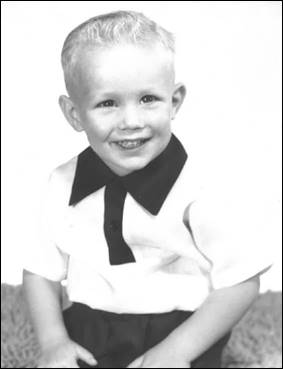 R. Rex Parris is seen in a 1954 photograph.
Independent Thinker
Parris says he has never been "risk-adverse" and is "willing to be laughed at" when he spouts ideas.
His son Khail Parris discloses:
"My dad always used to tell us, true leaders are the individuals who are capable of bearing the laughter, those who can go against the grain and try new things, even when everyone else says they're crazy. That's him."
Visco says of his friend:
"He's not conventional. He thinks outside the box. Politicians always make promises that they never fulfill, but Rex keeps his promises."
Runner likewise denominates Parris "very much an outside-the-box thinker, both politically and professionally," adding:
"He is also a life-long learner, and he's not afraid to try something new. These are traits that have served him well."
Parris says he's been told he "thinks different" from others—and he actually does, he notes, because he's missing part of the left parietal lobe of his brain.
While he was in law school, Parris was assaulted while dining at a Denny's restaurant. The attack left him with a subdural hematoma, and doctors had to excise the damaged tissue.
Parris says the damage meant his brain had to be "rewired," remarking that "when you overcome a disability like that, you pick up a lot of other skills along the way."
For instance, he says, he sometimes struggles to find words—especially when under stress—but that has helped him as a trial lawyer because he has to explain himself when he can't find the word for which he was searching.
Parris underwent surgery Nov. 14, 2016 to excise a cyst, which was benign, from the surface of his brain—and was back at work two hours later. He issued a press statement advising:
"Any surgery presents a multitude of risks, but the human brain is a particularly sensitive area. I am overjoyed this procedure went so well and felt moved to reassure my family, friends and community that I am already back to work and taking care of business. I appreciate all of the prayers and well wishes I've received."
In a statement on March 7, 2012, Parris announced:
"Last week, my doctors notified me that I am suffering an aggressive but very treatable form of prostate cancer."
He said he anticipated a complete recovery.
Trial Lawyer Role
Being a trial lawyer did not come naturally to Parris, who suffered from severe social anxiety as a child. In fact, he says, the process was "brutally painful."
He used to throw up before appearances, or be so paralyzed with fear, he'd be unable to speak.
"Being a trial lawyer is one of the most frightening things you can do," Parris says, but what matters is "how you manage the fear."
He adds that "there's really a science to it," and courtroom advocacy comes down to "just monitoring the chemicals in your brain and developing techniques to get things accomplished."
Whatever it is, Parris has found a formula that works.
In 2009, he was the lead attorney in a defamation action against Guess Inc. co-founder Georges Marciano that resulted in the highest jury verdict in such a case in Los Angeles history: $370 million.
He also played a part in securing a $135 million settlement in a wage-and-hour action against State Farm Insurance Co. in 2005. Last year, Parris obtained an award of $53,745,374 for two brothers who were severely injured in a car accident.
Another client received a jury verdict of $41,634,170, with the assistance of Parris and his firm.
Shares Wealth
Such large verdicts have blessed Parris with a level of affluence he couldn't have dreamed of as a child.
He shares not only his wealth, but his home, inviting under-privileged children to dinner, showing them what they could have by applying themselves.
Parris coaches a mock trial team for a high school that bears his name.
The R. Rex Parris High School opened its doors in 2001, and it's described as an alternative education setting for students who have fallen behind in credits at their previous schools. Parris says it's basically a high school for "throw-away kids"—just what he had been.
Parris says his charitable giving is something he does for his own satisfaction.
"I don't like to think of it as altruism because I get so much joy from doing it," he says.
When he's working with the high school students, Parris says, he "gets as much from it as they do." He reflects that the mock trial team gives him a forum to "try different things" and hone his own skills as a litigator, while finding inspiration in the students he is teaching.
Parris and his wife have also founded the Parris Institute for Professional Formation. They gave Pepperdine $2 million to develop a program teaching civility to law school students because they believe "being a lawyer should be a satisfying and enjoyable profession," but "too often it is anything but."
His giving, it would appear, is not showboating. Khail Parris tells of a happening about which no one was apt to learn. He relates:
"There was one time when we were visiting somewhere, Chicago or New York, maybe. It was cold, and my mom bought him this really nice coat. He put it on and she was all excited. About 30 minutes later, we're walking down the street and there's this homeless guy sitting on the corner. My dad takes the jacket off, gives it to the man, and just keeps on walking. That's the kind of person he is."
Parris's Reflections
The Parris children, son Rutger Parris says, were taught by their father "to go against the grain, to question things," noting that if someone "acted condescendingly or unjustly, we were taught to disagree and stand our ground."
He continues:
"Going toe-to-toe with teachers and principals while growing up was a common occurrence. Not because we were bad kids, but because we were taught you don't go with the flow because rarely is the flow right.
"That's what it is to be a Renaissance man, and my father is a Renaissance man. He's ahead of his time.
"The goal in life is to change things for the better, and have it last. That's what he has done and continues to do."
Carrol Parris points to her husband's "his passion, relentlessness, wicked intelligence" and says that, "hands down," he "has the best laugh in the world." She continues:
"Rex is genuine and brutally honest. He has great courage and often stands alone. He is the one you would follow into battle and the one you could trust with your life. When clients meet Rex, they immediately feel safe. He instills trust."
She says his attribute that is "probably the most important" is that he "never competes with anyone but himself," elaborating:
"He's never envious of what others have or their accomplishments. He is truly happy for them and that seems to translate into his own happiness and well being. There is contentment praising others."
Parris says his brand of leadership is to give others "the reins to help them create." He declares that he firmly believes "you have to fail at some things," and that's good, because "it tells me you're trying, you're reaching far enough."
Parris readily admits he's made "a thousand mistakes" in his life, but says:
"If I have one strength many people don't have, it's a sense of my frailty and fallibility. It doesn't scare me because I only measure myself today against who I was yesterday."
Under this metric, he says, "I just need to be a little better each day."
____________________________________________
On behalf of Pepperdine Law School, I want to congratulate Rex for this well-deserved recognition as a 2018 Person of the Year. Like many people, I have long admired Rex for his important work as Mayor in improving the lives of the residents of Lancaster and as an attorney helping clients obtain legal redress for injuries suffered at the hands of others.
As Dean, I have seen first-hand the impact Rex and Carrol Paris have had on the lives of Pepperdine Law students as a result of their generosity in launching and sustaining the Parris Institute for Professional Formation. Now in its fourth year, the Parris Institute has imbued hundreds of students with the professionalism, dedication, and leadership skills that are the hallmarks of Rex's work.
Through the efforts of these and future students, Rex will positively impact the lives of literally thousands of people in need of legal representation in California and around the country and the world.
Paul Caron
Dean
Pepperdine University School of Law
Copyright 2019, Metropolitan News Company