Friday, January 11, 2019
Page 4
PERSONALITY PROFILE:
BRIAN S. KABATECK
He's a Lawyer With a Capacity for Straightening Things Out
If there's one thing attorney Brian S. Kabateck knows how to do well, it's fixing things.
From historic buildings in downtown Los Angeles to bar associations with fiscal woes, Kabateck is adept at repairing, revamping and improving on what's before him.
He is his own success story too; Kabateck went from academic probation during his first semester at Loyola Law School to graduating cum laude, to being elected as president of the Century City Bar Association in 2005-2006, heading the Consumer Attorneys of California in 2012-13, and becoming chair of the Board of Directors of his alma mater (from 2015 to the present). He is now leading the Los Angeles County Bar Association, continuing progress, begun by his immediate predecessor, in returning it to solvency and relevance to its members.
Throughout it all, he has maintained his sense of humor, and doesn't hesitate to drop jokes at his own expense.
In fact, Kabateck says he had once dreamed of becoming a comedian, as his Little League coaches had told him he had "no future in baseball."
But by the time he was a teenager, Kabateck had decided that he wanted to become a lawyer.
"I felt a certain sense that you can do something good, something right, and fix a person's problem," he says. That ability to "make a difference" is what led him on the path to where he is today.
Parents' Vocations
Kabateck was born in Glendale, California to a family in the entertainment business. His parents had met in 1952 at KABC-TV where both were applying for jobs. His father, Jack Kabateck, who died in 2014, was an early television show producer, including producing "Criswell Predicts" on KCOP, featuring a white-haired, tuxedo-clad psychic (or purportedly one) with a booming, theatrical voice. His mother, Glady Kabateck—now in her early 90s and quite active—was a musician who did scoring for several shows on KABC in the 1950s.
For exactly six years, nine months and nine days, Kabateck claims, he had the "perfect little life" since he was "the only show in town," so far as his family was concerned—but then his brother was born.
Kabateck recalls that he and his brother were "always on stage, in the theater and performing," explaining that they put on children's theater and talent shows. The LACBA president says he's been told he was "a terror," but only admits to possibly being "a handful."
For all his mischief-making, he was a good student.
"School was always easy and I never pushed myself super hard," Kabateck says.
He went to the Chandler School in Pasadena up until ninth grade, then he moved on to Glendale High. Kabateck wound up being elected senior class president—a position once held by John Wayne.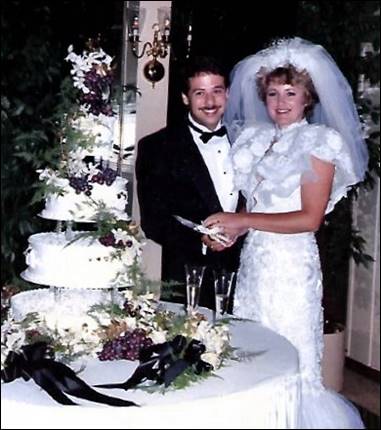 Brian Kabateck and Roxanne Hampton are about to cut the wedding cake in this shot taken Aug. 8, 1987.
High School President
Wayne died in 1979, during Kabateck's tenure as president. Kabateck prevailed upon the school's principal to lower the flag to half-staff in honor of the show business luminary. This, he says with tongue in cheek, was his "greatest accomplishment" in life.
By the time Kabateck finished high school, his mother had become a guidance counselor at Glendale College. He says his mother insisted that he attend the community college after high school, but remarks that "it killed me" because all his friends had gone on to four-year universities and he was living at home, and his parents were still giving him rides to school.
Kabateck left Glendale College after one year and headed off to the University of Southern California. His father had been a Trojan, so Kabateck hadn't entertained the idea of any other destination.
Free Car Washes
During his junior year at USC, Kabateck learned that his one of his former Glendale College classmates was working as a cashier at the Glen Rock Car Wash in Eagle Rock.
Roxanne Hampton had been the freshman class president during his year there, and Kabateck had been friends with her. Upon hearing that Hampton would provide free car washes to people she knew, Kabateck headed right over.
"If it was free, it was for me," Kabateck says.
He was soon visiting the car wash regularly to get his car cleaned, and to chat with Hampton. Finally, he worked up the nerve to ask her for a date, and she agreed to accompany him to a Bob Seger concert at the Great Western Forum.
Being "a very big spender," Kabateck says facetiously, he took Hampton to dinner beforehand at the Original Tommy's World Famous Hamburger stand at Beverly and Rampart Boulevards, west of downtown Los Angeles.
The concert was held April 19, 1985. Kabateck says he fully expected that to be his one and only date with Hampton, but he must have done something right. The couple married on Aug. 8, 1987.
Becomes Law Student
Kabateck had worked his way through college and he wanted to continue working while attending law school. That led him to enroll in the Loyola Law School evening program.
His first year was "a disaster," however, Kabateck admits. Having never had to struggle in school before, he now had no idea how to approach the study of law. Kabateck says he had to ask his classmates to show him what to do—but eventually got the hang of it. Kabateck went on to become an editor of the Loyola Law Review and a member of the Order of the Coif.
He has not lost contact with the law school. Michael Waterstone, its present dean, says:
"Brian Kabateck has and continues to make a major impact on Loyola Law School. Even though Brian's role as one of the top consumer attorneys in the country keeps him incredibly busy, he always makes time for Loyola Law School. He currently serves as the Chair of our Board of Directors, where he is central to strategic decisions about Loyola's present and future. He is also always available for our students—helping mentor them while in law school and beyond."
Thanh Hoang, the associate dean for advancement, adds:
"Brian is among one of the most dedicated board members I have had the privilege to work with. He is passionate about helping others and his passion is contagious. Under his leadership he has inspired other alumni to also get involved and give back to their alma mater. Loyola Law School is fortunate to have Brian as our alumnus and board chair."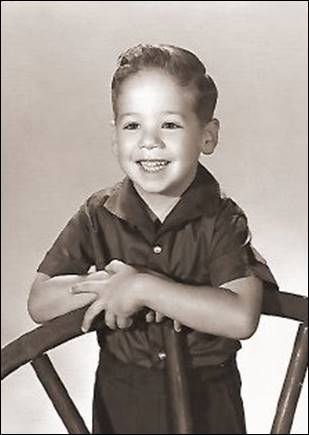 Above is Kabateck at age 3.
Entering Law Practice
After graduating from Loyola in 1989 and passing the bar exam, Kabateck spent a year with Sheppard, Mullin, Richter & Hampton. He then moved on to a smaller firm in hopes of gaining more trial experience.
That didn't work out, either, and Kabateck joined the firm of Quisenberry & Barbanel. After Alan Barbanel left that firm in 2000, it became Quisenberry & Kabateck.
In 2002, Kabateck decided to head out on his own. He was later joined by Michael Brown and Richard Kellner, and the firm became KBK Law. The firm has now rebranded itself as Kabateck LLP.
Kabateck says he enjoys handling plaintiff's work because "it makes a difference in people's lives," and "can actually effect change."
Action Against Insurers
Of his cases, Kabateck says, the most significant ones include the class-actions he brought against New York Life Insurance Co. and French insurance giant, Axa S.A., on behalf of heirs of Armenian Genocide victims for unpaid life insurance benefits.
These cases involved multi-million-dollar recoveries, but there was a personal aspect for Kabateck: his maternal grandparents were survivors of the genocide.
He has won numerous multi-million dollar verdicts and settlements, totaling in excess of $1 billion.
Just last Nov. 20, a Los Angeles Superior Court jury awarded $5.6 to a group of Long Beach families represented by Kabateck and others in his office who claimed there were slum-like conditions in the Friendly Village mobile home park. On Nov. 20, the jury added $34 million in punitive damages.
In 2012, he and Mark Geragos of Geragos & Geragos obtained an $8 million verdict insurance bad faith case stemming from a fire that destroyed an elderly man's home.
Drafting Bills
Kabateck says he is also proud of the work he did as president of the Consumer Attorneys of California. He estimates that he had a hand in drafting at least 40 pieces of legislation covering topics ranging from issues of civil procedure to insurance to privacy.
It was in his role as president of that group that he did major repair work.
Nancy Drabble, chief executive officer and chief lobbyist for that organization, says of Kabateck:
"He's a bold and creative leader who has great political sophistication and a unique ability to look at both the big legislative picture but also get down into the nitty gritty details of drafting legislation. His term as CAOC president ended more than five years ago, and yet he has continued to be incredibly involved in our legislative efforts to help the courts, protect consumer data privacy, ensure fairness in the voir dire process and much more."
An effective communicator, Kabateck has provided legal analysis on CBS This Morning, ABC Good Morning America, CNN, MSNBC, NBC, FOX and CW stations.
Becomes 'Co-President'
On July 1, 2017, Kabateck became the president-elect of the Los Angeles County Bar Association. For a year, he worked alongside then-President Michael E. Meyer, who declared Kabateck to be "co-president."
Meyer had won the post of president-elect in 2016 in what was the organization's first contested election in 25 years. He was the candidate of a reform movement, spearheaded by the "Council of Sections," formed the year before by section leaders who complained of bullying by what was termed "LACBA Central," fiscal irresponsibility, and secrecy as to operations.
Some viewed LACBA, with dwindling reserves, as being headed to bankruptcy.
At Meyer's urging, Kabateck—who had returned CAOC to steady ground after some rocky years—was the Nominating Committee's choice in 2017 for president-elect, for a term commencing July 1 of that year. He ascended to the presidency with the goal of continuing efforts to restore LACBA to normalcy.
(He was following in his father's footsteps in undertaking such a task. Jack Kabateck, who was a founder of the Lambda Chi Alpha fraternity while a student at USC, years later launched a successful effort to save it as it was about to disintegrate.)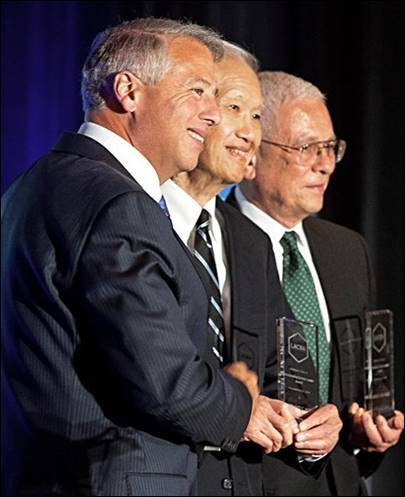 Kabateck is seen presenting the "Matthew S. Rae Jr. Outstanding Section Leader Award" last June 27 at the LACBA installation dinner to Nowland C. Hong and Charles E. Michaels. Michaels, a past LACBA president, was then the chair of the Senior Lawyers Section, and Hong was the immediate past chair.
Minimizes Discord
Minimizing the intensity of the conflict over the veering of LACBA from the course it was on—a fracas that included a 2016 writ proceeding in the Los Angeles Superior Court when the 2015-16 president, Margaret Stevens, refused to certify the election results and took actions to institute a new election process—Kabateck says simply that he believes that "all organizations go through change," since "times change, and people change."
He posits that "it takes a long time to turn around an aircraft carrier," but says that LACBA is on the move.
As president, Kabateck says his top three priorities have been increasing membership—which has been shrinking—drawing outside funding for LACBA's charitable foundations, and cutting back on operating expenses.
He says he is "trying very hard to look at things from a different perspective," since all organizations go through periods of evolution, as LACBA is now.
"Things are changing rapidly," Kabateck notes, and "younger lawyers want something different" than prior generations. One big thing is that new lawyers need a reason to join a bar association—they don't just do it out of a sense of obligation, he says. LACBA therefore has launched 20 new initiatives to make membership more attractive for newer and older lawyers alike.
Another issue is that LACBA is a big organization, with big expenses. "It's cliché, but we need to learn to do more, with less," Kabateck says.
Efforts are underway to lease one of the two floors in the office building that houses LACBA operations.
"It is a challenge every day, but I'm happy to have taken it on," he says. "This is a labor of love."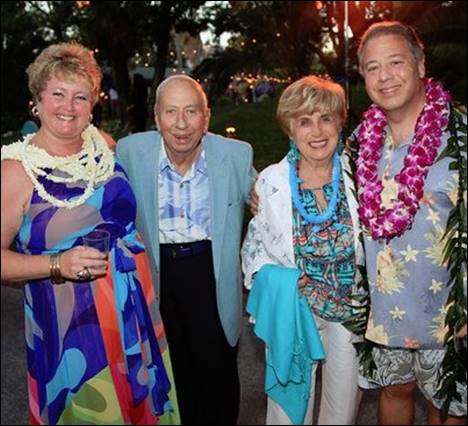 Kabateck, at right, is enjoying a vacation in Hawaii in this 2013 photograph with, from left, wife Roxanne Hampton, father Jack Kabateck, a television producer in the 1950's who went on to a successful career in selling advertising on radio, and mother, Glady Kabateck, a musician with a multifaceted career.
Kabateck's Presidency Lauded
Kabateck is a leader of LACBA who—in contrast to Meyer's two immediate predecessors—has been free of criticism.
John Carson was LACBA's 1994-95 president and has headed the Council of Sections from the outset. While he was chair of the Senior Lawyers Section in 2014-15, he sought information on behalf of the section as to LACBA's financials, and was turned down.
Financial information is now provided, freely, in detail, as it was during Meyer's administration.
Carson comments:
"Brian Kabateck is following Mike Meyer's breath of fresh air regarding openness and transparency of the LACBA. Brian devotes tremendous time and energy, and he has a laser-focus on the most important issues. At the same time, no detail is too small for his attention. Brian is working to bring the LACBA to current best-practices and make it relevant for the 21st century. This, all the while keeping his engaging sense of humor."
Meyer also has praise for his successor, remarking:
"Brian vigorously and whole-heartedly embraces the concept of diversity, inclusion and transparency in instituting programs that give more meaningful participation to the members of the bar association. He is never defensive and always encourages new ideas and greater participation from the membership. He has revitalized the 'Bridging the Gap Program' (all-day orientation program specifically geared towards new attorneys).
"He is also instituting new programs, such as arranging for a special viewing of the Ruth Bader Ginsburg movie and travel programs, including a cultural exchange visit to Cuba. And while Brian deserves praise, his wife Roxanne is also establishing a 'first lady' form of participation—putting on programs at her house to have various members of the bar association get together and discuss ideas on a social basis. This has been fantastic."
Patrick Kelly, Wilson Elser's managing partner for the Western Region, is a former president both of the State Bar and LACBA. As he sees it:
"Brian has really done a lot of community service, as a president of Consumer Attorneys and the chair of the Loyola Law School Board. As the president of the County Bar, he further demonstrates that commitment. He has also set forth an ambitious program and he appears to be carrying it through."
LACBA Vice President Bradley S. Pauley, a partner in the appellate law firm of Horvitz & Levy LLP, says:
"Brian has shown remarkable energy, first as LACBA's President-Elect and now as President. He has confronted the pressing issues facing the bar head-on and with a profound sense of urgency. At the same time, his positive, can-do outlook, his unflappable demeanor, and his natural leadership abilities have galvanized and inspired. Under his steady hand, the Board of Trustees, LACBA's professional staff, and the leaders of LACBA's many sections and committees are working together to meet all of the challenges to ensure that LACBA remains the primary professional association for the attorneys of Los Angeles County."
—S.O.
_______________________________________
(Michaels was president of LACBA in 2006-07 and led the effort, along with John Carson and Nowland Hong, that resulted in the election of reform candidates as officers and trustees of the association.)
For most of the last three decades, Brian Kabateck and I worked out together at the L.A. Athletic Club starting at 6 a.m. Often while lifting weights or while grabbing a cup of coffee, we'd talk about the state of the law, bar associations, and about Brian's work as president of the Century City Bar Association and later as President of the Consumer Attorneys of California. Brian spoke of his work in the context of the teachings of his father, almost with reverence, having learned from him to give back to the community, to be an honorable man and to a decent human being.
Brian followed in the footsteps of a most distinguished former Association President, Mike Meyer. Together they worked to transform an ossified, centralized bureaucracy that had been reckless with its finances, secretive in its operations, and disrespectful of the traditional autonomy of its Sections, which formed the historic backbone of the Association. The prior "old guard," also known as "LACBA Central," raised member dues, required high program pricing and provided less value to its members overall, while the Executive Director's salary spiked to almost $400,000.
Together with a new elected leadership, there's a new Executive Director at the Association. The Association is now transparent about its operations and its finances, and thanks to Mike and Brian, the Association is openly facing the realty that the Association's members voted with their feet in the past decade, with 45% of paid members leaving.
Following former President Mike Meyer's leadership, Brian's made major strides to invigorate the Association. The Association's finances have been improved; in 2018 more than $100,000 was raised to support the pro bono projects of the Association; free membership was expanded to the Barristers/Young Lawyers; communications were improved between the Sections and the Associations' members; and most importantly the Association restored the integrity of the Sections to their historic, traditional autonomy to design, run and price their own programs. The Sections now control their own destiny…Bar Central is no more.
The Los Angeles County Bar Association represents the best interests of the lawyers of Los Angeles. Brian Kabateck is the best among us. He has a good heart, a strong character and an indomitable spirit to do what is best for this Association and lawyers of Los Angeles County.
Margaret Mead, the great anthropologist, said… "Never doubt that a small group of thoughtful, committed citizens can change the world; indeed it is the only thing that ever has."
Brian Kabateck is that thoughtful, committed citizen who answered the call to duty when needed. We should all be grateful for that.
His Commitment Has Been Wholehearted
(Brot, a partner in the family law firm of Brot & Gross, is LACBA's president-elect.)
Working closely with Brian as LACBA's President-Elect, I have observed Brian's superb leadership skills and endless energy, which he blends with his deep commitment to the people he serves. As President, Brian has readily accepted the many challenges facing LACBA with tireless enthusiasm. Even when in the midst of a major jury trial, Brian still set time aside daily to address the issues of the day, and found time to meet with me for our near weekly Saturday breakfasts at Pacific Dining Car so we could coordinate our efforts.
Brian moves quickly from problem to solution. Whether addressing financial issues, membership challenges, an overly burdensome lease, restructuring the bylaws, or a myriad of other issues, Brian has insisted on identifying the problem and moving directly toward a workable solution. At the half-way point of his term, he should be proud of the significant groundwork and progress made on each of these issues.
Brian does nothing halfway. He has wholeheartedly embraced his leadership role, buoyed by the support of his talented and engaging wife, Roxanne. Brian and Roxanne have opened their homes to meetings of the Board of Trustees as well as members of our Affiliates, with warm hospitality. Linda [Brot's wife] and I have been privileged to get to know Brian and Roxanne personally, and have grown to regard them as friends—and even as family.
I am privileged to have Brian as my leader, and as my friend. Those who know Brian are grateful to join in celebrating him as a Person of the Year.
(Winslow, who last year retired from law practice, is LACBA's treasurer.)
Brian Kabateck understands that on key initiatives he must be at the head of the column, that he must do as much or more as he asks others to do. His energy and enthusiasm are second to none.
This is what it takes to get a sufficient change of course. The way things were at LACBA did not fall out of the sky; old habits and ruts had to be left behind. This means leaving behind the denial and the complacency. Brian is fearless about that. He is honest with everyone about what needs to be done, even if the news is painful.
Brian has a great talent for getting people to put their shoulder to the wheel for the good of the Association. He has stirred up new enthusiasm in the Sections and is well along in revitalizing the Association's relationships with the affiliate bars. Several of the committees have gotten the news of the world about our membership and financial challenges and are becoming better team players. While he has stimulated new financial support from LACBA loyalists for Counsel for Justice programs, he has also pressed the CFJ Board and the directors to do more for themselves. Let's remember: Except for our paid staff, it's all volunteers—you can't just order them around; you have to convince them.
More is being demanded of almost every component of our Association, and the positive response is quite encouraging. We know we are on a mission. We have a truly fine outfit, basically. We have the good fortune at this critical juncture to have such a capable, inspirational leader as Brian Kabateck.
Copyright 2019, Metropolitan News Company