Tuesday, January 16, 2018
Page 1
Action Against Actress/'Heiress' Not a SLAPP—Court of Appeal
Panel Says Her Allegations That a Non-Public Figure Is a 'Whore' and' Dope-Dealer' Does Not Give Rise to a Special Motion to Strike; Involves No 'Public Issue'
By a MetNews Staff Writer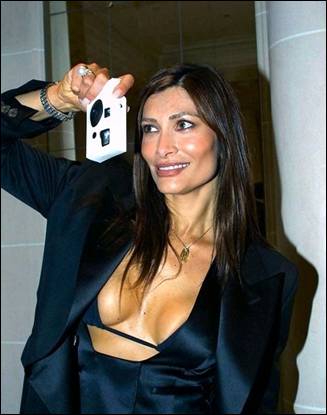 — Photo by Trevor Adams Bauer-Griffin
Actress Zeta Graff, who married into the family that owns the London-based firm of Graff Diamonds, holds up a display of precious stones. In her British divorce action against François Graff in 2003, she was awarded what was described at the time as "at least" £10 million (British pounds sterling), the equivalent then of about $13.5 million. While she fared well in the British court, Zeta Graff failed to convince the Los Angeles Superior Court or, on Thursday, the Court of Appeal for this district, that an action against her for libel and other torts should be spiked pursuant to her anti-SLAPP motion.
An actress and so-called "diamond heiress" who publicly accused another woman of being a "low class whore" and a drug dealer has failed to persuade the Court of Appeal for this district that a libel/slander action against her should be dismissed as a SLAPP.
Defendant Zeta Graff argued unsuccessfully that Los Angeles Superior Court Judge Holly E. Kendig erred in rejecting her special motion to strike on the ground that one of the requisites under Code of Civil Procedure §425.16—that the action be based on protected speech "in connection with a public issue"—was absent.
Div. Five of the appeals court affirmed on Thursday in an opinion that was not certified for publication. The case will return to the trial court where plaintiff Olivia Vaatete, a bridal consultant and designer, will have the task of proving her causes of action for defamation, as well as false light and intentional and negligent infliction of emotional distress.
Internet Postings
The case centers on postings by Graff, some vulgar, on Yelp!, Facebook, Twitter and other websites concerning Vaatete.
Vaatete admittedly had an affair with martial arts grand master Taejoon Lee after breaking up with her husband in 1999; the liaison, according to Vaatete and Lee, ended in December 2011; the following year, Graff began dating Lee; despite her suspicions that Lee was maintaining a relationship with Vaatete, she became engaged to marry him in February 2014; she broke it off after becoming convinced that he was cheating on her.
Among her posted allegations against Vaatete are that she "sleeps with other women's men behind their back and calls herself their 'concubine' i.e. their sex whore," is a "drug dealer and [has] been cheating on her husband...since 1999," and is a "call girl."
Graff highlights Vaatete's affair with Lee, terming her his "drug dealer" and asserting she was "bringing the drugs" to his martial arts school "while visiting 'to service' " him "early mornings."
Public's Asserted Interest
The defendant insisted that she dealt with topics in connection with which the public does have an interest.
In her opinion affirming Kendig's denial of the anti-SLAPP motion, Acting Justice Kim Dunning, an Orange Superior Court judge sitting on assignment, wrote:
"Although infidelity and adultery may be considered matters of public concern, nothing in Graff's motion suggests that private conduct by Vaatete and Lee similarly captures the public's interest. Nor does Vaatete's ownership of a business open to the public, for that reason alone, place her in the public eye where her conduct directly affects individuals other than Graff or Lee."
Dunning went on to say:
"Graff's alleged statements were not made in the context of a public interest issue. They were personal attacks on Vaatete, impugning her character and accusing her of criminal behavior. As the trial court aptly observed, 'the laws of defamation...would be undermined if accusations of cheating were always protected speech simply because the public might have a broader interest in the issue of cheating and adultery.' "
Second Prong
Kendig found that "even if the statements were a matter of public concern," satisfying the first prong of the anti-SLAPP statute, "Plaintiff has adequately shown a probability of prevailing on the claims," the second prong.
She rejected Graff's representation that the bulk of the allegations were true and had been admitted. Graff asserted:
"Plaintiff admitted to a multi-year sexual relationship with Lee where she would visit him in his room at the school for sexual liaisons, that the two were not married to each other but instead were married to others, that she fit the traditional definition of 'concubine,' and received free marital arts lessons for herself and her children from…Lee" and that she "provided him with drugs on several occasions," delivering it to him "at the school."
Kendig pointed to declarations by Graff and Lee. Graff swore that "my romantic relationship with my ex-husband had ended before I began a romantic relationship with Mr. Lee, I never cheated on my husband"; Lee insisted that "I began a romantic relationship with Zeta Graff after I ended my romantic relationship with Ms. Vaatete" and that "I had no relationship or communication with Ms. Vaatete during the time of my romantic relationship with Ms. Graff and that I was faithful to Ms. Graff."
Other 'Facts' Disputed
The judge said it was not clear that Vaatete knew that Lee was still married to a woman in Korea, if he was.
Kendig continued:
"While Defendant asserts that Plaintiff admitted that she was a 'concubine' as that term was defined at her deposition…, Defendant's definition does not encompass cheating on a spouse. Rather, the definition offered was: 'A sexual partner, especially a woman, to whom one is not or cannot be married.'
"Additionally, there is no basis to conclude that by admitting that she was a 'concubine' that Plaintiff also admitted the other terms leveled against her, including 'hooker' and 'call girl.' For that reason, it cannot be said that the veracity of all the terms used against her were admitted by Plaintiff."
Vaatete acknowledged that at times, she picked up marijuana for Lee. Kendig commented:
"Because drug dealing is often associated with selling drugs for money, and opposed to picking up marijuana for a boyfriend, it cannot be said that Plaintiff admitted to being a drug dealer."
She went on to say:
"[B]ecause the accusations of Plaintiff being a prostitute and a hooker are based on arguably false facts, Defendant cannot assert, at this juncture, that her statements are mere opinion."
No Ambiguity
Among other rejected contentions was that no liability could attach to the allegation that  Vaatete would go to the martial arts school "to service" Lee because it was ambiguous. She declared that "an average person reading the statement…would clearly understand it to mean that she provides sex to him."
On appeal, the finding that the first prong of the statute was not met being determinative, Dunning said that "we do not reach the second."
The case is Vaatete v. Graff, B276836.
Tamar G. Arminak represented Graff and Scott Dinsmore and Brett A. Stroud of Dinsmore and Sandelmann acted for Vaatete.
Connection to Diamonds
Graff, who was born in Greece, has acquired the description in the press as a "diamond heiress" though the term "heiress" connotes acquisition of assets as the result of a death. Her former husband, François Graff, whom she divorced in Great Britain in 2003 on the ground of infidelity, is still alive.
Son of the founder of Graff Diamonds, an international firm, he has been chief executive officer of the company since July 2004 and its director since 2012.
The High Court of England and Wales awarded Zeta Graff an amount which her solicitor described as being in excess of £10 million which, at that time, would have been about $13.5 million in American dollars.
Sues Paris Hilton
Graff was herself the plaintiff in a Los Angeles Superior Court defamation action in 2005. She sought $10 million from hotel heiress Paris Hilton for allegedly spreading "vicious lies" about her to the New York Post.
Hilton's fiancé at the time, Paris Latsis, was another heir to a fortune, that one relating to a Greek shipping line. Graff had formerly dated him.
The newspaper reported that Graff, encountering Hilton and her fiancé dancing at a nightclub, went "berserk," attempting to strangle her and rip a $4 million diamond necklace off her neck.
The defamation action was settled out of court.
Copyright 2018, Metropolitan News Company