Monday, July 30, 2018
Page 1
Ninth Circuit:
$2.1 Million Jury Award Must Fall; Damages Were Speculative, New Trial Should Have Been Granted
By a MetNews Staff Writer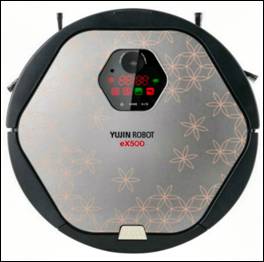 An advertisement for the Yujin robot says: "While you're at work or sleeping, this robotic vacuum automatically cleans up your carpet, tile and hardwood floors, so there's no need to cart around a heavy upright vacuum."
The Ninth U.S. Circuit Court of Appeals has, over a dissent, ordered a new trial on the issue of damages in a case where a jury awarded $2.1 million to an upstart company which claimed it would have realized huge profits if its status as exclusive distributor of robotic vacuum cleaners had not been cancelled.
The majority of a three-judge panel found, in a memorandum opinion filed Thursday, that the plaintiff's claims of damages were based on mere speculation.
Pursuant to the jury's special verdicts, District Court Judge S. James Otero of the Central District of California on March 4, 2016, ordered entry of judgment in a diversity case against Yujin Robot Company, a South Korean corporation, in the amount of $2,066,700, plus costs. However, on April 4, 2017, he held that Yujin, contrary to an eight-person jury's special verdict that the defendant was entitled to $0 on its cross-claim, altered the award to $323,000.
While Circuit Judge Jay Bybee dissented from Thursday's action in upsetting the award in favor of plaintiff Synet Electronics, Inc., a California corporation, he agreed that Otero lacked the power to grant offsetting damages to Yujin.
The others on the panel were Circuit Judge Marsha S. Berzon and District Court Judge John A. Woodcock Jr. of the District of Maine, sitting by designation.
The majority said that in denying Yujin's motion for a new trial, Otero committed legal error, declaring that "the damage award does not meet California standards of proof for lost profits in a fledgling business."
It cited the California Supreme Court's 2012 decision in Sargon Enterprises, Inc. v. University of Southern California as saying:
"[W]here the operation of an unestablished business is prevented or interrupted, damages for prospective profits that might otherwise have been made from its operation are not recoverable for the reason that their occurrence is uncertain, contingent and speculative."
Although that language appears to bar any recovery by Synet, the Ninth Circuit opinion quotes Justice Ming Chin as saying in Sargon Enterprises that "[l]ost profits may be recoverable...where the evidence makes reasonably certain their occurrence and extent."
Chin relied on the state high court's 1945 decision in Grupe v. Gtick which said that while damages based on anticipated profits may be "conjectural and speculative" because they are "dependent upon future events," they are nonetheless "allowed where their nature and occurrence can be shown by evidence of reasonable reliability."
The court in Grupe added that "cases recognize and apply the general principle that damages for the loss of prospective profits are recoverable where the evidence makes reasonably certain their occurrence and extent."
Cited 'Possibility'
Thursday's opinion notes that Otero "did not mention or apply the correct California standard for proving future lost profits by an unestablished business" and relied on a "possibility" that Synet, had it remained exclusive distributor, would have sold a sufficient number of robot vacuum cleaners as to justify the award.
The opinion goes on to say:
"The vast majority of the $2.01 million verdict was comprised of future lost profits damages unsupported by any of the kind of evidence required under California law….
"Roughly $813,000 of Synet's damages request was for unfulfilled or cancelled purchase orders from retailers and wholesalers after Yujin's new American distributor, Yujin USA, began reaching out to them directly. Despite displaying a stack of papers to the jury that purportedly represented purchase orders from Amazon.com, Synet actually introduced into evidence a single invoice and purchase order for roughly $ 18.000 from one of four retailers. Synet produced no other documentary evidence of any purchase order cancellations."
Adding to Award
Otera's addition of $323,000 to the jury's of $0 was impermissible, the opinion declares, citing the U.S. Supreme Court's 1935 decision in Dimick v. Schiedt for the proposition that additur is violative of the Seventh Amendment (which provides that "no fact tried by a jury, shall be otherwise re-examined in any Court of the United States, than according to the rules of the common law").
If Otera's action is viewed as a reduction in Synet's award, the opinion says, "it was not a proper remittitur, because the district court did not offer Synet the choice between the modified verdict and a new trial on damages."
Bybee dissented as to upsetting the award in favor of Synet on the ground that Yujin failed to challenge the sufficiency of the evidence prior to the jury reaching its verdict, thereby foreclosing an appeal on that basis, "[y]et the majority goes on to address exactly that question we cannot review, analyzing de novo whether Synet presented sufficient evidence of lost profits under California law."
The case is Yujin Robot Co., Ltd. v. Synet Electronics, Inc., No. 16-55773.
Copyright 2018, Metropolitan News Company