Thursday, May 17, 2018
Page 1
Court of Appeal:
General Yeager's Malpractice Action Not a SLAPP
By a MetNews Staff Writer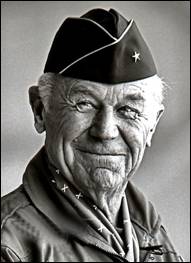 —Edwards Air Force Base
CHARLES E. YEAGER
Retired Air Force General
Former Air Force General Charles E. "Chuck" Yeager yesterday prevailed in the Third District Court of Appeal, with the court finding that while his legal malpractice action may be on shaky ground, it is not a SLAPP.
Yeager—who in 1947 became the first pilot documented to have broken the sound barrier—is suing attorney Peter Holt, his law firm, and Holt's wife. Holt briefly represented Charles Yeager and wife Victoria Yeager in a matter, then successfully sued Victoria Yeager for his fees, surmounting her defense that he had acted as a volunteer.
Yeager, 95, is alleging malpractice, misappropriation by using his identity on the law firm website, and other purported wrongs. Holt responded with an anti-SLAPP motion, claiming that the lawsuit stems from his action for his fees which entailed the "exercise of the Constitutional right of petition," protected activity giving rise to a special motion to strike under the anti-SLAPP statute, Code of Civil Procedure §425.16.
Duarte's Opinion
Affirming a denial of the motion, Justice Elena J. Duarte wrote:
"Like the trial court, we find it difficult to see how suing an attorney for malpractice, breach of contract, and using a client's name or likeness for commercial purposes, attacks expressive activity for anti-SLAPP purposes, particularly when some of the alleged improper conduct occurred after a prior lawsuit was tried.
"The cases cited by the trial court—and many others—hold that a typical attorney malpractice suit is not subject to the anti-SLAPP procedures."
Holt relied on the 1996 Court of Appeal opinion in Church of Scientology v. Wollersheim. There, Justice Richard Aldrich wrote for this district's Div. Three in affirming the granting of an anti-SLAPP motion brought by Lawrence Wollersheim in an action by a church attacking a judgment Wollersheim had secured against it based on brainwashing him.
That judgment was on appeal when the church brought its suit (and it was later affirmed).
Harassment Claimed
The Church of Scientology contended in its action against Wollersheim that it had new evidence of bias on the part of the trial judge in the former action, Los Angeles Court Judge Ronald Swearinger (since deceased). Wollersheim contended the lawsuit filed by the church was yet the latest instance of harassment and retaliation.
Its prior conduct included allegedly drowning the Swearinger family dog and slashing the judge's tires.
Aldrich wrote:
"When a party to a lawsuit engages in a course of oppressive litigation conduct designed to discourage the opponents' right to utilize the courts to seek legal redress, the trial court may properly apply section 425.16. We hold that in making that determination, the trial court may properly consider the litigation history between the parties."
Opinion Inapposite
Duarte said in yesterday's opinion:
Thus Wollersheim involved extra-judicial efforts to derail Wollersheim's lawsuit, thereby directly interfering with his right to seek redress from the courts….
"We reject Holt's effort to equate this case with Wollersheim. True, the evidence Holt tendered may ultimately show that Yeager v. Holt is barred at least in part by Holt v. Yeager, as posited by the trial court….And clearly Holt's evidence shows Yeager is not shy about suing former attorneys. But nothing tendered by Holt shows that Yeager has used extra-judicial means to thwart justice as occurred in Wollersheim; instead, Yeager has filed a single lawsuit against Holt in the exercise of Yeager's own right to petition, a suit that can be adjudicated in the ordinary manner and that in part alleges conduct occurring after Holt v. Yeager was tried."
Duarte remarked in a footnote:
"Charles E. Yeager is referred to in the record and popularly known as General Chuck Yeager, the decorated World War II combat ace and Cold War test pilot. In more recent years he has become enmeshed in many lawsuits, some of which have reached this court."
She said in another footnote:
"It may be, as Holt claims, that the Yeagers have filed baseless litigation, but an anti-SLAPP motion is not the right vehicle to litigate this case. The trial court pointed out at the hearing that claim or issue preclusion might bar this suit or Holt might have a claim for malicious prosecution. We express no view on these points, but note with disapproval the ad hominem attacks against Yeager made by Holt in the trial court and on appeal….We deny Holt's requests for judicial notice of other cases declaring one or both of the Yeagers to be vexatious litigants, as that material was not before the trial court when it made the order under review."
The case is Yeager v. Holt, 2018 S.O.S. 2357.
Copyright 2018, Metropolitan News Company