Monday, January 8, 2018
Page 1
Court of Appeal:
Law Firm Improperly Used Privileged Memo, But Disqualification Was Not Warranted
By a MetNews Staff Writer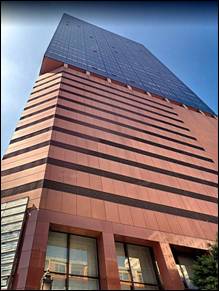 1100 Wilshire Boulevard
A law firm, representing a defendant in a civil action, committed an ethical breach in attaching to a trial brief a privileged document, lawfully acquired by its client, in which legal advice was rendered to the plaintiff, the Court of Appeal for this district has held, but that transgression did not compel its disqualification.
Disqualification of Winston & Strawn, an international law firm with a local office at 333 S. Grand Ave., was sought by 1100 Wilshire Property Owners Association ("POA"), plaintiff in an action against 1100 Wilshire Commercial, LLC ("WC").
The document in question was a memo prepared by Susan M. Spitzer of the law firm of Bovitz & Spitzer summarizing advice from three law firms to POA concerning the 37-story residential development's covenants, conditions, and restrictions and voting rights. It was distributed to all board members of the POA.
Those members included John Mackey, who later became manager of WC, which owns lots in the development. Mackey supplied the memo to his lawyers at Winston & Strawn.
Meisinger Strikes Memo
Retired Los Angeles Superior Court Judge Louis M. Meisinger, acting as referee in the case, struck the memo and references to it in the brief, but denied the POA's motion to disqualify the defendant's law firm.
In an opinion for Div. Five, Acting Justice Kim Dunning, an Orange Superior Court judge sitting on assignment, on Thursday affirmed in an opinion that was not certified for publication.
She pointed to the Court of Appeal's 1999 decision in State Compensation Insurance Fund v. WPS, Inc. There, the plaintiff's lawyers inadvertently sent privileged documents to the defendant's counsel.
Vogel's Opinion
Then-Presiding Justice Charles Vogel of Div. Four (who is now back in law practice) wrote:
"When a lawyer who receives materials that obviously appear to be subject to an attorney-client privilege or otherwise clearly appear to be confidential and privileged and where it is reasonably apparent that the materials were provided or made available through inadvertence, the lawyer receiving such materials should refrain from examining the materials any more than is essential to ascertain if the materials are privileged, and shall immediately notify the sender that he or she possesses material that appears to be privileged."
Dunning said:
"Winston & Strawn obtained documents containing legal advice from attorneys retained by its client's adversary. The law firm's receipt of the documents triggered its obligations pursuant to State Fund to notify the POA. That obligation was not negated by the fact that… Mackey legitimately received the Spitzer memo in his capacity as a member of the Board before this litigation ensued."
She went on to say:
"Mackey could not take off his director's hat and provide a copy to WC for its use in litigation against the POA. Winston & Strawn would have been denied access to the Spitzer memo through formal discovery and could not surreptitiously obtain it from a manager of its client who also happened to be a member of the POA's Board."
Nonetheless, she said, Meisinger did not abuse his discretion in declining to disqualify the law firm. Disclosure of a single memo "did not result in 'irreversible' damage to the POA," Dunning observed.
"The referee struck those portions of WC's reply brief that referred to the POA's attorney-client and work product privileged information and ordered Winston & Strawn to destroy all copies of any POA privileged material," she recited. "This was a sufficient remedy."
The case is 1100 Wilshire Property Owners Association v. Wilshire Commercial, LLC, B281127.
Representing the POA were Lisa Perrochet and Eric S. Boorstin of Horvitz & Levy and Jeffrey M. Cohon of Cohon & Pollak. Saul S. Rostamian and Diana Hughes Leiden of Winston & Strawn acted for WC.
Copyright 2018, Metropolitan News Company