Friday, May 18, 2018
Page 1
Court of Appeal Reverses $5 Million Award To Actor Bruce Willis Against Producer
By a MetNews Staff Writer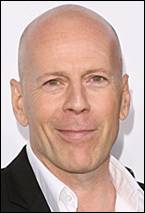 BRUCE WILLIS
Actor
The Court of Appeal for this district yesterday reversed a $5 million-plus award against producer Michael Benaroya, holding that the arbitrator had no power to join Benaroya as a party on an alter ego theory.
Under a contract, which contained an arbitration clause, Willis was to star in a movie titled "Wake," with a $25 million budget. He was to be paid $7 million, plus a percentage of the profits.
Production of the movie was halted when the Directors Guild of America proclaimed that there was insufficient funding for those working on the project to be paid. Willis demanded payment.
The contract was between Willis's company, Westside Corporation, and Benaroya Pictures, of which Benaroya was the sole officer. Arbitration was commenced, and Willis moved for an order joining Benaroya as a party on an alter ego theory, which the arbitrator granted.
The arbitrator awarded $5,024,778.61 in damages, in addition to prejudgment interest and costs, against Benaroya and Benaroya Pictures. Los Angeles Superior Court Judge Rafael Ongkeko confirmed the award and added $28,465 in attorney fees.
Willhite's Opinion
Div. Four of this district's Court of Appeal, in an opinion by Justice Thomas Willhite, said that Ongkeko erred in confirming the award against Benaroya, explaining:
"[W]hile it is true that the language of an arbitration agreement determines the scope of the arbitrator's powers granted by the signatories, the agreement cannot bind nonsignatories, absent a judicial determination that the nonsignatory falls within the limited class of third-parties who can be compelled to arbitrate."
He went on to say:
"[A]lthough respondents concede that the alter ego issue is normally for the courts to decide, they argue that, here, 'the parties have clearly and unmistakably delegated such arbitrability issues to the arbitrator.' They are mistaken. Appellant, a nonsignatory to the agreement, did not agree to delegate any issues to the arbitrator."
Harmless Error
Willis argued that the evidence was "overwhelming" that Benaroya was, in fact, the alter ego of his company so that confirmation of the award against him was harmless error. Willhite responded:
"The wrong decision-maker decided the issue; the arbitrator exceeded his authority by purporting to compel appellant to arbitrate and making him liable for the award as Benaroya's alter ego. Therefore, the arbitration award must be set aside insofar as it binds appellant….There is no basis for finding the court's failure to do so was mere harmless error."
The case is Benaroya v. Willis, 2018 S.O.S. 2392.
Attorneys on appeal were David Grossman and Robert J. Catalano of Loeb & Loeb, for Benaroya and Martin D. Singer and Allison S. Hart of Lavely & Singer, along with Jeremy B. Rosen and John F. Querio of Horvitz & Levy, for Willis.
Copyright 2018, Metropolitan News Company