Thursday, July 12, 2018
Page 1
Ninth Circuit:
Rehearing En Banc Denied for 'Blurred Lines' Artists
By a MetNews Staff Writer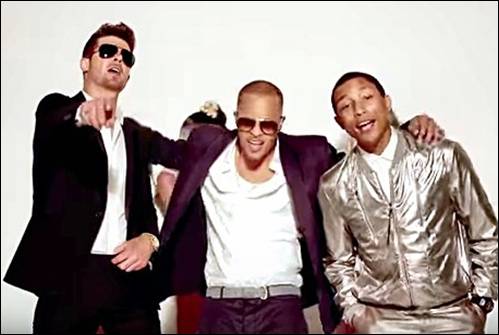 Pictured are, from left, singer Robin Thicke, Clifford Harris Jr., and Pharrell Williams, from a video of "Blurred Lines." The Ninth U.S. Circuit Court of Appeals yesterday declined to grant a rehearing, en banc, of a decision affirming a District Court judgment that the song infringes on the late Marvin Gaye's "Got to Give It Up."
The Ninth U.S. Circuit Court of Appeals yesterday denied a petition to rehear, en banc, an appeal by singer-songwriter Robin Thicke and others from a District Court judgment holding that the song "Blurred Lines," performed on a single that was the world's biggest hit of 2013, infringed on music artist Marvin Gaye's 1977 song, "Got to Give It Up."
The order denying rehearing amends the March 21, 2018 opinion denying the appeal, with no change in the result. Judge Milan D. Smith Jr. wrote the opinion affirming a $5.3 million judgment—plus 50 percent of future profits on "Blurred Lines"—in favor of the estate of Gaye, who died in 1984.
Judge Mary H. Murguia joined in Smith's opinion. Judge Jacqueline H. Nguyen dissented, and voted to grant a rehearing en banc, but no other judge on the circuit expressed a desire to do so.
Written in 2012
Thicke and rapper Pharrell Williams wrote "Blurred Lines" and recorded it in 2012; Clifford Harris Jr.—known popularly as "T.I.," wrote and recorded a rap verse, which was added to the original recording.
Members of Gaye's family communicated to Thicke, Williams and Harris their contention that "Blurred Lines" violated their copyright on the 1977 song, a recording of which enjoyed worldwide success. The accused infringers in 2013 sought declaratory judgment that their work was an original one, and the Gaye family counterclaimed for infringement.
District Court Judge John A. Kronstadt of the Central District of California ordered entry of judgment against Thicke and Williams, along with More Water from Nazareth Publishing which collects royalties on behalf of Williams, after a jury in 2015 found those parties liable. He overturned the jury's verdicts in favor of Harris, and several record and distribution companies named in the cross-complaint, including Interscope Records.
Broad Protection
Smith wrote:
"We reject the Thicke Parties argument that the Gayes' copyright enjoys only thin protection. Musical compositions are not confined to a narrow range of expression."
He went on to say that the cross-complainants "need not prove virtual identity to substantiate their infringement action."
The judgment in their favor, he said, must be affirmed because "we cannot say that there was an absolute absence of evidence supporting the jury's verdict."
The plaintiffs insisted they should have been granted summary judgment. Smith said no exception applied to the rule that the correctness of such a denial cannot be decided after trial.
Smith noted Kronstadt's view that because Gaye's song was written before legislation went into effect in 1978 which protects sound recordings, the Copyright Act of 1909 applied, and only the sheet music deposited with the Copyright Office was protectible. The circuit judge said the cross-complainants pressed a challenge to that stance only if there were to be a remand and, given that no remand was to be ordered, the point need not be addressed.
Nguyen's Dissent
Nguyen protested in her dissent:
"The majority allows the Gayes to accomplish what no one has before: copyright a musical style. 'Blurred Lines' and 'Got to Give It Up' are not objectively similar. They differ in melody, harmony, and rhythm. Yet by refusing to compare the two works, the majority establishes a dangerous precedent that strikes a devastating blow to future musicians and composers everywhere."
Smith relied upon testimony of expert witnesses as to similarities. Nguyen commented:
"The Gayes, no doubt, are pleased by this outcome. They shouldn't be. They own copyrights in many musical works, each of which (including 'Got to Give It Up') now potentially infringes the copyright of any famous song that preceded it.
"That is the consequence of the majority's uncritical deference to music experts.
"Admittedly, it can be very challenging for judges untrained in music to parse two pieces of sheet music for extrinsic similarity. But however difficult this exercise, we cannot simply defer to the conclusions of experts about the ultimate finding of substantial similarity. While experts are invaluable in identifying and explaining elements that appear in both works, judges must still decide whether, as a matter of law, these elements collectively support a finding of substantial similarity. Here, they don't, and the verdict should be vacated."
Partial Victory
The majority opinion reverses Kronstadt's judgment against Harris, Interscope, and the other companies. Smith noted that the Gayes waived their challenge to the inconsistency of the verdicts because they had not brought it up before the jury was dismissed.
It also affirms Kronstadt's denial of the Gayes' attorney's fees motion.
The case is Williams v. Gaye, 15-56880.
Copyright 2018, Metropolitan News Company