Thursday, June 28, 2018
Page 1
Court of Appeal:
Going-Coming Rule Exception Inapplicable on Non-Work Day
New LACBA President, Brian D. Kabateck, Who Was Attorney for the Plaintiff, Terms Majority's Decision 'Bizarre'; Panel Earlier Reached Contrary Result
By a MetNews Staff Writer
The Court of Appeal for this district, flip-flopping on a conclusion it reached in March, has decided, following the grant of a rehearing, that a recovery-center for alcoholics is not vicariously liable for the wrongful death of a man who was struck by one of its employees while driving her car from the office while drunk because it happened on a non-workday.
Plaintiff Tony Moreno, suing over the death of his son, Phillip Moreno, sought to invoke the "required vehicle" exception to the "going-and-coming rule." While an employer is ordinarily not liable for accidents occurring when an employee is commuting to or from the worksite, liability does attach where the employee is required to use a personal vehicle while on the job.
The opinion, filed Tuesday and not certified for publication, affirms summary judgment for the defendant, awarded by Los Angeles Superior Court Judge David Sotelo, on the ground that Sherri Lynn Wilkins, then a counselor for the defendant's center, had come to work voluntarily on a day off. Wilkins was sometimes required to use her car in the course of her employment.
The holding was termed "bizarre" by Brian S. Kabateck, Tony Moreno's lead counsel at trial and on appeal. Kabateck was scheduled to be sworn in last night as president of the Los Angeles County Bar Association.
Wilkins, herself a recovering alcohol and drug abuser, had not revealed to her employer that she had abandoned her commitment to abstinence from intoxicating beverages. She is now serving a 25 years-to-life sentence for second degree murder.
Initial Opinion
In its March 16 opinion, this district's Div. Five, in an opinion by Acting Justice Kim Dunning, reversed a summary judgment in favor of the defendant, holding that there were triable issues of fact concerning the applicability of the required vehicle exception.
Agreeing to give further consideration to the case, Div. Five on April 12 vacated its March 16 opinion. However, there was at that point no authority, other than a New Jersey case, for declaring vicarious liability under the "going and coming" rule to be inapplicable on the basis of an employee having come to work, voluntarily, on a day off.
Wilkens came to the office on a Saturday night in order to catch up on work, in light of a computer breakdown the day before. While there—on Nov. 24, 2012—she became intoxicated.
June 18 Decision
However, California authority did emerge on June 18 when Div. Five, in an opinion by Acting Presiding Justice Sandy Kriegler, decided the case of Newland v. County of Los Angeles, 2018 S.O.S. 3075.
There, Los Angeles Deputy Public Defender Donald Prigo was in an accident while driving home in his personal vehicle. While he was on some days required to use his car for work-related purposes, such as visiting a client in jail, he had not been called upon that day to go anywhere in the vehicle.
Kriegler said that the county was not liable, and a judgment notwithstanding the verdict must be entered, on remand. He explained:
"In order to apply the vehicle use exception to the coming and going rule in this case, Newland had to show that (1) the County required Prigo to drive his car to and from the workplace at the time of the accident, or (2) Prigo's use of his car provided a benefit to the County at the time of the accident. A benefit to the County may be found if at the time of the accident, Prigo agreed to make his car available, the County reasonably came to rely on Prigo's use of the car, and the County expected Prigo to make it available. There was no evidence in this case to support finding a job requirement or a benefit to the County on the day of the accident."
Justice Lamar Baker dissented.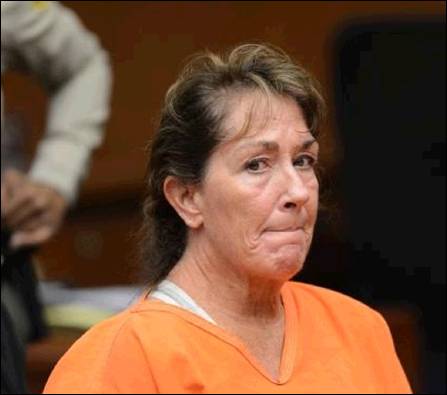 —AP
In this 2012 file photo, Sherri Lynn Wilkins appears in Los Angeles Superior Court. Wilkins, a substance-abuse counselor who hit a man with her car and drove two miles with his body embedded in her windshield was sentenced Feb. 23, 2017, to 25 years to life in prison, after pleading no contest to second-degree murder and two drunken driving counts. The Court of Appeal on Tuesday held that summary judgment was properly granted to Wilkins's former employer in a wrongful death action against it.
New Opinion
Relying upon the decision in Newland, Dunning said in Tuesday's decision, which was not certified for publication:
"Here, the accident occurred during the negligent employee's drive home from the office on a date she was neither scheduled to work nor requested by defendant to come into work or perform some other special errand for defendant's benefit. The employee was not using her personal car for any employment purpose or employer benefit at the time of the accident. She did no more than drive to and from the office because she chose to work that evening.
"This uncontroverted evidence is insufficient as a matter of law to support a finding that the negligent employee was in the course and scope of her employment when the accident occurred. Summary judgment for defendant was properly granted."
Baker's Dissent
Baker dissented, saying:
"We reached the correct result in this case the first time….What changed since then is the intervening opinion in Newland v. County of Los Angeles…, but Newland's 'at the time of the accident' rule…is unduly narrow, unprecedented, and certain to be misapplied.
"The Newland decision is not yet final, but it is the foundation of today's retooled opinion. Absent reliance on the published Newland opinion, I believe we would be obligated to give this case a third look."
Kabateck Comments
Kabateck had this reaction to the opinion:
"The Court of Appeal's bizarre opinion seems to change the course of California law when it comes to employees who are obligated to drive for their job.
"Our client's son was killed by an alcohol and drug counselor who so heavily intoxicated when she hit the decedent that the force of the impact caused him to be impaled through her windshield and shed most of his clothes. Then she drove for two miles while onlookers tried to get her to stop her vehicle to render aid.
"It was undisputed that the drunk driver had just left work at the rehab center owned by the defendant, and was required to have and use her car while at work as a condition of her employment."
He continued:
"The dissenting opinion by Justice Baker points out the flawed reasoning of the court. Up until now, an employer who requires its employee to have a car while at work is liable for injuries caused by that employee while traveling to and from work. This opinion guts much of this part of the exception to the 'going and coming' rule in California."
The lawyer said his client will seek review in the California Supreme Court.
The case is Moreno v. Twin Town Corp., B277201.
Kabateck, of the law firm of Kabateck Brown Kellner, was joined by Cheryl A. Kenner, Shea S. Murphy, and Joseph S. Persoff, in representing Moreno on appeal, in tandem with Stuart B. Esner of Esner, Chang & Boyer.
Michael W. Irving and Matthew Banashek of Banashek Irving, along with Benjamin G. Shatz of Manatt, Phelps & Phillips, LLP., acted for the defendant.
Irving remarked yesterday:
"The decision recognizes that employers should not be charged with the off-premises misconduct of an employee which does not arise out the employment. In this case, Wilkins went to her office on a day when she was neither scheduled to work, nor authorized to be there. Her drive home cannot possibly implicate the vehicle use exception to the going-and-coming rule, since (as all the authorities hold) Twin Town did not that Saturday night need Wilkins's 'vehicle available for company business.'"
Copyright 2018, Metropolitan News Company