Tuesday, September 4, 2018
Page 1
Ninth Circuit:
Reporter Shunned by County Personnel Fails to Show Wrong
Panel Says Government May Discriminate, Up to a Point, in Dissemination of Information
By a MetNews Staff Writer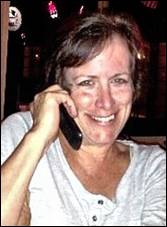 KAREN VELIE
Journalist
The Ninth U.S. Circuit Court of Appeals has affirmed the dismissal of an action, without leave to amend, by a muckraking website's reporter and majority owner who claims the County of San Luis Obispo retaliated against her for her exposés by denying her access to information routinely provided to other news personnel.
A three-judge panel, in a memorandum opinion filed Thursday, rejected the contention by Karen Velie that her civil rights action under 42 USC §1943 was improperly scuttled by District Court Judge Dale S. Fischer of the Central District of California. At a minimum, she argued, she should be granted the opportunity to file a first amended complaint.
Velie alleges that in response to her investigative reports, county employees and officials would not speak with her, she was not even given access to press releases, and advertisers were threatened with unfavorable future treatment by a county supervisor, Adam Hill, if they continued to patronize her website. Hill was also a defendant in her action.
Denial of Access
The panel—comprised of Circuit Judge Consuelo Callahan, Senior Circuit Judge Richard R. Clifton, and District Court Judge Kenneth M. Hoyt of the Southern District of Texas, sitting on assignment—agreed with the county and Hill that some degree of discrimination in dealing with reporters is constitutionally permissible.
The opinion, citing the U.S. Supreme Court's 1995 decision in Rosenberger v. Rector & Visitors of University of Virginia, says:
"The government enjoys extraordinary discretion when selecting 'private speakers to transmit specific information pertaining to its own [affairs].' "
Key Allegation Missing
The memorandum opinion goes on to say:
"In her complaint, Velie asserts only general allegations in support of her claim for denial of equal access to information. She does not sufficiently allege that she was uniquely deprived of public information or information that Defendants distributed to all media on a nondiscretionary basis. She has, therefore, failed to state a claim for denial of equal access."
In pinning the affirmance to its observation that Velie did not show she was singled out for discriminatory treatment, the panel rejected the county's broad proposition, expressed at oral argument on Aug. 6 in Pasadena. Its attorney, Frederic Woocher, contended that "there is no constitutional right to equal access" by one reporter to information imparted to others.
Discriminatory release of information, he said, is no different from an official submitting to "an exclusive interview with a particular reporter."
Responses to Velie
Woocher that officials told Velie, in effect:
"We don't trust you to give verbal responses….You've twisted everything we say….We want you to submit things in writing and we will follow the Public Records Act in responding to your requests."
Velie's lawyer, Jennifer Geysler of Smith Collins, LLC, provided the panel with this recitation of what her client was told by staff members of county offices:
"We are not allowed to talk with you. We would be fired. We can't return your calls."
Clifton sought to obtain from Geysler examples of what was denied to Verlie.
"Stay focused," he advised. "Tell me what, exactly, it is she is denied."
The lawyer responded:
"She was denied any information whatsoever."
Clifton pressed for specifics as to what was sought and denied, but Geysler would only say that Velie was "completely shut out of county government."
The opinion says Fisher was reasonable in denying leave to amend, explaining:
"The district court may deny leave to amend if amendment would be futile….Velie has not provided any specific allegations that she would use to amend her complaint, either before the district court or on appeal."
Retaliation Claimed
Aside from claiming she was unconstitutionally denied access to information, Velie insisted the county retaliated against her based on her hard-hitting reportage. Geysler noted a declaration in the record from a local businessman that he had been told by Hill that if he continued to advertise on Cal Coast News.com, "he would have problems doing his own business in the county."
Other advertisers, she insisted, had similarly been threatened.
Attorney James N. Esterkin, representing Hill, asserted:
"There is nothing wrong with my client telling people in the community that he knows, that advertise on her website, she is an unreliable reporter of news, you should not advertise on her site."
Clifton's Question
Clifton queried:
"Is there something wrong with somebody saying, 'And if you do, good luck in getting another permit—building permit, zoning permit, anything else. Maybe your license won't be renewed next year, either. And maybe the inspector will be at the door every week' Does that cross the line?
The lawyer said that liability for such conduct might exist, under state law, but that a cause of action could not be stated under §1983. With respect to a First Amendment retaliation claim, he argued:
"The critical element there is that there has to be some government sanction or prohibition for that claim to be viable….There is no suggestion that the county imposed a sanction or prohibition on Ms. Velie doing business in or with the county."
Actions by a single supervisor, he maintained, do not constitute actions of the county, which are taken by the Board of Supervisors.
No State Action
The panel agreed, saying in the memorandum opinion that Velie's "argument that Defendants retaliated against her by pressuring her advertisers to stop working with her is unsuccessful because she does not allege that Defendants took or threatened to take state action if the advertisers did not accede to their requests."
The opinion also says:
"Defendant' refusal to grant her access to discretionary government information does not constitute retaliation because the First Amendment does not guarantee access to such information. Velie's argument that Defendants retaliated against her by publicly defaming her is also unavailing because she does not allege that Defendants* comments were accompanied by any official action that deprived her of a right or privilege."
The case is Velie v. Hill, No. 17-55233.
Copyright 2018, Metropolitan News Company