Wednesday, November 14, 2018
Page 1
Strip Club's Challenge to Ordinance Fails, Writ Hearing Was Fair Trial—C.A.
By a MetNews Staff Writer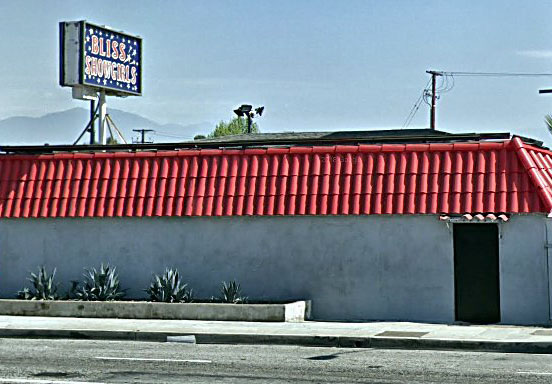 Above is Bliss Showgirls, a strip club in the City of Industry. The Court of Appeal for this district has affirmed the denial of a writ ordering the County of Los Angeles to renew the club's  business permit.
A local strip club has lost its challenge before this district's Court of Appeal seeking to invalidate a county ordinance requiring such establishments to close at 2 a.m., failing to show that a hearing on a petition for a writ of mandate deprived it of an opportunity to present evidence of its contentions.
The unpublished opinion by Acting Presiding Justice Luis A. Lavin of Div. Three, filed Friday, affirms the denial by retired Los Angeles Superior Court Judge Robert O'Brien, sitting on assignment, of the club owners' petition for an order to the county to grant their application for a permit to continue to operate the club.
The county permits nude dancing, but establishments featuring such entertainment are subject to a curfew. The county denied the application by Valley Entertainment, Inc. and its owner, Chawkat Jajieh, for the renewal of their permit to operate Bliss Showgirls, a strip club in City of Industry, based in part on the club's repeated instances of staying open after 2 a.m.
On appeal, the petitioners contested the transfer of their writ petition to Department 86, which handles writs and receivers. It also challenged O'Brien's ruling that the ordinance does not fall afoul of the First Amendment.
'Critical Error'
Lavin wrote:
"The critical error in Valley Entertainment's argument is most clearly revealed in its trial brief….After noting the trial court received live expert testimony and other evidence before deciding whether the ordinance was unconstitutional,…Valley Entertainment stated: 'Evidence was taken even though it was a writ of mandate case. Valley is perplexed. It does not know why it cannot obtain a trial where evidence can be presented simply because this is a writ of mandate case. No rule prohibits an evidentiary hearing in a writ of mandate case.'
"We are also perplexed because Valley Entertainment could have presented written evidence with its trial brief, but elected not to do so. Here, Valley Entertainment sought a writ of mandate under Code of Civil Procedure section 1085. In traditional mandamus proceedings (as opposed to administrative mandamus proceedings) the trial court has the discretion to receive documentary evidence and declarations not included in the administrative record. The court may also receive oral testimony at the hearing."
He added:
"In any event, contrary to its assertion, Valley Entertainment was not entitled to present live, oral testimony. It is well settled that in a writ of mandate hearing, the trial court has broad discretion to decide a case solely on the basis of declarations and other documentary evidence."
Constitutional Argument Unavailing
Addressing the First Amendment contention, Lavin said:
"The United States Supreme Court has recognized nude dancing as a form of artistic expression protected under the First Amendment to the United States Constitution.…However, 'nude dancing...falls only within the outer ambit of the First Amendment's protection.'…
"The high court has also recognized that businesses offering adult-oriented entertainment (including but not limited to nude dancing) tend to attract increased rates of crime, disorderly conduct, excessive noise, and other generally negative impacts (so-called 'secondary effects') to the surrounding community."
Lavin rejected the club's contention that the county's findings in enacting the ordinance did not include specific studies showing that limited hours of operation reduced secondary effects. He noted that "courts generally give substantial latitude to municipalities to experiment with the precise manner of regulation."
The case is Valley Entertainment, Inc. v. County of Los Angeles, B277204.
Roger J. Diamond of Santa Monica argued for the plaintiffs. Deputy County Counsel Sari J. Steel represented Los Angeles County.
Copyright 2018, Metropolitan News Company