Wednesday, July 25, 2018
Page 3
Court of Appeal:
Ex-Football Player Gets No California Workers' Compensation
By a MetNews Staff Writer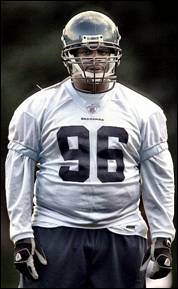 LARRY TRIPPLETT
Former defensive tackle
The Fourth District Court of Appeal has held that a former professional football player who resides in California cannot maintain a workers' compensation action in this state because he signed his contract with the Indianapolis Colts while elsewhere and only played two games here during a six-year career.
Div. Three filed its opinion June 28 and yesterday certified it for publication. Justice Richard M. Aronson was the author of the opinion which affirms a determination of the Workers' Compensation Appeals Board that former defensive tackle Larry Tripplett is not entitled to benefits in California.
At issue was whether he was "hired" in California. Tripplett argued that his agent, in Newport Beach, orally negotiated the terms of his contract with the Colts in 2002.
That, Aronson said, was not enough, explaining:
"…Tripplett retained the ability to reject any contract his agent negotiated. Although Tripplett did testify that he had such trust in his agent that 'whatever he advised me to do, that's what I signed,' he did not claim he had no right to refuse an agreement his agent negotiated. To the contrary, Tripplett acknowledged it was he who 'had the final say.' Thus, Tripplett's agent's negotiation of terms to be included in a written employment contract was not sufficient to bind Tripplett to anything. And because those negotiations were the only contract-related activity that took place in California, there is no basis to conclude the contract was formed in this state."
Even if the agent did have the power to bind Tripplett, Aronson continued, the subsequent written agreement contained an integration clause under which all oral agreements were superseded. Tripplett signed the written agreement in Indianapolis, he noted.
"Because there is no evidence that a binding employment agreement was formed between Tripplett and Indianapolis in California, we find the WCAB did not err in concluding California did not have jurisdiction over his work-related injury," the jurist declared.
The opinion notes that Tripplett played for the Colts from 2002-06, for the Buffalo Bills from 2006-08, for the Seattle Seahawks in 2008, with the number of games totaling about 110.
Aronson said it appears that "Tripplett's cumulative injury…occurred at his retirement, rather than during any particular game—including either of the two games he played in California," declaring:
"Thus, his cumulative injury had not 'ripened into disability' when he played two games in California."
Tripplett conceded, Aronson noted, that his California residency does not, in itself, create jurisdiction here.
The case is Tripplett v. WCAB, G054825.
Copyright 2018, Metropolitan News Company