Friday, January 19, 2018
Page 1
Nicole Tinkham Expected to Be Named Interim County Public Defender
By a MetNews Staff Writer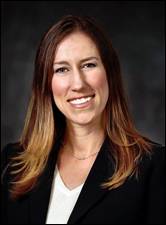 Nicole Tinkham
Senior Deputy County Counsel
Nicole Tinkham is expected to be named interim Los Angeles County public defender on Tuesday, as the Board of Supervisors continues its hunt for a permanent successor to Public Defender Ronald L. Brown who resigned effective Dec. 31, 2016.
In a closed session on Tuesday, the board unanimously chose Tinkham, presently senior deputy county counsel in the Government Services Division, to head the office on a temporary basis, subject to a salary being agreed upon between her and Chief Executive Officer Sachi A. Hamai.
Hamai has recommended that Tinkham be given the interim position at an annual salary of $275,000.
Before entering the County Counsel's office in 2016, she was an attorney for nine years at the Pasadena law firm of Collins Collins Muir + Stewart LLP, starting as an associate in 2003 and working her way up to a position as partner.
In a letter to the board, Hamai commented that while she was with that firm, Tinkham "provided litigation, transactional and advisory services to small and large private clients and to public entities, including the County."
Citing Tinkham's "extensive legal experience," the CEO recommended that she be awarded the post, effective immediately upon the board's vote.
Tinkham, a past president of the Association for Women in Architecture + Design, received her law degree from Southwestern.
She would replace Kenneth Clayman, Ventura County's former public defender, who had been interim public defender since July 31, being paid $145 an hour. He has also served as interim public defender in Napa and Solano counties.
The Board of Supervisors, in executive session, recently selected a public defender, subject to negotiations—but those negotiations fizzled. It continues its search to fill an office that has been vacant for more than a year.
In charge of the office now is Acting Chief Deputy Jenny Brown, who replaced Chief Deputy Public Defender Kelly Emling, now with the County Counsel's Office.
Copyright 2018, Metropolitan News Company